Joseph N. DiStefano
Jane Scaccetti CPA (the well-connected chair of Temple Health System, director of Pep Boys, once married to one of Philadelphia's most power politicos) dances in front of City Hall. Ronald Drucker CPA, J.D., steps lively in a video montage of bopping tax partners. Associates and interns step rhythmically from their cubicles, shimmy in hallways, spill through the west Market St. skyscraper district, sort-of in time.
It's not Soul Train, or American Bandstand, or the smooth dancers-in-suits show on the wall screens over the elevator banks at Comcast headquarters. It's the mostly buttoned-down accounting firm of Drucker & Scaccetti in Center City, one of the many accounting outfits where staff is celebrating the end of extra long hours and deadline stresses that come with Federal Income Tax Day, April 15.
So pleased are they to see all those tax returns heading down the wires and through the mail to Internal Revenue, the firm produced a video of its mostly casually-dressed staff busting moves, scored to this year's ubiquitous Happy by Pharrell Williams, produced by Sam Rossman and uploaded here: https://www.youtube.com/watch?v=Xgzc6qm5Agw
Joseph N. DiStefano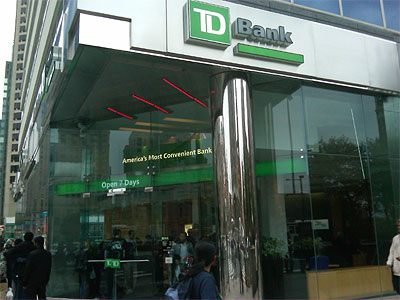 TD Bank, the Canadian lender that is expanding in the Philadelphia area from the branches it bought when it took over the former Commerce Bank, has built a "wealth management" team for its office in wealthy Moorestown from veterans formerly with rival banks. They'll report to Sherry A. Varrelman, SVP and Regional Wealth Leader, in what Varrelman calls TD's "home" market.
The team will be headed by John Watson, a Rutgers and American College grad who spent the last 12 years in Wells Fargo's Princeton private-banking office. Vice Presidents James Beam, Adam Bracy, Jack Hall and Nick Rounds, all moved to TD from PNC's Moorestown office. Completing the TD team is estate settlement manager Angela Barone, a TD veteran.
Joseph N. DiStefano
TUESDAY UPDATE - National Penn says the First Mariner deal is off, now that Bankruptcy Court has ordered a new auction. Nat Penn is still interested.
MONDAY: National Penn Bancshares, Allentown, Pa., made the high bid for Baltimore's First Mariner Bancorp, the largest bank still based in that former financial center, offering $19.1 milllion in a bankruptcy auction, reports the Allentown Morning Call here: "The deal must still be approved by a federal bankruptcy court judge and banking regulators. A hearing is scheduled for Monday in Baltimore's U.S. Bankruptcy Court."
The banks hope the deal will be closed by summer, Michael Hughes, Nat Penn CFO, told the paper, adding that the would-be buyer plans to expand business lending. First Mariner operates 18 Baltimore-area branches and will keep its name. It was founded 19 years ago, as Maryland National Bank and other local institutions were being sold to out-of-state lenders, by Edwin F. Hale Sr. Hale made his millions in shipping and trucking, owns the Baltimore Blast soccer team, and still holds nearly 10% of First Mariner, whose stock trades at pennies a share, down from a peak of around $20, the Call says.
Joseph N. DiStefano
Pennsylvania Real Estate Investment Trust , the Philadelphia firm that owns the Gallery at Market East and shopping malls in Cherry Hill, Willow Grove, Plymouth Meeting and other suburbs, says Mark Vevle's Franklin Flea weekly indoor flea market -- Franklin Flea -- will set up again on Saturdays, starting April 19 through May 24, 10 a.m. 5 p.m., at the former Strawbridge & Clothier store at 8th and Market, next to the Gallery, downstairs from the Inquirer's newsroom, just as the nearby Kmart is in the last stages of shutting down.
The Franklin Flea last operated weekends before Christmas at the site. PREIT says it "will reopen in its original space on April 19th for a six-week run" selling "antiques, furniture, clothing and artisan goods from local vendors, along with "Franklin Stove, . New to this Flea will be the introduction of the Franklin Stove, a special food booth featuring a different celebrated Philadelphia restaurant each week.
Maybe it's no substitute for a seven-day, permanent retailer. But, says PREIT boss Joseph Coradino in a statement: "We see Franklin Flea as a representation of the potential of the entire Market East district, so we are excited to bring this market back to The Gallery, where it all began. The one-of-a-kind merchandise and vendor offerings speak to the unique blend of fashion and culture we look forward to seeing everyday once we complete The Gallery's redevelopment."
Joseph N. DiStefano
Powhatan Energy Fund LLC, a West Chester hedge fund operated by brothers Kevin and Rich Gates and their partners, are campaigning to stop Federal Energy Regulatory Commission enforcement chief Norman Bay from becoming the agency's next chairman, writes Bloomberg here.
Their fund has been under investigation by FERC for hiring a trader who was allegedly "rigging" the Audubon, Montgomery County-based PJM Interconnection electric-power market to make millions at the market's or power-buyers' expense, as I wrote here last month. (Rich Gates is also a protagonist in Michael Lewis' new book, Flash Boys, which is, ironically, about stock market manipulation by high-speed traders.)
The brothers, Bloomberg notes, have started the FERClitigation.com Web site "to argue that the firm is being wrongly targeted and that the agency, under Bay's leadership as enforcement director, is going too far. His rise to the FERC's top job would cement the agency's decade-long transformation from a sleepy regulator with a soft touch to an aggressive enforcer doling out steep penalties. He would be the first former federal prosecutor to hold the post."
Joseph N. DiStefano
Dean Adler of Lubert-Adler Partners says he and Ron Caplan of PMC Property Group have agreed to pay $42 million to New York-based Loeb Partners for the Marketplace Design Center, 2400 Market St., the building with the whales painted on the side, visible from the Schuylkill Expressway. "It's right in the middle of the Market Street Corridor, Rittenhouse Square and University City," Adler told me.
He says the partners hope to keep the Design Center businesses in place, in a consolidated area, along with the telecom server farms that use part of the building; add "creative office space" for tech companies in some of the vacant areas; and top the building with a "mid-rise" apartment tower, as Caplan and Adler have done at the former AAA building, three blocks away at 2040 Market St.
"It's a former car factory, and the roof is 80 feet up, where you get magnificent views of the river," Adler added. "You can take the first floor and have an exciting coffee shop, and perhaps a grocer, there." Giant, or Trader Joe's? "Yeah. And people who live here can walk to work. We have a parking garage behind the building. We can build on the roof. So we didn't have to pay for parking or for land. Our costs right there are 35 percent less" than new construction. Didn't Loeb take that into account? "They've wanted to sell," Adler concluded.
Joseph N. DiStefano
FRIDAY UPDATE: While Hibu is closing its community-magazines business -- the subject of WARN Act business-closing notices sent to state and local officials -- the company has other operations in King of Prussia that will continue, spokesman Andrew Speybey tells me this morning. He won't say what businesses, or how many people will still work for the company locally, or how many home-based workers have been separately terminated.
Speybey also provides this statement by CEO David Eckert, to employees, from Monday: "Although the efforts of our editorial, product, fulfilment, and sales teams have been strong, and the product superb, we will be discontinuing our magazine business in the U.S., as we cannot see a clear path to near term, sustainable profitability. This decision is consistent with previous actions in the U.K., Spain, and LatAm." Any additional information will only be provided "where necessary in compliance with the WARN Act," he added.
THURSDAY: Hibu Inc., the British-owned phone-directories publisher formerly known in the U.S. as Yellowbook.com, will close its non-union publishing operation at 2201 Renaissance Blvd., King of Prussia, by June 6, and terminate all 65 employees, according to a letter the company sent state and local officials April 7, as required under the federal Worker Adjustment and Retraining Notification Act (WARN).
Joseph N. DiStefano
Gene Muchnick, who used to run an electronics store at 1725 Chestnut St. near Rittenhouse Square, has sold the property for $2.2 million to Midwood Management, the New York-based firm headed by Steven Schwartz and John Usdan, which has become a major owner of commercial properties in the neighborhood, says Laurence Steinberg, senior vice president of CBRE | Fameco, who represented the seller.
It's "the last vacant building on this 1700 block," and had most recently been home to chain restaurants -- Moe's Southwest Grill, before that Famous Dave's BBQ Shack -- "but with the new strength of retail on this block, that may change," Steinberg adds. "Leasing interest is very strong, and I expect rents on that block to continue to show substantial growth with the soon-to-open American Eagle Outfitters, Nordstrom Rack and Forever 21" nearby. Forever 21 hasn't announced a new location, but Steinberg confirms a deal has been signed.
"There is an interesting shift happening in the shopping momentum in Center City from Walnut Street to Chestnut Street," he added hopefully. "If you add in the Uniqlo store that will open on the 1600 Block, I can see retail traffic and sales on Chestnut Street soon outpacing Walnut."