Archive: September, 2010
Joseph N. DiStefano
The more-or-less final version of Pennsylvania's capital budget bill, House Bill 2291, which passed the Republican-run Senate Wednesday and is pending in the Democratic House, swells the proposed new wish list of "public improvements," transportation and redevelopment assistance to more than $12 billion, from the original $4 billion.
Those projects, built with borrowed money, won't all get funded, and they won't all be built soon. Most will need matching funds from other sources, plus final approval from Gov. Rendell or his successor. But lawmakers are rushing to get them all approved before Rendell ends his term in January.
Joseph N. DiStefano
After months of quiet lobbying and running the proposal past Comcast and the Chamber of Commerce and other big and small taxpayers, Philadelphia City Council members Bill Green and Martia Quinones-Sanchez say 15 of the 17 Council members have signed on to support their plan to cut the city's business income tax.

Instead they'll boost the gross-receipts tax, which they say is more likely to be collected from out-of-town companies, not just local firms.
The current "Business Privilege Tax" grabs 6.45% of net inome (profits) and 0.1415% of gross receipts (sales). But, especially if you're from out of town, it's easier to claim you have no "profits" in the city, than no "sales". So the new bill would:

1) Cut the income tax from the current 6.45% to zero, by 2015.

2) Boost the gross receipts tax from 0.1415% to 0.53% of sales, also over five years.

3) Free your first $100,000 in sales from the tax. That means 50,000 of the city's 84,000 businesses (vendors, bloggers) wouldn't pay at all.

4) Set Special Low Rates! for manufacturers (0.25%), wholesalers (0.35%), retailers (0.10%), and "fresh food retailers" (it's complicated).

"Our overarching goal is to generate economic growth in Philadelphia," Green said in a public statement. "We expect this change, which spreads the business tax burden across a broad base at a low rate, to have a significant, positive effect on the city's economy and lead to significant job growth."
Backers say the tax won't hurt or help the city's budget; it's supposed to be "revenue neutral," though few tax changes work out that way, and we worry more businesses than expected will be clamoring for Special Low Rates! (which also exist under the current BPT).

Mayor Nutter has long supported cuts in the gross receipts tax but resisted cutting the income tax; now, outnumbered, will he climb on board?
Joseph N. DiStefano
"Two years after lowering its benchmark interest rate" to nearly zero, "the Fed's efforts to stimulate the economy have done little to help smaller businesses that create most U.S. jobs," writes Bloomberg here.
Big corporations are borrowing billions cheap through the bond markets. But "if you're a smaller company and you don't have access to the market, you need to go through some intermediary such as banks," so "you are getting the losing end of the stick, because banks have become very risk averse," Mesirow Financial Inc. economist Adolfo Laurenti tells Bloomberg.
Joseph N. DiStefano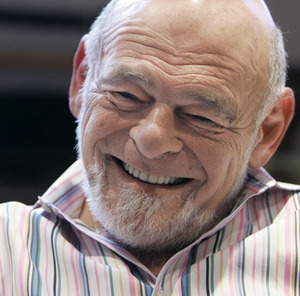 Chicago real estate billionaire and Tribune Co. publisher-in-bankruptcy Sam Zell was in Philadelphia on Monday, where he spoke to hundreds of students in a packed auditorium, plus a second lecture hall connected by video, at the University of Pennsylvania. Excerpts:

Innovation: "Build a better mousetrap and the world will come to you? That's a crock... There are many examples of (simple) products that have done much better than truly better products. It's all about being easy to execute...

Business education: "Econ 101, Supply and Demand... Nothing else really matters."

Liberal arts: His fellow University of Michigan graduate Arthur Miller's play, Death of a Salesman, did a "disservice" to American business: "He demonized the salesman as a womanizer, a drunk, as somebody staying in these dingy motel rooms and attempting to pitch his wares.. Truth of the matter is, nothing gets bought, everything gets sold, and an entrepreneur has to be a salesman... advocating ideas."

Who needs a degree: "There's a lot of people in college today that shouldn't be there." At one of his firms, Anixter International, "we make complex fasteners, we can manufacture them right outside of Chicago and be competitive with China. We're running two shifts. If we could, we would run three shifts. Except we can't find enough people in the Chicago area who know how to read plans, who can work in a manufacturing scenario... So we're going to set up a program at a local junior college to solve that.

"Here we are, 9% employment, or maybe 16%," depending on how you count, "and I'm sitting here with 300 jobs we could fill tomorrow" if there were trained candidates. While recent college grads go unemployed.

Mergers: Successful mergers "identify the redundancy" and cut extra people and facilities. That's why mergers work. There are no benefits from "synergy," a word that is supposed to describe how partners are greater combined than whole, but actually represents "mental masturbation."

Entrepreneurship: "If you aren't testing your limits every day then you aren't really discovering what you can do... The definition of a schmuck is someone who reaches his goals. An entrepreneur is someone who never reaches his goals... constantly adjusting his goals to reflect the current situation... testing his limits. Not more than one or one and a half percent" of people are entrepreneurial.

President Obama: "I'm from Chicago. Barack Obama came to my house for dinner. He's a brilliant man. But he's an ideologue. When you're an ideologue you don't see (business reality). There's no question he doesn't see it."

Obama's America: "We have a political situation in the U.S. today that for the first time in my life represents a challenge to the entrepreneur... to the freedom that our society has created. This never has been a society of people who aren't striving, who aren't trying to make a difference. What has made America different is our individualism...

"I'm very concerned that the current political environment and current situation is geared toward making the entrepreneur an endangered species."

What Obama should do: "Obama could start by announcing he's going to do nothing for the next 24 months... If I were President Obama I would repeal health care, I would repeal the Dodd (bank reform) bill, I would go back to where we were in January '09."

What he wrote to Obama aide Rahm Emanuel when Obama took power: "Dear Rahm, I met you in 1992. At the time you were working for the Clinton campaign. You sat me down and said, 'Sam, understand, the theme of the campaign is, 'It's the economy, stupid.' Well, guess what? It's the economy, stupid, and you ought to do nothing more than focus on jobs and the economy.
"He wrote back, 'You want to delay healthcare, you want to delay cap-and-trade?' I said, 'You bet...'"

The slow economy: "The economic 'malaise' is the result of the fact that people who have the ability (to invest), both resources-wise and emotionally, are uwilling to take the risks because there is no certainty, there is no conviction, on the part of the government, to leave us alone. Every time you turn around, the government has a new 2000-page bill" that limits business. "That's going to destroy America."

Where to invest: Even smart investors lose if they don't pay attention to "what risks they're taking. I'm buying (U.S.) distressed debt (because) I don't have any confidence in tomorrow for what the U.S. is going to do. "

"On the other hand, I'm buying equity outside the U.S. where it's much clearer where we're going. Confidence is the No. 1 ingredient. This administration... by bashing the business community... by destroying Las Vegas, by destroying the meeting business in this country (by limiting bankers' travel junkets during the bank bailouts)... those are all stupid gratuitious acts that have materially impacted the confidence level in this country..."

How to get more people working: "Unemployment will only be solved by the private sector. As soon as you see this administration get its foot off the neck of the private sector, you will see growth returning in the United States."
Joseph N. DiStefano
"Greater demand, low interest rates, affordable housing policies, local land use regulations, and irrational expectations:" They all fed the U.S. "housing bubble" -- but it was the big banks' "demand for mortgage-baced securities" that drove lenders to re-sell ever-riskier bonds to investors who didn't understand what they were buying, wrecked Fannie Mae, Freddie Mac and a big part of the US economy, and ripped off taxpayers, veteran Penn finance professor Susan L. Wachter told Congress today.

Should the US just stop insuring home loans, and let the market do its thing? Not for Wachter: "Without government support, the long-term, fixed-rate mortgage would not be the dominant form of housing finance in the United States," like it isn't in Europe, she said. "We must not lose this centerpiece." Unless you all want to live in apartments, or old Philly-style rowhomes, or pay much higher interest rates, or risk mass defaults whenever rates rise.
So what do we need now? Strict standards aren't enough; "there will be great presure on future regulators to loosen these standards" when there's big money to be made.
Wachter favors a demand solution: "Transparency and standardization" - letting investors trace exactly what loans are in mortgage bonds. And "some products are simply too complex and heterogeneous for investors to assess properly." Why not let whoever wants buy and sell them anyway, without a government guarantee? Because that will "crowd out" stable 30-year fixed-rate mortgages to frugal people with real jobs, Wachter said, more or less.

What exactly to do about Fannie Mae? She cited three good choices:
Joseph N. DiStefano
The US Government should split up ailing housing-finance giants Fannie Mae's and Freddie Mac and turn over their work to several lender-financed Mortgage Securities Insurance Companies set up by groups of banks - while still guaranteeing home-loan bonds, says Michael Heid, boss of Wells Fargo's giant home mortgage loan arm and a spokesman for the 30-bank Financial Services Roundtable, in testimony before the US House banking committee. More testimony here.

The housing industry needs "a government backstop" to keep money flowing, Heid said. But it should be privately-run: Four to eight "MSICs" - enough to compete, but not to confuse - would buy loans from lenders, and charge lenders fees to provide government insurance on mortgage bonds sold to investors to raise more cash for new loans.

There would still be a "federal guarantee" on those mortgage bonds. But "standing before the federal guarantee would be: the down payment on a mortgage made by the homebuyer; any private mortgage insurance (bought by the homebuyer); the shareholder's equity" in the MSIC; and the insurance reserve," all of which would have to go broke before taxpayers went on the hook, Heid told Congress.
"The system we propose would operate much like the Federal Deposit Insurance Fund does today," he added. Except, of course, that FDIC is a government agency, with its own staff of bank examiners who hold life-and-death power over errant lenders. Instead, Heid wants to set up a new "World Class Regulator" to oversee the privately-run MSICs, set tough loan and bond standards, refuse bad loans, and make sure MSICs don't speculate on their own securities, like Fannie and Freddie did, to taxpayers' loss.

MSICs would also set aside 0.0004 (four-one-hundredths of one percent) of the value of the mortgages they buy for very-low-income home and rental projects.

If the MSICs charge enough, but not too much, for mortgage-bond insurance, "the federal guarantee would be budget-neutral" to taxpayers, Heid concluded.
Joseph N. DiStefano
Home prices fell in July in half the 20 major US markets polled by the S&P/Case Shiller survey, read it here. That's a sign of weak demand, low employment, slowing growth. ADD: More from AP here.
What should the government do at this point? Nothing, says Joel Naroff, veteran Bucks County-based bank economist.
Cheaper money won't help: Federal Reserve and home mortgage rates are already near record lows. "The problems are credit standards and a lack of equity and nothing but time and some more growth will allow households to rebuild their balance sheets and see some improvement in their home prices....

"So, I will repeat: Both the government and the Fed should step aside and allow the economy to heal on its own... Tax cuts, government spending and quantitative easing will only create more problems down the road and do little in the short run...

"The recovery may be sluggish but it is working its way through the economy and by next summer, we should be moving along just fine."
Joseph N. DiStefano
Endo Pharmaceutical, Chadds Ford, says it's agreed to pay investment-buyout firm Apax Partners $1.2 billion for Qualitest Pharmaceuticals, a rival generic drugmaker based in Huntsville, Ala. Combined, the companies will have yearly sales of $2 billion, and 3,000 workers at Endo's facility in Westbury, NY, as well as Qualitest's works in Huntsville, Ala., and Charlotte, N.C. Endo statement here.

Qualitest specializes in "controlled substances" and other painkillers in markets that are expensive for competitors to enter. Endo chief executive David Holveck said in a statement that buying Qualitest "accelerates our stated strategy of building a diversified healthcare company, better able to respond to the changing economics that drive the U.S. healthcare environment" as rival drugmakers grow. Qualitest boss Marvin Samson called the merger "an excellent fit". He and chief operating officer Julie McHugh will lead the "integration team," Endo said.

Seller Buddy Gumina, co-head of healthcare at Apax, said in a statement his firm had owned Qualitest since 2007. Endo will pay his firm $500 million in cash on hand, $300 million from its bank line of credit, and has arranged to borrow the rest. More on Endo's recent acquisitions of Penwest Pharmaceuticals and Healthtronics Inc. here.