Archive: October, 2011
Brad Pattelli, the former Angelo Gordon & Co. managing director who led the consolidation of the newspaper industry (including the Inquirer) by a group of private-equity firms in the late 2000s, has moved on into the consumer-finance business.
New York-based Pattelli is the new president of LC Advisors, which hunts up individual and institutional investors for its affiliate, Lending Club, a Silicon Valley-based site, started by software entrepreneur Renaud Laplanche in 2006, that matches borrowers and lenders, skirting the ponderous rules governing credit card companies and other banks by using a Utah state lending license from Web Bank, the company that finances Dell Computer customer purchases.
UPDATED: The group has raised more than $75 million from venture and angel investors, and lent $380 million, so far, which leaves plenty of room to grow, Pattelli figures, in the $2 trillion US credit card and unsecured consumer loan market. The firm is adding $25 million in loans a month, at rates Pattelli says average 10.7% for 36-month loans, plus a 1% Lending Club servicing fee, plus a 1% to 5% origination fee, with a default rate around 3% (so far), which, with today's low interest rates, leaves a fat profit margin of 9.6% for investors who provide the cash.
"Harleysville Mutual Insurance Co. directors may draw scrutiny for potential conflicts of interest when customers are asked to approve the sale of the company and its Nasdaq-listed subsidiary, Harleysville Group Inc., to Nationwide Mutual Insurance Co.," writes Bloomberg's Zachary R. Frye and Andrew Mider here. See also my post last week.
"Michael Browne is chief executive officer of each Harleysville company, and most of the directors serve on both boards." That group includes former PA Lt. Gov. Bill Scranton, among others.
"All nine directors of Harleysville Mutual," including Aqua America CEO Nicholas DeBenedictis, "own stock in the other company. Among them are two people who, according to the general counsel, comprised a special committee to assess the deal because they aren't on the Harleysville Group board. Those two will realize about a $1.35 million gain on their stock if the sale to Nationwide is completed, according to data compiled by Bloomberg."
Jonathan Zabulsky's Seamless.com, the Aramark- and private equity-backed website which claims to be the busiest online prepared-food takeout and delivery service in the US (it just absorbed MenuPages, after rival GrubHub bought born-in-Philly Dotmenu), says it's found big regional variations in what its 1.5 million monthly users order in.
Here's the Seamless list of "top cuisines by market":
New York, Chicago, San Francisco - Delicatessen
Los Angeles - American
Washington DC - Soup and Sandwich
Boston - Thai
"Nearly 500 employees and 250 contract workers have been rehired" at the Delaware City oil refinery, where PBF Energy Chariman Thomas D. O'Malley has cut multimillion-dollar deals with state tax and environmental agencies and the United Steelworkers Union in exchange for reopening the smoky former Shell-, Saudi- and Valero-owned petro plant.
The ceremony happens Friday, with Gov. Jack Markell, US Sens. Carper and Coons, Steelworkers vice president Gary Beevers, and financiers from Blackstone and First Reserve joining O'Malley to claim a share of credit for the deal which is to cost Delaware $30 million.
Delaware City is a relatively new plant that can refine dirty high-sulfur crude. The older Sunoco and Conoco refineries in South Philly and Marcus Hook that were built to refine expensive "sweet" crudealso face closing. Or they could be modernized like Delaware City, which will take multi-million-dollar investments. Which means someone in PA is probably trying to negotiate taxpayer subsidies to keep those plants open, too.
Even with mortgage rates falling to record lows (below 4%), the Federal Reserve's cheap money policy doesn't look like it's reviving the US economy. To the contrary: While speculators have exploited the Fed's low rates by borrowing almost-free cash to bid up prices for food and metals, "loan growth is becoming more difficult to come by," says Jason O'Donnell, bank analyst at Boening & Scattergood in West Conshohocken.
Federal Reserve boss Ben Bernanke's "twist" investments designed to cut long-term loan rates further may convince more homeowners to refinance their mortgages, but it's not making new or refi home loans any more attractive for banks to hold - to the contrary, even banks that held loans are now selling them - "and commerical loan demand has not rebounded," O'Donnell told me, after trimming another penny from his estimate for Bryn Mawr Trust profits-per-share for next year, and 16 cents from his 2012 projection.
Bernanke's move means Bryn Mawr, like other banks, will make less than the current 4% net interest margin, on the cost of raising money vs the cost of lending it, O'Donnell told clients in a report. He also expects loan growth will drop from his previous more robust recovery estimate of 8% this year and 10% next year, to just 6% this year, 8% next year.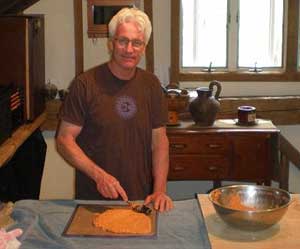 Brad Gruno is moving Brad's Raw Foods and his 25 kitchen, office and sales workers into a 14,000 square foot plant in Pipersville, near Doylestown. That's three times larger than his current vegetable bakery, which is running "24-7," Gruno tells me.
Gruno used to run a $30 million (yearly sales) fiber-optic cable contractor in Georgia. The business crashed with the construction bust. "I moved back home to Bucks County" and cultivated hobbies, including dried vegetables, which he preferred to fatty snacks.
Then back to business: "I started looking into alternative power and towers. I went to a trade show in Philadelphia. A guy there was selling fresh salsa with no preservatives. I said 'Hey, you're selling a dead chip.' He said he couldn't find good vegetable chips on the market. I told him I happen to make 'em for myself." At that moment Gruno decided on chips over wind towers.
DuPont Co., Wilmington, says it's going to spend $500 million on a new 135-worker Kevlar manufacturing plant at the Cooper River, Charleston, South Carolina.
The plant, under construction by 800 workers since 2008 and due to open by Christmas, will boost world production of Kevlar by up to 40%, DuPont says. In a statement, DuPont Protection Technologies boss Thomas G. Powell cited the investment and a $50 million upgrade at DuPont's Spruance works in Richmond, VA as proof the company is finding new uses and customers for the bulletproof fabric, which it first sold in 1965. Customers include bulletproof-vest makers, aerospace and tire makers, and the telecom-wire, oil and gas industries.
DuPont has been moving production to Asia and Latin America, but ceo Ellen Kullman, a Wilmington native, has also said she wants to expand in the US when the company can produce here profitably. It's currently weighing whether to expand titanium production at its Delaware River plant, or abroad. DuPont also makes Kevlar in Japan and Northern Ireland and has Kevlar product development labs in China, india, Brazil, Switzerland, Richmond and Wilmington.
The Occupy Wall Street movement's Occupy Philadelphia branch, seeking jobs, punishment for unnamed criminal financiers, and, you know, revolution, was setting up at City Hall at 9 a.m. Dozens of young people, some with signs - "They Control the Past, We Control the Future! We Are the 99%!" - were arriving at Dilworth Plaza on the west side of the towering stone pile.
The courtyard and the south, west, and northeast sides of the ornate stone government center were blocked with police and metal fencing, though officers let city workers in through side doors. White-shirt police commanders and TV reporters congregated in front of the closed north entrance. Nobody was yelling yet.
Meanwhile, Philadelphia- and San Jose-based ListenLogic.com, which tracks Twitter and Facebook posts for mass-market consumer companies and other clients, was declaring the protesters now comprise an "Elevated Threat" to US corporate interests.