Archive: May, 2009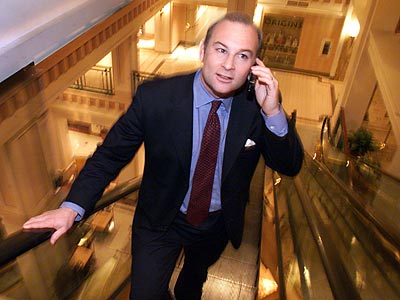 UPDATED: Pennsylvania has so much stock and bonds in state accounts that, over the past 10 years, it's been able to loan securities worth billions to hedge funds, short-sellers, and other international speculators, collecting fees that averaged $50 million a year, according to data from state Treasurer Rob McCord's office.
The state would take cash in exchange for the borrowed stock, and invest it in money-market funds and other secure investments. Profit turned to loss last September, when one of the investors (not borrowers), Sigma Finance Corp., a unit of London-based Gordian Knot Ltd. that used to invest in U.S. home loan mortgages and other risky assets, said it couldn't repay $133 million to Pennsylvania, after the value of its investments collapsed and its credit ratings were cut by Standard & Poor's and Moody's in a series of moves that began the previous Spring.

After September, then-Pennsylvania State Treasurer Robin Wiessmann stopped the securities lending program for a "re-evaluation," said John Lisko, McCord's chief of staff. Bank of New York Mellon has since refunded its $13 million annual fee for last year, Lisko told me. The bank collected $65 million for running the program in 1999-2007.
Other Sigma investors, like Swiss bank Zurich Financial Services AG and the central bank of Colombia, declared big losses when Sigma blew up last year. By contrast, Pennsylvania treasury officials at first hoped to keep the loss quiet and off the books, in hopes at least some of it could be reversed.
In 1999, America Online, the Internet service, paid $124 billion for TimeWarner, the video/publishing conglomerate. Now, TimeWarner, worth just $24 billion, is giving AOL away to its shareholders after failing to find a buyer. AOL will be run as a public company by former Google executive Tim Armstrong.
The AOL deal ends one of the biggest and most expensive management failures in U.S. business. Who's paying the price? Investors, employees, customers. Not management: Richard D. Parsons, TimeWarner's president at the time of the AOL deal and its chief executive for most of the 2000s, is now chairman of Citigroup, the giant, government-subsidized bank. An elder statesman of corporate America.
This follows TimeWarner's March spin-off of TimeWarner Cable, which would make an interesting acquisition for its major cable-based competitor, Philadelphia's own Comcast, in its joint campaign with Google to dominate the Internet. But first, Comcast would have to convince the Obama administration's antitrust lawyers that preserving multiple cable providers doesn't matter in today's online-phone-video competive environment, despite the pricing power already evident from cable's gravity-defying rate increases and robust profit margins.
Congratulations to the folks at knowledge@wharton in West Philly who are marking their first decade as an online purveyor of business school research. From 33,000 registered users back in the 1999 dot.com bubble, the site now boasts 1.3 million registered users - in English, Spanish, Portugese and Chinese editions. Today the site listed its most-read articles from each of the past 10 years:
1999 "Heavenly Strategies for High-Tech Startups": Garage.com ceo Guy Kawasaki on raising cash in the dot.com boom, swallowing one's pride, and "why all money is not created equal".

2000 "Creating Internet Strategies for Competitive Advantage": Sendil Ethiraj, Isin Guler and Harbir Singh laid out "a conceptual framework to analyze Internet strategies".
2001 "How Employees Value (Often Incorrectly) Their Stock Options": Wharton professors David Larcker and Richard Lambert showed how employees tend not to understand stock options; which limits their value as incentives.

2002 "The Failure of Customization: Or Why People Don't Buy Jeans Online": A review of online shopping's slow adoption, which had something to do with your computer's inability to say you don't look fat.

2003 "Suing Your Customers: A Winning Business Strategy?": Legal studies professor G. Richard Shell predicted doom for the recording industry's attempt to block "otherwise law-abiding consumers" from downloading tunes.

2004 "Becoming the Best: What You Can Learn from the 25 Most Influential Leaders of Our Times": Wharton banged brains with Nightly Business Report and gave Intel cofounder Andy Grove the No. 1 title. "The list also included Bill Gates, Warren Buffett, John Bogle, Jeff Bezos, Jack Welch... Oprah Winfrey..."

2005 "Good Managers Focus on Employees' Strengths": Marcus Buckingham, author of "First, Break All The Rules," on good vs. poor managers, and the need for leaders to show "optimism, clarity, and an ego big enough that they can build a future."

2006 "MySpace, Facebook and Other Social Networking Sites: Hot Today, Gone Tomorrow?" Wharton and Internet scholars suggested how to make these interactive gossip sheets pay.

2007 "Managing Emotions in the Workplace: Do Positive and Negative Attitudes Drive Performance?": Wharton's Sigal Barsade on how bad vibes are "like a virus."

2008 "How Arab Countries Are Coping with Globalization": Oil nations, though flush with cash, have fewer jobs than workers. They risk getting bypassed by China and India. Wharton's Howard Pack, author of "The Arab Economies in a Changing World," on how they're trying to catch up.
The General Motors "baby bond" investor who represented small note holders that hold around $6 billion in GM debt, alongside giant institutions which are trying to collect over $20 billion, has resigned from a debtors' committee as the automaker lurches toward a bankruptcy reorganization that will likely leave bondholders with pennies on the dollar.
Jim Graves, a Florida resident, had invested with his 80-year-old widowed mother. Like other bondholders, many baby bond investors rejected GM's offer to wipe out debt in exchange for 10% of the reorganized company. Graves won't say why he stepped aside. Here's his note, which is circulating among members of the GM Main Street Bondholders group:
Today I resigned from the Ad Hoc committee. I have concluded that it would not be in our best interests for me to personally support or not support any proposal. And certainly, I did not want my continued participation on the committee to in any way compromise our ability to act in our best interests going forward.
I still cannot discuss what I have heard until it is in the public domain.
Shares of Brandywine Realty Trust fell as much as 10% in morning trading today, from yesterday's close of $6.91, as the Radnor-based office building owner put 30 million new shares on the market, in hopes of raising cash to pay down debt. Note here, prospectus here.
It's like the home loan crisis never happened:

"A new mortgage insurer founded to provide private capital to America's housing finance system today announced that it has secured $500 million in equity funding from a group of experienced financial services investors.
"Essent US Holdings, Inc. ("Essent") said that its parent company, Essent Group Ltd. [based in Bermuda], has been funded to establish the first private mortgage insurance company in the United States since the start of the current financial crisis. Essent Guaranty, Inc., a mono-line insurance subsidiary of Essent domiciled in Pennsylvania, is in the process of obtaining the approvals necessary to offer private mortgage insurance on residential property in the United States." ("Prime loans only," Essent spokeswoman Janice Walker tells me. The rest of this is from an Essent news release, link above.)
"The capital commitments have been made by a group of investors, directly or through affiliates, with deep experience in financial services. The group includes Pine Brook Road Partners, Goldman Sachs, J.P. Morgan, PartnerRe, and Renaissance Re.
Despite the Obama "stimulus" and the Federal Reserve's credit-market bailout, the U.S. faces "continued large job losses, no improvement in credit conditions, and further sharp declines in home values," says the National Association of Business Economists" in its new survey. The number-crunchers are bracing for a "subpar recovery" compared to previous recessions.
Bloomberg put an unusually happy spin on the report, but acknowledged, "The economists predicted consumer spending will be restrained by a deteriorating labor market as job losses continue for the rest of the year." Story here.
Looks like the cash-strapped Democratic leadership in Harrisburg has gotten around to looking at the state's aggressive cash-management contracting policies, and lawsuits against (current or former) state contractors, as a potential source of revenue to replace multi-millions lost to bad investments. This from a press release we got tonight:

"State Senate Democratic Leader Robert J. Mellow today sent a letter to Pennsylvania State Treasurer Rob McCord asking for a full inquiry" into how "Pennsylvania lost $133 million as a result of Mellon Bank N.A. exposing taxpayer funds to asset-backed securities issued by Sigma Financial. Sigma Financial—an investment company managed by a London-based manager—collapsed last September amid the credit crisis.
"'A complete and thorough review is necessary to determine if other Pennsylvania securities are now exposed or in future jeopardy; whether the General Assembly should act to put more safeguards in place; and if we are able to recover the $130 million that was lost as a result of this investment scheme,' said Mellow," who represents a depressed district in northeastern Pennsylvania. "'This examination may conclude that civil action is warranted against Mellon, Sigma Financial or the rating agencies in order to recover taxpayer dollars...'"
"
Millions of dollars have been lost from the State Worker's Insurance Fund (SWIF) that benefits businesses, the tuition account program for college students, as well as the Tobacco Settlement Fund that pays for numerous health care initiatives. Plus, millions of public pension dollars and other important state investment funds are affected. As a result, he said a significant imbalance between assets and liabilities now exists.
"
In a May 22 letter, state Treasurer Robert M. McCord notified the governor and legislative leaders of the 'significant and unusual loss' and the steps that he has taken to address the problem.
"Mellow said McCord's letter raised the potential that there were 'questionable and seemingly unregulated practices involving the investment of state funds and the exposure of taxpayer dollars. These practices include arms-length agreements between the custodians of Commonwealth funds, third party borrowers of securities and investments by the custodian that are not accountable to state officials.'

"Mellon Bank N.A. was able to access taxpayer funds as a result of a Securities Lending Agreement that it had with the state Treasury Department. The securities lending program has been used to generate revenues and has successfully raised over $400 million in revenues since 1998. However, as a result of Wall Street's demise in September, the program experienced significant losses creating taxpayer liabilities.
"
The securities lending program enables fund custodians—in this case Mellon Bank, N.A.—to lend Pennsylvania securities to other investment firms and earn a profit on revenues generated. It also receives a commission to operate the program.
"'Apparently, these arms-length transactions do not directly involve officials from Pennsylvania and there is no accountability chain if the investments fail—except that the taxpayer or the annuitant of a large pension fund gets the bill,' Mellow said. 'While the securities lending program was lucrative in good times, what we may find is that we need to strengthen taxpayer investment safeguards to prevent this huge loss from happening again in the future.
"'We also need to take a good, long and hard look at whether we should initiate a civil action to recover the lost money,' Mellow said.

"
Mellow asked that the State Treasurer provide a full inquiry into these investment practices and to use the authority of his office to pursue any use legal remedies with the Attorney General or Office of General Counsel, if the facts warrant civil action and report back to the General Assembly."