Archive: March, 2011
Joseph N. DiStefano
They haven't tried this on my street yet. But Delaware state transportation workers and state police apparently had nothing better to do the other day than suddenly enforce an ordinance that makes it possible to remove basketball poles if a neighbor complains.
Delaware Online (the Wilmington News Journal) caught it on tape last week. Also at http://www.youtube.com/watch?v=k0ZZHGO5sXw
Best part is how the statie at first tells the homeowner he can keep his (removed) pole, then denies she said so.

Joseph N. DiStefano
As home prices keep falling: Easy credit for people who couldn't or wouldn't put up big down payments was a big cause of the 2000s housing-price bubble, the 2008 credit crisis and the economic slump we're still enduring.
When mortgage financiers Fannie Mae and Freddie Mac went broke and had to be taken over by the government, it sparked fears (among real estate people) and hopes (among old-line bankers like Beneficial's Gerry Cuddy) that lenders would start requiring 20%+ down payments again, like in the old days.
But the new draft Fannie-Freddie guidelines drafted by federal bank regulators carve out a big exception: Proposed rules allow them to keep taking low-down-payment loans for "as long as they are in conservatorship," writes Edward Mills, Washington analyst for FBR Capital Markets.
Joseph N. DiStefano
eBay's "generous" $2.4 billion offer for GSI Commerce Inc. of King of Prussia won't likely be topped, writes Stifel & Co. analyst Jordan Rohan in a report to clients today.
Who else, Rohan asks, could buy GSI, which handles online sales for Dick's Sporting Goods, Toys R Us and many more? Amazon.com is growing quickly without acquisitions. GSI probably isn't big enough for Wal-Mart. China's Alibaba Group is a "longshot" that could find the warehouse and sales-software interesting, but also expensive in the face of its own share buybacks.
But Rohan questioned eBay's sweet deal with GSI founder Michael G. Rubin. Rubin's $31 million bid to buy back nearly half of GSI - RueLaLa, ShopRunner, Fanatics - is "only a small percentage" of the $130 million + that Rubin grosses in the deal.
Joseph N. DiStefano
Beneficial Mutual Bancorp, the biggest bank still based in Philadelphia, plans an "expense management reduction program" that will "reduce its workforce by approximately 4% during the first quarter," and "consolidate" five branches into other locations, the bank told the Securities and Exchange Commission. Filing here.

Beneficial employs around 900, meaning the cuts will affect 30-40 jobs. Boss Gerry Cuddy has said Beneficial has had a tough time growing out of the recession because Philadelphia-area business has been slow to recover and there hasn't been much demand for new loans.
Beneficial said it will take pre-tax charges of: $2.7 million to pay severance and outplacement costs for the laid-off employees, and $1.5 million to close the five branches.
Joseph N. DiStefano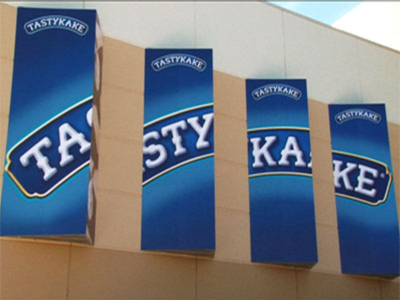 Shares of Tasty Baking Co., maker of Tastykakes, slipped to a 28-year low today after the Philadelphia snack bakery told the SEC in this filing late Friday that "the Company is unable to file" its 2010 annual report on schedule because it's busy trying to sell the firm.
In January the company said it had made deals with its banks, state agencies, landlord Liberty Property Trust, and other creditors to delay payments while it looks for a buyer to take over the company or some other "possible strategic and financial option."
That followed the failure of Tasty's new state-subsidized South Philadelphia bakery to meet initial sales targets; higher ingredient costs; and the bankruptcy of A&P, a major supermarket customer. The creditors gave Tasty until June 30.

Joseph N. DiStefano
eBay Inc., the San Jose-based online auction giant, says it will pay $29.25, a share, or $2.5 billion, to buy Michael G. Rubin's King of Prussia-based GSI Commerce Inc. and its marketing-services unit, which manages online sales for Dick's Sporting Goods and hundreds of other retailers.
Update: GSI will remain in King of Prussia under Chris Saridakis, hired as its marketing-services chief last year, eBay spokeswoman Amanda Coffee told me. Her bosses told investors the company plans to save $40 million by cutting "corporate overlap" after the merger. Coffee won't say how many will lose their jobs. eBay announcement here.

GSI's headquarters is in King of Prussia, but it ships through plants in Kentucky and other states. eBay will keep seven of GSI's nine warehouse centers, with Rubin keeping Jacksonville-based Fanatics' operation and a second, unidentified location.
Joseph N. DiStefano
Dow Chemical boss Andrew Liveris wants the U.S. government to make American manufacturing strong again.

Don't give him that service-economy stuff: "Where manufacturing (leaves), the ideas follow. . . . If we do nothing, we will be left with nothing."
Government intervention? "It's a false choice to say that you can either be pro-business or pro-government. They must work in concert."
Joseph N. DiStefano
"We would like to see more thought put into [a] more aggressive store closure strategy" at Best Buy Corp., says Janney Capital Markets analyst David Strasser, after watching Best Buy shares sink below $29, down from $48 last Spring, on disappointing sales and a build-up of unsold personal computers and other inventory.
"But even if they did plan on closing stores, they would do that well before making it public. It would only serve to scare vendors, landlords and employees" to announce closings are on the way, Strasser adds.
Yet Strasser says investors have overreacted, and clients should buy, not sell, the stock at current prices: "The company is moving in the right direction" by investing in smart phones, tablet computers, and electronic commerce, as personal computer sales and profits fall.