Wall St. likes Philly public-school closings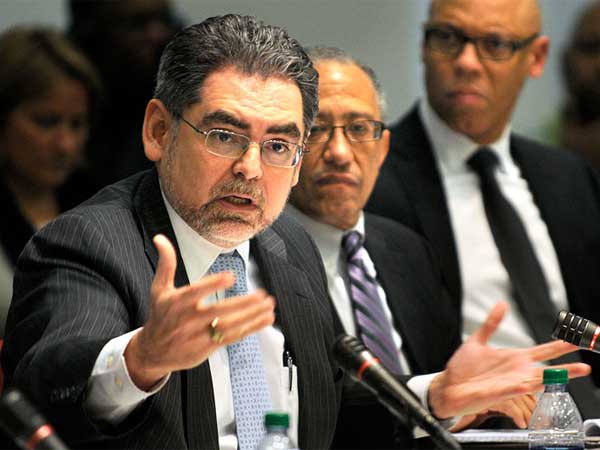 Moody's says 23 shutdowns, with more to come, is "positive from a credit perspective"
Wall St. likes Philly public-school closings

The Philadelphia School District's plan to shut almost 1/10 of the district's 250 schools, as competing, taxpayer-funded charter schools draw off one-third of the district's student body and Gov. Corbett cuts state aid, is "positive from a credit perspective" because it shows school officials "are intent on reducing expenditures" even if it makes them "unpopular," writes Moody's analyst Michael D'Arcy in a report to bond investors.

Stronger credit means the district can keep borrowing money relatively cheaply. "More school closures are likely" next year, D'Arcy adds. Read the report, excerpted from a review of municipal-bond developments, below:
On March 7, a state oversight board for the Philadelphia School District (which Moody's rates Ba1, with a Negative outlook), the School Reform Commission (SRC), voted to close 23 of the district's 250 schools.

The measure passed despite public outcry against school closures, a critical component of the district's five-year plan to close a large budget gap.

Setting aside the effect of the closures on children and their education, the closures are positive from a credit perspective because they indicate that the district and the SRC are intent on reducing expenditures.
The SRC vote supplements other recent measures that increase state oversight of Pennsylvania school districts, including a state law passed in June 2012 granting state officials the power to appoint chief recovery officers for financially troubled districts. The Philadelphia School District currently has $3.3 billion in general obligation and lease revenue debt outstanding.
The SRC has introduced deep expenditure cuts over the past 18 months, reducing a fiscal 2012 deficit of $720 million to $20.5 million through a variety of revenue and expenditure measures that included a 16.7% staff reduction and salary and benefit cuts that generated a combined $466 million in savings.
The district entered fiscal 2013 (ending June 30, 2013) with a $218 million budget gap; additional deficits amounting to $78.3 million are projected through fiscal 2014. School district officials estimate the school closures will generate $20.2 million in recurring annual savings starting in fiscal 2014.
The rapid growth of charter schools, which now enroll close to 30% of the district's 200,000 students, have emptied approximately one-quarter of the seats in the district's school facilities since 2003, as shown in the exhibit below. The growing number of students in charter schools has created an imbalance between the state aid the district receives and the number of schools it maintains, creating overcapacity in district-managed schools.
In addition, because the district is required to provide funding for district students attending charters schools on a per-pupil basis, a growing portion of its aid revenues have been redirected towards charter schools over the past decade.
The district also lost $219 million in state aid in fiscal 2012 owing to the elimination of $110 million in state charter school reimbursements and a $100 million cut in the basic education subsidy. Combined with sizable losses in state and federal grants, these reductions are driving an operating deficit in fiscal 2012 through 2014.
As a result, the SRC and the administration plan to reduce the number of district school buildings. While the SRC voted to keep open four of the 27 schools originally slated for closure, the vote indicated the commission's and management's resolve to confront the district's significant financial challenges – even if it meant taking unpopular measures.
The SRC will vote on two additional closures later this year, and more school closures are likely in fiscal 2014 and beyond despite widespread public opposition.
The SRC vote is the latest example of increased state oversight of Pennsylvania public school districts, which notably includes the June 2012 passage of a state law giving the Pennsylvania State Department of Education the power to appoint recovery officers for distressed school districts. So far, three school districts have come under state oversight in addition to the Philadelphia School District.

See also Bloomberg's Romy Varghese's story from earlier this month, before the district scaled back more extensive shutdown plans, here.