Joseph N. DiStefano
Klein Group, Florham Park, NJ, has paid $9.5 million ($50.13/sq ft) for Fairless Hills Shopping Center, 500 Lincoln Highway, Falls Township, Bucks County, says broker Brad Nathanson of CBRE. His firm represented seller Earle W. Kazis Associates Inc., the New York firm that developed the nearly 190,000 sq ft center in 1971. Current tenants include Pathmark Super Center, Big Lots, Retro Fitness, Tuesday Morning, Family Dollar.
The mall "re-developers" who upgraded other local centers in recent years had "missed" Fairless Hills, giving new owner Klein the opportunity to upgrade, said Nathanson in a statement.
Joseph N. DiStefano
Reports the Bond Buyer: "Detroit bankruptcy Judge Steven Rhodes' decision to hire a municipal finance expert to review the city's bankruptcy plan attracted responses from five professionals," two of whom work for Philadelphia-area firms that have grown by advising this region's much-indebted public agencies over the years.
"The applicants are: Dean Kaplan, a managing director at Public Financial Management Inc., who would lead a team of PFM colleagues; Richard Ravitch, a former New York lieutenant governor who was part of New York City's high-profile restructuring in the late 1970s; Peter Hammer, a Wayne State University law professor; William Brandt, a Chicago-based turnaround consultant and chairman of the Illinois Finance Authority; and Martha Kopacz, from turnaround and investment banking advisory firm Phoenix Management Services LLC, whose team would include Bob Childree, the longtime controller of the state of Alabama." PFM and Phoenix are local firms:
PFM, the largest muni advisory firm in the US with 500 staff, was founded by Ed DeSeve, the late Mayor Frank Rizzo's finance director, and partners including Jim White and Sam Katz; it has acquired other muni advisors around the U.S. Kaplan, an ex-Philadelphia city budget director who heads PFM's "turnaround" team, "worked on the restructuring of cities (including) Pittsburgh, Washington, Cleveland, Miami and Baltimore," and Detroit's schools, and would head the Detroit municipal review team, the Buyer reports. He's asking for $550 an hour, with lower rates to team members.
Joseph N. DiStefano
PACT Phorum, the yearly software and investors' conference organized by the Greater Philadelphia Alliance for Capital Technologies, on Wednesday named SocialLadder, a mobile-platform developer that helps clients "align rewards with the most influential consumers" through game-like interface, as the "Best in Show" start-up from its "demo pit" competition. Other finalists: Canvas, RJMetrics and Buyer MLS.
SocialLadder -- informal motto: "Why toss 100,000 $2 chocolate bars from an airplane, when you can give a $20 gift basket to the top 1,000 most influential people for 1/10th the price?" -- is based on Rittenhouse Square, and run by founders Raavi Iqbal and Alana Bly and a staff of two.
The Phorum's advisory council was chaired by Allen Born, director at investment bank Fairmount Partners. Speakers included Salesforce.com head of platform research Peter Coffee, Yahoo! Tech columnist David Pogue, and Independence Blue Cross boss Dan Hilferty, with panelists from LockheedMartin, Penn Medicine, Wawa and other very prominent locally-based and national outfits. I got to moderate the Mobility panel.
Joseph N. DiStefano
Workers at Yue Yuen Industrial Holdings Ltd., which employs tens of thousands of low-wage workers at factories in southern China and neighboring countries making shoes that Nike, Adidas and other Western companies sell at fat markups, have been on strike for 10 days in a dispute over pay, benefits and "improper labor contracts," reports Reuters here.


"A spokesman for Yue Yuen said the firm, which makes shoes for the likes of Nike, Adidas, Reebok, Asics and Converse with a market capitalization of some $5.59 billion, had offered an improved 'social benefit plan'," but workers refused to head back, and "scuffles" continued with police, Reuters reported.

Adds Reuters: "The strike fits a growing pattern of industrial activism that has emerged as China's economy has slowed. A worsening labor shortage has shifted the balance of power in labor relations, while smartphones and social media have helped workers organize and made them more aware than ever of the changing environment, experts say." See also a report from U.S.-based China Labor Watch here.
Joseph N. DiStefano
FS Investment Corp., the $4.5 billion, Philadelphia-based investment company that buys high-interest-rate debt, run by investors Michael Forman's and David Adelson's Franklin Square Capital Partners, will send Forman to ring the opening bell at the New York Stock Exchange on Wednesday to mark the company's initial public stock offering, under the ticker symbol FSIC. Forman will be joined by Bennett Goodman, co-founder of GSO Capital Partners, the Blackstone affiliate that picks investments for FSIC.
FSIC has until now traded as a closed-end fund, through brokers and advisors charging up-front and management fees. Investors will now be able to sell their FSIC shares, and see whether demand among investors hoping to profit from the stock outstrips the number looking to cash in their past gains. FSIC has sweetened returns by boosting its monthly cash payment to investors to 7.425 cents a share, from 7.2 cents, as of April, and will add one-time payments of 10 cents a share in August and November. (Corrected)
Joseph N. DiStefano
Philadelphia's Union League club, whose founders backed the winning side in the Civil War and have been prominent in city business and social circles ever since, are weighing a bold expansion by taking over the historic but financially pressured Torresdale-Frankford Country Club up on Grant Ave. in Northeast Philly.
A Wednesday membership meeting will seek to ratify a proposal to take over the 118-year-old course and its clubhouse, on 150 acres, 14 miles from Center City via I-95 and State Rd.. According to a presentation made to members on March 25, the Union Leauge hopes to offer "unlimited golf" to members for $3,600 a year, plus pool, tennis, dining, trap and skeet shooting. That would raise total Union League fees for "unlimited golfers" to around $8,000 a year, which boosters say is what you pay for suburban country clubs anyway, once you get past the initial member's bond. Club officers wouldn't speak for this item.
Under the proposal, the League would pay $2.5 million to fund "all liabilities" for Torresdale-Frankford, and borrow another $8 million "to fund capital improvements." The presentation noted the League already has $15 million in long-term debt, or almost $10,000 for each of its 1,550 regular members (more than 10 times as many as Torresdale-Frankford) (the League has an even larger number of senior, junior, clergy, military and out-of-town members who pay fractional dues) (the League also has a $6.2 million endowment). Boosters promise, in boldface type, that they will not hit current League members up with any special assessment to pay for the deal.
Joseph N. DiStefano
Jane Scaccetti CPA (the well-connected chair of Temple Health System, director of Pep Boys, once married to one of Philadelphia's most power politicos) dances in front of City Hall. Ronald Drucker CPA, J.D., steps lively in a video montage of bopping tax partners. Associates and interns step rhythmically from their cubicles, shimmy in hallways, spill through the west Market St. skyscraper district, sort-of in time.
It's not Soul Train, or American Bandstand, or the smooth dancers-in-suits show on the wall screens over the elevator banks at Comcast headquarters. It's the mostly buttoned-down accounting firm of Drucker & Scaccetti in Center City, one of the many accounting outfits where staff is celebrating the end of extra long hours and deadline stresses that come with Federal Income Tax Day, April 15.
So pleased are they to see all those tax returns heading down the wires and through the mail to Internal Revenue, the firm produced a video of its mostly casually-dressed staff busting moves, scored to this year's ubiquitous Happy by Pharrell Williams, produced by Sam Rossman and uploaded here: https://www.youtube.com/watch?v=Xgzc6qm5Agw
Joseph N. DiStefano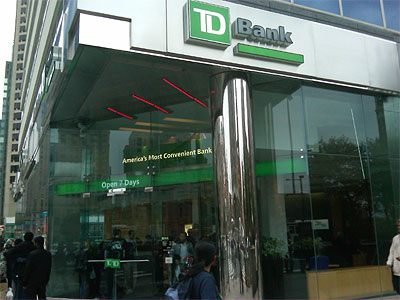 TD Bank, the Canadian lender that is expanding in the Philadelphia area from the branches it bought when it took over the former Commerce Bank, has built a "wealth management" team for its office in wealthy Moorestown from veterans formerly with rival banks. They'll report to Sherry A. Varrelman, SVP and Regional Wealth Leader, in what Varrelman calls TD's "home" market.
The team will be headed by John Watson, a Rutgers and American College grad who spent the last 12 years in Wells Fargo's Princeton private-banking office. Vice Presidents James Beam, Adam Bracy, Jack Hall and Nick Rounds, all moved to TD from PNC's Moorestown office. Completing the TD team is estate settlement manager Angela Barone, a TD veteran.