Joseph N. DiStefano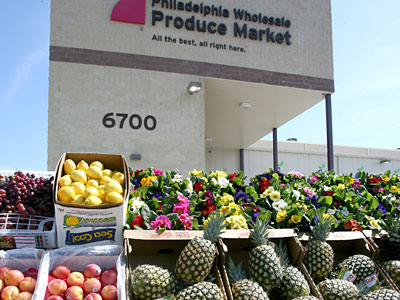 Mexican ocean shippers met with South Jersey vegetable growers and Philadelphia-area port executives at the Philadelphia Wholesale Produce Market on Essington Ave. in Southwest Philly today to try and convince shipping lines to establish a regular sea import-export service between the Delaware River ports and Mexico's chief Atlantic port of Vera Cruz.
The four-day Gulf of Mexico and Atlantic route would compete with deregulated North American trucking lines sending General Electric locomotive parts, Heinz pickles, Hersheys chocolates and Alcoa aluminum ingots and other Pennsylvania exports totalling $3 billion South to Mexico last year, while importing $3.4 billion of Mexican fruit, vegetables and electronics, including about one-quarter of the produce terminal's yearly volume, says PennPORTS, the state-backed port advocacy group.
Supporters of the proposal in a meeting at the produce terminal include South Jersey fruit grower and shipper Fred Sorbello, CEO of Mullica Hill Group Cos. and president of the group Ship Philly First; Rusty Lucca, president of produce shipper Lucca Trucking of Vineland; Carlos Giralt-Cabales, Mexico's consul-general in Philadelphia; Mexico's chief port administrator, Fernando Gamboa-Rosas, who calls Mexico "la panza del mundo" (Belly of the World) because of its Atlantic and Pacific ports and its high volume of farm exports; and Juan Ignacio Fernandez-Carbajal, director of the Veracruz port, which is the focus of a $5 billion expansion campaign designed to stimulate Mexican trade.
Joseph N. DiStefano
"Even before announcing its plans for Time Warner Cable, Comcast had donated to almost every member of Congress who has a hand in regulating it," reports Politico here.

"Money from Comcast's political action committee has flowed to all but three members of the Senate Judiciary Committee," including its antitrust subcommittee leaders, Sens. Amy Klobuchar (D-Minn.) and Mike Lee (R-Utah).
"The cable giant has donated in some way to 32 of the 39 members of the House Judiciary Committee, which is planning a hearing of its own. And Comcast has canvassed the two congressional panels that chiefly regulate cable, broadband and other telecom issues, donating to practically every lawmaker there — including Rep. Greg Walden (R-Ore.) and Sen. Jay Rockefeller (D-W.Va.)."
A Comcast spokeswoman told Politico that many of these reps represent districts where Comcast provides cable, Internet and phone service, and "it is important for our customers, our employees and our shareholders that we participate in the political process...
Joseph N. DiStefano
Shares of FMC Corp. jumped 5%, topping $81, a record high for the Philadelphia-based specialty-chemical maker, in morning trading after CEO Pierre Brondeau told investors he plans to split the company into two publicly-traded firms, both of which plan to open headquarters in the 47-story tower Brandywine Realty Trust agreed to build for FMC Corp. and other tenants at 30th and Walnut in University City.
If the companies stay independent as planned, the split could be a net gain for Philadelphia: "You're going to need two IT organizations, two finance organizations, two communication organizations, two procurement organizations," Brondeau told investors in a conference call. He acknowledged this will mean "a slight operational cost increase," but predicted it will be worth it in terms of higher share values.
The two successor companies:
-- "New FMC," with $3.35 billion in sales (+16% vs 2012) and $815 million in profits last year, will supply farm pesticides, food additives like omega-3 fish oil, and medical materials.
Brondeau says these businesses are all "technology based," "growth-orientedm" "high return" and "non-cyclical."
-- "FMC Minerals," with $1 billion in sales (+7% vs 2012) and $153 million in profits last year, will include FMC's lithium-by-saltwater-evaporation unit, which supplies battery-makers, and its soda ash business, which supplies glass, detergent and chemical makers.
Brondeau says these businesses are based on "low-cost manufacturing" using "unique extraction and processing technologies," that are "driven by global economy growth." Even with shipping costs, FMC, one of four American soda ash producers, can send soda ash to Asia for less than it costs Chinese companies to produce it, he added. Brondeau called FMC the "lowest cost producer in the world" for that commodity.
Joseph N. DiStefano
Twin brother Kevin and Richard Gates attended Conestoga High School in Berwyn together, went off to get chemical engineering degrees at the University of Virginia together, and, with a group of fellow financial brains, founded TFS Capital of West Chester together, where they manage more than $1 billion in other people's money through mutual funds (one won a Morningstar Inc. performance award last year) and other investments.
In 2008 veteran energy trader Houlian (Alan) Chen came to the Gateses with a proposition: If they and some of their friends raised millions to back his trades, Chen would use it to buy and sell electricity contracts on the market run by the Audubon, Pa.-based PJM Interconnection, which runs the grid that sells electricity in Pennsylvania and 15 other states.
The Gates and their partners set up Powhatan Energy Fund LP. Chen used it to make them millions, much of it in "loss credit" payments that PJM awarded traders when prices move below a certain level in order to help keep the power markets moving. PJM stopped making such payments in 2010.
Joseph N. DiStefano
Teleflex Corp. responded to American industrial decline by selling or closing down its old car, boat and factory controls plants. It shrank its workforce by half (and by two-thirds in the U.S.)., and switched to the medical-devices business. It worked, if the stock market is the measure: The company has been trading at record levels.
Next step was to do something about its old Limerick Township headquarters. "We were in a large campus, off the main thoroughfares, where we had manufacturing facilities for the now-divested operations, reflective of our previous era," says Cam Hicks, Teleflex's vice president for global HR.
"We wanted a place where we could get access to new talent, and position ourselves for growth, while increasing our visibility, without a net increase in commute time" for headquarters workers scattered through Philadelphia's western suburbs.
Joseph N. DiStefano
If it gets past City Council and the Pennsylvania Public Utility Commission, Philadelphia Mayor Michael Nutter's plan to sell the Philadelphia Gas Works to Connecticut-based UIL Holdings Corp. for $1.86 billion, and use up to $630 million to trim the city pension plan's $8 billion long-term deficit, will be a "credit positive" that could improve city bond ratings and reduce borrowing costs, writes analyst Michael D'Arcy in a report to clients of Moody's Investors Service today.
That's if Nutter is able to execute his plan to keep the city paying millions each year into the pension fund, after the PGW cash infusion, D'Arcy added. "The city's decision to sell PGW now is driven by officials' belief that the utility's recent strong results have increased its value," and that today's cheap U.S. interest rates makes it easier for buyers to borrow money to finance the deal, driving up the sale price, he noted. Besides the pension bailout, the rest of the sale price will pay off PGW bonds and the gasworks' own pension plan.
But analyst D'Arcy also noted Philadelphia is risking a "popular backlash": Under UIL, after a three-year guaranteed rate freeeze, "rates could increase significantly over time." Also, the value of PGW could rise rapidly in private hands, leading to sellers' remorse, which is what happened after Chicago sold its Skyway and its parking meter systems at prices that city officials and voters now believe was "not competitive."
Joseph N. DiStefano
UPDATE: "Too little, too late," says David Strasser, analyst at Janney Capital Markets, of the latest store closings at Staples, the Massachusetts-based office-supply chain that is also the second-largest online retailer after Amazon.com. "To close and shrink stores is the correct strategy," but sales are falling faster than expected, and Staples' "limited" technology and consumer electronics offerings (e.g., no Apple iProducts) and its weak store personnel "skill set" (compared, say, to Best Buy's Geek Squad) will make Staples' store-improvement plan "tough to succeed." Staples was "early and good" online, but now faces price-cutting, and the company overpaid for its Corporate Express acquisition, Strasser added. He's recommending clients stop buying Staples stock.
EARLIER: Staples says it plans to close another 225 of its 2,000 stores by 2014, after closing a net 40 stores last year. The chain announced the closings after reporting sales fell last year. More here. The move follows yesterday's announcement by Radio Shack that it hopes to close 1,200 of its 5,000 stores -- if it can get permission from lenders, who are watching the chain's growing losses closely, and might prefer bankruptcy to increased sales losses by a chain that's already losing money.
Separately, "Best Buy is scrambling to avoid the fate of the Electronics Stores of Christmas Past such as Circuit City, The Wiz, and Tweeter," as well as "fast fading Radio Shack," writes bond analyst Carol Levenson for clients of Gimme Credit LLC. In fact, Levenson says Best Buy looks like it may be the "sole survivor" of the once-thriving electronics-chain-store sector: CEO Hubert Joly has stabilized profit erosion and Best Buy has been gaining market share, while cutting even more expenses (up to $1 billion a year) than it had projected. Still, she's not recommending Best Buy bonds.
Joseph N. DiStefano
Graham Partners, the Newtown Square investment group started by industrialist Donald C. Graham, says it has acquired Atlanta-based plastic-bottle maker Precision Medical Inc., and merged it with Saddle River, NJ-based bottle maker Paradigm Packaging and its plants in New Jersey, California and Utah, which Graham bought in December, and Wisconsin-based bottle-maker Scandia Plastics, which it bought in Sept. 2012, combining all three to form a new company, Convergence Packaging.
The President and CEO of Convergence is Ross Bushnell, a former Monsanto and Silgan Plastics executive who Graham had prevoiusly assigned to run Scandia. Convergence is looking to buy more "strategic blow-molders," said Graham managing partner Adam Piatkowski in a statement. He told me the combined companies employ about 400.