Archive: September, 2012
Penn State fans know how important Mike Mauti is to the Nittany Lions' success. Now the senior linebacker is getting recognized on the national stage.
Mauti was named the Walter Camp National Defensive Player of the Week on Sunday after helping Penn State's defense limit Illinois to just seven points on Saturday.The linebacker was credited with 0.5 sacks, six tackles and two interceptions.
Mauti's first pick, at the end of the first half, set a school record when he returned the ball 99 yards to the Illinois one yard line. The second pick, late in the third quarter, led to a Penn State touchdown.
Video: How did Penn State's defense hold Illinois scoreless for the first 34 minutes? The Inquirer's Joe Juliano answers this and why Penn State had this game circled on their calendar.
There was no shortage of storylines in Penn State's 35-7 win against Illinois on Saturday. From backstory (Illinois coaches recruiting Penn State players this offseason) to implications (the Nittany Lions looking for an improbably Big Ten Leaders Division title) to pure entertainment (Mike Mauti's incredible performance) the game seemed to have it all.
Here are some of the best Tweets posted during and after the game from current, future and former Nittany Lions:
Cornerback Stephon Morris (@Morris12island): It wasn't business, it was personal. Anyways on our way back to PSU with our first #B1G win. We Are dedicated to restoring the roar!
The Nittany Lions took the lead early -- then never gave it up. In Bill O'Brien's Big Ten debut, Penn State was impressive, dismantling Illinois, 35-7 at Memorial Stadium. The Nittany Lions are now 3-2 heading into next week's homecoming game against undefeated Northwestern.
Here's a quick look at how it all went down on Saturday:
It was over when: Matt McGloin scored on a quarterback sneak with 3:15 remaining in the third quarter. The touchdown -- McGloin's fourth rushing score in the past two games -- gave Penn State a 28-7 lead and effectively squashed any momentum Illinois accumulated after the break. The eight play, 57-yard scoring drive followed a three-and-out by Penn State's defense. That was a back-to-back blow the Fighting Illini simply could not recover from.
Penn State opens up its Big Ten slate against Illinois this weekend. And though the Nittany Lions (2-2) aren't bowl -- or postseason -- eligible, Bill O'Brien and his crew still have something to play for. Besides pride, that is.
Penn State can still win the Big Ten Leaders Division. For a team with a huge chip on its shoulders, that feat would be huge. Here's a few storylines for game one of the Nittany Lions' Big Ten journey:
Any hard feelings? When the NCAA sanctions were handed down this summer, only one Big Ten team actively and publicly recruited Penn State players. That would be first-year Illinois coach Tim Beckman and his crew of Fighting Illini assistants. Penn State running back Derek Day insisted that's "water under the bridge now." Mike Mauti, one of the Nittany Lions who actively spoke out against Illinois' tactics over the summer, was not made available to the media this week. Though the Nittany Lions won't admit it, Illinois' recruitment is still probably on their minds when they take the field this weekend. Does that mean things will get chippy?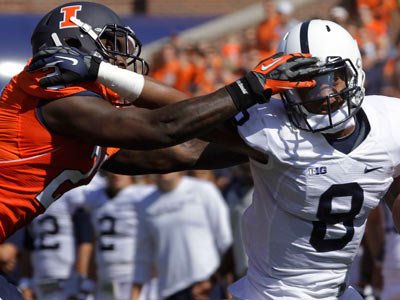 Join our chat for live updates and commentary as Penn State takes on Illinois at Memorial Stadium. Kickoff is set for noon on Saturday.
On a mobile device? Click HERE to join the chat.
Joe Juliano
Penn State defensive end Pete Massaro has been nominated for the National Football Foundation and College Hall of Fame's Scholar-Athlete Fellowship, as well as the William V. Campbell Trophy presented to the nation's top student athlete.
Massaro, a graduate of Marple Newtown High School in Delaware County, graduated last December with a 3.85 grade-point average as a finance major. He is on schedule to earn an economics degree at the end of the current semester in December.
Massaro was named an Academic All-American at the end of the 2010 season. He sat out all of last season with a torn anterior cruciate ligament in his left knee.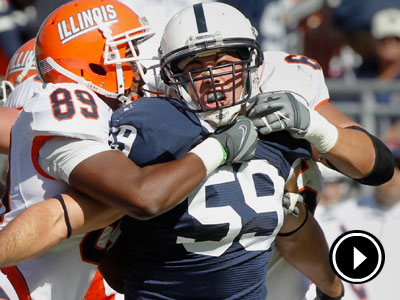 Video: CineSport's Noah Coslov and The Inquirer's Joe Juliano preview Penn State's Big Ten opener vs. Illinois on Saturday, and debate the significance of Paul Jones' departure from the team.