Archive: August, 2012
Joe Juliano
Penn State will observe a moment of silence prior to Saturday's season-opening game against Ohio at Beaver Stadium but apparently has no plans to mention the late Joe Paterno.
In a brief statement, the athletic department said, "We plan to allow for a moment of silent reflection for our fans to consider all victims of child sexual abuse and those who have endured suffering and loss."
Saturday will mark the first football game at Beaver Stadium since Paterno's death on Jan. 22.
Live chat: Join the Inquirer's Emily Kaplan as she provides live updates and commentary of Penn State's season opener against Ohio at Beaver Stadium.
On a mobile device? Click HERE to join the chat.
Penn State quarterback Matt McGloin talks about the Nittany Lions' season-opening game against Ohio on Saturday. (Video by Emily Kaplan/The Philadelphia Inquirer)
Joe Juliano
In this video by the Inquirer's Emily Kaplan, Penn State head coach Bill O'Brien rallies the crowd at Beaver Stadium on Friday in anticipation of Saturday's matchup against Ohio State.
Thursday lunch hours just began at the Tavern, the classic homestyle restaurant in the heart of downtown State College, when owner Pat Daugherty received a call from Borough Manager Tom Fountaine.
"Pat," Fountaine said. "Did you know there's a brick with Jerry Sandusky's name on it outside your restaurant?"
"No," responded Daugherty, who has owned the property for 32 years. "I had no idea."
Joe Juliano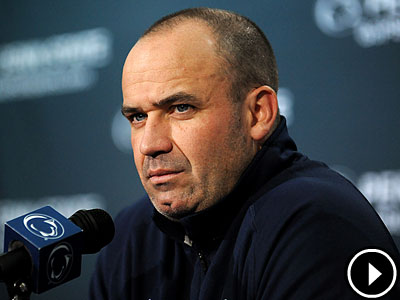 Video: Penn State's football team finally begins the post-Joe Paterno era with Saturday's game against Ohio at Beaver Stadium. The Inquirer's Joe Juliano talks with Cinesport's Noah Coslov about the atmosphere in State College ahead of kickoff.
Joe Posnanski's new biography on Joe Paterno is everywhere on Penn State's campus.
It's sold in the student bookstore and it's on display in the window of the CVS on West College Avenue. On Wednesday afternoon, a male student sat on a bench not far from Old Main as he leafed through the book, which was released last week.
Well, according to ESPN's Darren Rovell, the people of State College aren't the only ones who have interest in Posnanski's book. "Paterno" will debut at No. 1 on the New York Times hardcover non-fiction best-seller list this week, Rovell reported on Wednesday.
Joe Juliano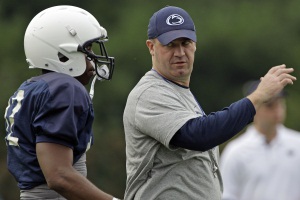 Penn State coach Bill O'Brien gave a few more clues on what fans can expect when he begins his tenure Saturday against Ohio at Beaver Stadium, particularly before the game.
Speaking for the first time Thursday night on his weekly radio show, O'Brien said he planned to run out on the field with the team before kickoff.
"My wife told me if I decide to do that, don't trip," he joked.