Archive: August, 2008
California high school quarterback Tate Forcier committed to Michigan upon the completion of his official visit to Ann Arbor today, according to a report. I guess the Wolverines' loss to Utah on Saturday didn't affect the four-star rated recruit's decision. Forcier had Penn State among his final five schools and was planning to take an official visit to State College during the weekend of the Illinois game. I guess those plans have been scrapped.
The Lions haven't signed a quarterback recruit since they bagged Pat Devlin in 2006. They pulled out all the stops to try and acquire Terrelle Pryor for their last recruiting class, but that effort was all for naught. Now they find themselves without a blue chip quarterback when there aren't many left to snag. Most likely, Penn State will have to settle for a second-tier guy (at least, as far as the rankings go). Of course, if they wanted one of the kids they're bound to sign they would have gone after them from the get-go.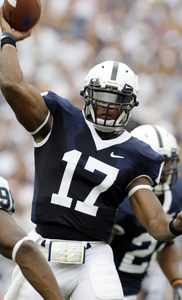 STATE COLLEGE, Pa. -- The season opener went pretty much as expected. Here's this morning's story. And here's a story on local boy, Pat Devlin, and his putting aside his disappointment in being named the backup.
Here are some post-game notes provided by the Penn State Athletic Department:
- Penn State is now 101-19-2 in season openers, (winning its last seven and 16 of 18). The Nittany Lions are 36-7 in season openers under Joe Paterno and 109-12-1 in home openers overall.
- The Nittany Lions have won 32 of their last 41 games, tied for eighth-best in the nation over that span.
-Penn State is now 6-2 all-time in the month of August.
-The Nittany Lions are now 53-11 in non-conference games since starting Big Ten play in 1993.
-Penn State's 66 points today are the most in a game for the Lions since scoring 67 against Louisiana Tech in 2000.
- The Lions' margin of victory was the most since the 59-0 win over Florida International in the 2007 season opener and tied for sixth-largest under Joe Paterno.
-The Nittany Lions are now 4-1 against teams from South Carolina (2-0 vs. South Carolina, 1-0 vs. Furman, 1-0 vs. Coastal Carolina and 0-1 vs. Clemson.)
- Penn State's 594 yards of total offense are its most since gaining 661 yards in a 59-34 win vs. Rutgers at Giants Stadium in 1995.
- The Lions' 334 rushing yards are their most since gaining 389 yards on the ground vs. Youngstown State in 2006.
-The 24 points scored by the Nittany Lions in the second quarter are the most points scored by Penn State in a quarter since recording 28 in the third stanza of last year's season opener against Florida International.
-Penn State scored 38 points in the first half today, the most points in a half for Penn State since the Nittany Lions scored 56 in the first half at Illinois in 2005.
-The Nittany Lions scored seven rushing touchdowns in a game for the first time since rushing for seven scores against Michigan State in the 2002 regular season finale.
-Evan Royster's three rushing touchdowns today are a career-high and the first time that a Nittany Lion has had three rushing touchdowns in a game since Tony Hunt recorded the feat against Temple in 2006.
-Daryll Clark threw his first career touchdown pass in the second quarter, a 5-yard toss to Jordan Norwood.
-Stephfon Green notched his first career touchdown on a 7-yard rush in the second quarter.
-Derek Williams's 89-yard kickoff return for a touchdown in the second quarter was the first kickoff return for a touchdown of his career. Williams also has two punt returns for touchdowns in his career (Temple '06 and Notre Dame '07). It was the first kick return for a touchdown by a Nittany Lion since A.J. Wallace had a 97-yard kick return for a touchdown against Ohio State last season.
- Redshirt freshman Chaz Powell scored the first touchdown of his career on a 55-yard rush in the third quarter.
-True freshman Brandon Beachum scored the first touchdown of his career late in the fourth quarter.
-Bani Gbadyu's interception in the second quarter was the first of his career.
-Pat Devlin's 40-yard pass completion to Jordan Norwood, on his first play from scrimmage in the second quarter, marked the first completion of his career. Devlin was 0 for 1 passing in 2007.
-Derek Moye, Joe Suhey, Andrew Szczerba, Stephfon Green and Brent Carter all recorded their first career catches today.
-Aaron Maybin tied a career-high with two sacks today. He had two last year against Buffalo.
-First-time starters for Penn State included QB Daryll Clark, TB Evan Royster and WR Brett Brackett on offense and MLB Josh Hull and OLB Bani Gbadyu on defense.
- True freshmen who played for Penn State today included Brandon Beachum, Jack Crawford, DeOn'tae Pannell and Michael Mauti.
- Penn State will take on Oregon State next Saturday at 3:30 p.m. The game will be televised on ABC, with coverage on ESPN or ESPN2 outside of the ABC coverage area.

STATE COLLEGE, Pa. -- Here are a few first-half observations from the press box:
1. On the run out from the tunnel, coach Joe Paterno ran with a noticeable limp and stopped "sprinting" around the 35-yard line. He didn't look as swift as he did in last year's opener, but nevertheless, that's better than most 81-year-olds can do.
2. Wide receiver Brett Brackett earned his first career start. The Lions went with four wideouts in place of a tight end and handed off to Derrick Williams for a seven-yard gain. Brackett then left and was replaced by tight end Mickey Shuler. Still, it looks like Brackett has won the fourth receiver spot.
3. Running back Brandon Beachum was the first true freshman to play this season. He was in on the Lions' opening kick.
4. Jared Odrick (broken ankle) and Jerome Hayes (torn ACL) saw their first action early in the game since suffering injuries last season. Both the defensive tackle and the stand-up defensive end came in off the bench. Odrick picked up a sack in the first quarter.
5. Aaron Maybin is still one of the backup defensive ends despite the fact that he was missing from this week's depth chart. He, too, had a sack in the first half.
6. Quarterback Daryll Clark looked sharp in the early going, completing five of his first six passes for 79 yards. Most were of the short variety, however. In the second half, he made two very nice throws to wide receiver Jordan Norwood -- first on a third-and-19 for a 23-yard pick up and then on a 5-yard TD throw in the corner.
7. Evan Royster looks like he's picked up right where he left off last season. The running back ran for the Lions first two TDs, from seven and two yards out.
8. Williams' 89-yard kick return for a touchdown showed flashes of the Williams we remember as a freshman. He said a few weeks ago we would see the "real Derrick Williams" this season. This is a good start.
9. Running back Stephfon Green saw his first career action when he ran 22 yards midway through the second quarter. He scooted through the line and downfield for 22 yards. He finished with 68 yards on a TD on six carries.
10. Quarterback Pat Devlin checked in with 7:31 left in the half and the Lions ahead, 28-7. The Downingtown High product promptly tossed a 40-yard strike to Norwood. The Lions went on to score after Green scored from 7 yards out. On his next series, Devlin missed a screen, but twirled a 27-yard strike to wide receiver Derek Moye on an out. The drive ended with a Kevin Kelly field goal when tight end Mickey Shuler dropped an over-the-middle pass from Devlin.
11. As good as Clark and Devlin looked it makes you wonder how they both sat behind Anthony Morelli last year. Granted, it's still early and this is Coastal Carolina, but ...
STATE COLLEGE, Pa. -- Ever wonder how much a Football Bowl Subdivision team like Penn State pays a Football Championship Subdivision team like Coastal Carolina to come play it at its stadium? Here's your answer in today's story.
We're about 45 minutes from kickoff. I'll be back with news and updates throughout the game.
Believe it or not, Coastal Carolina might pose more of a threat than last year's opener against Florida International. Despite their playing in the Football Championship Subdivision, the Chanticleers have some formidable talent and return 17 starters. But there were a few key losses. Wide receiver Jerome Simpson graduated and was taken in the second round of the NFL Draft by the Cincinnati Bengals. And freshman quarterback Jamie Childers is out until the midseason after a bout with viral meningitis. William Richardson, the younger brother of former Lions quarterback Wally Richardson, will split duties under center with Zach MacDowell. Coastal Carolina runs a spread offense, but that's not much of an anomaly these days.
With all that being said, in the name of Appalachian State there's no way Penn State loses its opener. With so many returning regulars along both lines, the Lions will wear down a FCS team like Coastal Carolina even if it stays within striking distance through the first half. Expect to see lots of the run game as quarterback Daryll Clark is eased into the position. Plus, Penn State hardly ever digs into the playbook for an otherwise meaningless opener.
Final score: Penn State 45, Coastal Carolina 10
Here's this morning's story looking at the team's lineup of regulars filled with a slew of seniors. It's the most experienced group of players the Lions have had since the 2005 season. And we know how that year turned out.
Also, here's a story with 5 Big Questions for the season that was in this morning's paper, but not online:
1. Who's the long snapper? Just kidding. We already know that Daryll Clark is the starting quarterback and that backup Pat Devlin will see his share of snaps tomorrow, but it's what occurs thereafter that will likely dictate the ebb and flow of the season. If Clark seizes his opportunity and reaches Michael Robinson heights, the calls for Devlin will be muted. But if he struggles or is inconsistent and Devlin shows flashes in limited time, the Lions will have themselves an old-fashioned quarterback controversy. And we know how that goes.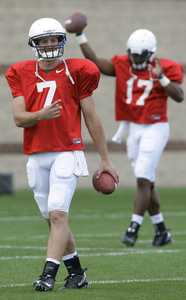 STATE COLLEGE, Pa. -- Let me first state that I am not a conspiracy theorist. Let me also state that I don't attend every practice, scrimmage, meeting and workout session that involves Penn State football (In that, I am not alone). But as a beat writer I am privy to certain events and information and thus have some insider knowledge of what occurs behind the iron curtain at the Lasch Building.
I am speaking, of course, about the quarterback decision that was announced earlier this week and the fallout since. One man and his people are happy (Daryll Clark) and another (Pat Devlin) and his people are disappointed -- among other emotions. There have been accusations that the competition was stacked in favor of Clark and that Devlin, a Downingtown product, had no chance despite what was fed to all involved. Before I give my take, let me preface again that I don't know close to everything that occurred during practices, etc., but I do know things and have heard things, in the immortal words of Robert DeNiro's Jake LaMotta in Raging Bull.
Up until the so-called competition began, Clark had played minimally until the Alamo Bowl. People seemed to forget that he was inserted for several plays in the regular season finale against Michigan State. The results were disastrous -- and pretty much not to his fault -- as he was dropped for one loss on a run and tossed an incomplete on another play. Against Texas A&M in the bowl game, he ran very well, scurrying for 50 yards and a touchdown on six carries. Devlin, meanwhile, had yet to play a meaningful down.
Despite the long pause and vague answer, quarterback Pat Devlin is not planning on transferring, his father, Mark, told The Inquirer last night. After being named the backup to Daryll Clark, Devlin didn't give the most affirmative of answers when he was asked about transferring yesterday during a conference call. But Mark Devlin reiterated that the Devlins are sticking with the Lions.
Also, Clark reflects on his winning the job, but he admits there could be a few pitfalls in the early going.