Archive: April, 2013
Joe Juliano
Former Penn State quarterback Matt McGloin received interest from eight NFL teams after the draft and will attend mini-camp this weekend with the Washington Redskins, his agent said Tuesday.
In accepting the Redskins invitation, McGloin declined the opportunity to sign a contract as an undrafted free agent with an unnamed NFL team, according to Mark Magazu II, McGloin's agent and the president of Atlas Strategies.
"Matt was grateful for the offer but the team had clearly established quarterbacks at all levels which would have made pathways difficult for Matt to catch on," Magazu said in a statement. "It was a gamble, but we think a wise one."
Joe Juliano
Defensive tackle Jordan Hill became the first Penn State player to be selected in the 2013 NFL draft, going in the third round Friday night to the Seattle Seahawks.
The 6-foot-1, 303-pound Hill, of Steelton, Pa., was the 87th overall pick and the 25th choice in the third round. He had earned All-Big Ten honors in 2012 after a season that saw him make 64 tackles and record 4.5 sacks and 8.5 tackles for loss.
"I'm a versatile player," Hill said in a conference call with reporters. "I'm a guy that can pass rush, but then also a guy that can stop the run. I'm a guy that plays with a high motor and I just love playing football. I just love to compete."
Joe Juliano
Wide receiver Chris Godwin of Middletown, Del., has become the third high school wide receiver in the last 10 days to give an oral commitment to Penn State for the freshman class of 2014, according to recruiting web sites.
The 6-foot-2, 197-pound Godwin, who will play his senior season at Middletown HIgh School in the fall, is rated a four-star recruit by both Rivals and Scout, which rank him 39th and 41st, respectively, among all wide receivers who graduate in 2014.
He is the sixth recruit to commit to head coach Bill O'Brien, and joins Troy Apke of Mount Lebanon, Pa., and De'Andre Thompkins of Swansboro, N.C., as wide receivers who have pledged since April 13.
Joe Juliano
Penn State quarterback Steven Bench, who was believed to be dead even with Tyler Ferguson in the race for the starting job at the end of spring practice, has been granted a release to transfer, coach Bill O'Brien said Wednesday.
In a statement released by Penn State, O'Brien said he met with Bench and other players this week to discuss "where they are at related to football and academics and to discuss what they need to work on this summer.
"After meeting with Steven, he informed me he wants to play elsewhere," O'Brien said. "We want what is best for Steven. I want to thank him for his contributions to the program. We wish Steven the best in the future and will assist him in any way we can."
Joe Juliano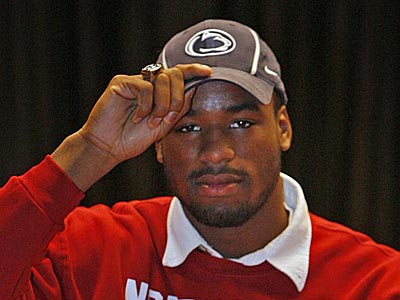 Deion Barnes showed considerable talent last season as a first-year defensive end at Penn State, finishing in the top five of the Big Ten with six sacks and being named the conference's freshman of the year.
Now the North Philadelphia native thinks he can be a better football player in 2013 because he's more aware of what his colleagues on the defensive line are doing, and getting better at reading opposing offenses.
"I'm doing better recognizing offenses and playing together as a unit on the defensive line because you need your inside guys, you need your other guys to be successful," the 6-foot-4, 244-pound Barnes, a former Northeast High star, said Saturday after the Blue-White Game at Beaver Stadium. "So I think I'm learning how to become a better teammate."
Penn State added its fourth recruit for the class of 2014 on Monday as Western Pennsylvania wide receiver Troy Apke gave the Nittany Lions an oral commitment.
The 6-foot-1, 185-pounder hauled in 54 catches for 1,048 yards and 13 touchdowns last season at Mount Lebanon. He also had offers from Bowling Green, Georgia Tech, Kentucky, Minnesota, Pittsburgh and Toledo. He is a three-star recruit according to Rivals.com.
Along with Apke, Penn State has landed commitments from running back Mark Allen (Hyattsville, Md.), wide receiver Nicholas Scott (Fairfax, Va.) and line backer Troy Reeder (Wilmington, Del.).
Joe Juliano
Penn State coach Bill O'Brien says that linebacker recruit Zayd Issah, who has been charged in an alleged forgery scheme and for attempting to pass counterfeit money, will not play for the Nittany Lions in 2013.
In an interview Wednesday with the Associated Press, O'Brien said he had met with Issah and his family last weekend to discuss the matter. He said he is leaving the door open to the possibility of the player returning.
"We want what's best for Zayd," O'Brien told the AP. "We don't think Zayd is a bad kid at all. We think he's a young guy that's made a couple of questionable decisions. His next move will be determined by him.