Archive: February, 2013
Joe Juliano
Fran Ganter, who served on Joe Paterno's coaching staff at Penn State for 33 years before taking over as the university's associate athletic director for football administration in 2004, has announced his retirement, effective Thursday.
Ganter, a running back for the Nittany Lions from 1967 through 1970, spent 20 of his years on Paterno's staff as offensive coordinator. Paterno added the title of assistant head coach to his duties in 2000.
"I am very proud and thankful to have been a member of the Penn State football family for the past 46 years," Ganter said in a statement. "I will always owe a debt of gratitude to coach Bob Phillips for recruiting me to play at Penn State, and to coach Paterno for giving me the opportunity of a lifetime when he hired me on to his staff."
Joe Juliano
Penn State coach Bill O'Brien has announced that running backs coach Charles London and linebackers coach Ron Vanderlinden will oversee special teams.
The announcement came via a Twitter feed late Friday.
John Butler had overseen special teams last season when he also coached the Penn State secondary. He was promoted last month to defensive coordinator.
Joe Juliano
Penn State men's basketball coach Patrick Chambers got Penn State's annual THON dance marathon for pediatric cancer off to a rocking start Friday night when he presented a check for $14,200 from his family to the charity.
Chambers, a Philadelphia University graduate who is in his second season as head coach of the Nittany lions, had pledged to donate $10 for every student who attended Thursday night's game against Iowa at the Bryce Jordan Center. A total of 1,420 students showed up for the game, which the Lions lost 74-72.
"My wife Courtney and I talked at length about it and we wanted to make a powerful statement," Chambers said. "THON has just blown me away. It's a phenomenal event. We are very fortunate to have three young children and they are all healthy so I'm very lucky. This is where it started for us."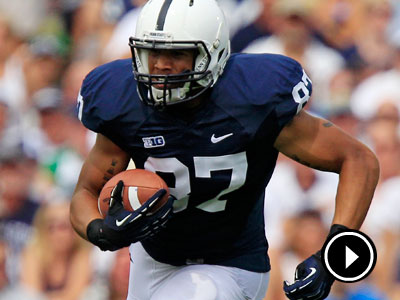 Video: Emily Kaplan of the Inquirer interviews Penn State tight end Kyle Carter as he talks about the image of the university.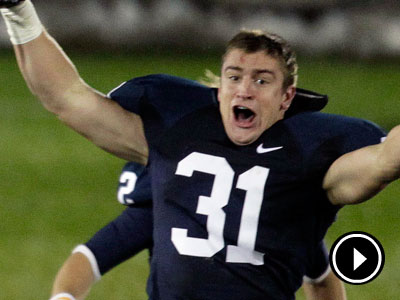 Video: The Inquirer's Emily Kaplan talks to Penn State defensive Brad Bars at an event where the team hosted 25 Make-A-Wish families.
Joe Juliano
Penn State coach Bill O'Brien formally announced Thursday the hiring of Anthony Midget as an assistant coach in charge of the safeties.
Midget, 34, a former All-American cornerback at Virginia Tech, coached for the last five seasons at Georgia State, his last year as defensive coordinator. He replaces John Butler, who was promoted to defensive coordinator of the Nittany Lions after Ted Roof left last month to take the same job at Georgia Tech.
"Anthony will be a great addition to our staff," O'Brien said in a statement. "He is an experienced and passionate defensive coach and recruiter."
Joe Juliano
Penn State's Garry Gilliam, an offensive tackle who was moved from tight end following the conclusion of the 2012 season, has been granted a sixth year of eligibility by the NCAA, coach Bill O'Brien has announced.
The NCAA approved Penn State's request for an "extension of eligibility waiver" for Gilliam, who suffered a serious left knee injury against Iowa in the fifth game of the 2010 season and had to sit out all of 2011.
Gilliam, of Carlisle, Pa., tore the anterior cruciate ligament in his knee but then developed an infection that delayed his surgery and rehabilitation. He returned to the Nittany Lions last season and caught seven passes for 65 yards while being utilized mostly as a blocker at tight end. He played in all 12 games with seven starts.
Joe Juliano
Penn State head coach Bill O'Brien has hired Anthony Midget to his coaching staff, according to a report in the Charleston (W.Va.) Daily Mail.
The appointment of Midget, who was hired as an assistant coach at Marshall less than two weeks ago, fills the vacancy left last month by the departure of defensive coordinator Ted Roof to Georgia Tech.
Speculation is that Midget, 34, a former All-America defensive back at Virginia Tech, will be the secondary coach. The Nittany Lions' previous secondary coach, John Butler, was moved to take Roof's place as defensive coordinator.