Archive: September, 2008
What quarterback controversy? Suddenly field matters have moved to the back page after four players were allegedly involved in a marijuana investigation and coach Joe Paterno suspended three and dismissed another -- for an unrelated incident -- yesterday. I was supposed to have a feature on Josh Hull and the linebackers today as the Lions prepare for Oregon State, but that story was held in deference to yesterday's news. That's just one example of how any negative news on the team off-the-field takes away from the product on the field. Here's this morning's story on the fallout, with a few more holes filled in, such as why Evans and Koroma were suspended even though they were supposedly not at the apartment during the police search. I'll be back later with my Penn State-Oregon State prediction. But right now a better guess might be whether the players can stay out of trouble until tomorrow's 3:30 p.m. kickoff.
Joe Paterno just announced that defensive end Maurice Evans, tight end Andrew Quarless and defensive tackle Abe Koroma are not going to play this Saturday against Oregon State for their alleged involvement in a Tuesday night incident at their Nittany Apartments residence. On the radio show "Nittany Lion Hotline," Paterno said that he won't make a decision on the players until he "gets all the information." A.J. Wallace, who is also a resident of the apartment where a small amount of marijuana was found by Penn State police, is going to play, Paterno said. The coach said the cornerback was not involved.
Paterno also said that cornerback Willie Harriott was kicked off the team, but did not offer a reason why.
For more, check tomorrow's Philadelphia Inquirer or here on philly.com.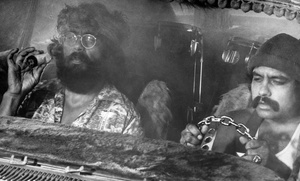 I know, not the most original of headlines. But there's serious concern about a promising season after four Penn State players got mixed up with the law earlier this week. Tight end Andrew Quarless, cornerback A.J. Wallace, defensive end Maurice Evans and defensive tackle Abe Koroma are registered residents at an apartment where marijuana was found and seized by Penn State police on Tuesday. A team source said they did not practice yesterday. What remains to be seen is their status is for Saturday's game and beyond. For now, however, it looks like coach Joe Paterno is taking a wait-and-see approach until charges are pressed. Here's this morning's story.
UPDATE: Penn State team spokesman Jeff Nelson said early this afternoon that there wasn't any new news concerning the four aforementioned players and their status for Saturday's game. He said if anything were to happen it would occur sometime shortly after 3 p.m. If something does go down we'll have it here for you first. And if it involves dismissals, suspensions, etc. we imagine Paterno might have something to say during his weekly call-in show tonight.
UPDATE: Capt. (it was Lt. a day ago, but he just got promoted) Bill Moerschbacher, of Penn State police, said that no charges have been made in the Nittany Apartments marijuana incident and that it could be TWO WEEKS (my emphasis) before anything comes to fruition. He said the police were still in the investigative phase and that they still needed to complete testing (of the controlled substance that was sent away to a lab -- not of the suspects) and interviews with suspects and witnesses. He said he anticipated charges being brought about, but he couldn't be completely sure when that would occur.
I obtained a copy of the University Police log that summarizes what occurred at Nittany Apartments last night. There is still no confirmation that what occurred involved any of the players on the football team. Plus, there have been no charges pressed. Nevertheless, here's the summary:
Drug Law Violation
"At 2219 hours, as the result of investigating a report of loud music in the Nittany Apartments complex, the odor of burning marijuana was detected coming from inside of one of the buildings. The residents of the apartment declined a consent search and a search warrant was applied for and executed on the residence. The search yielded a small amount of marijuana. Charges to be filed."
Quarterback Daryll Clark has officially earned his extra year of eligibility, according to team spokesman Jeff Nelson. "Daryll has completed more than 85 percent of the credits required to earn his degree in Telecommunications and will be eligible to play in 2009," Nelson wrote in an e-mail today. "He is on schedule to graduate in December 2008, in 3 1/2 years. He will enroll in a second degree or graduate school in the 2009 spring semester."
Last week, Clark said that he was on track to have the extra year and that he was going to take it. Clark spent a year at The Kiski School in Western Pa. as a freshman non-qualifier before he enrolled at Penn State. Because he earned 80 percent of his credits before the start of this semester he was rewarded with the year he lost while at Kiski. This is good news, obviously, for Clark, who felt like he needed another year to groom for the pros. Needless to say, this is bad news for sophomore Pat Devlin, who may have to wait until his senior year to be named the full-time starter.
There's a rather vague story on the Daily Collegian online Web site about a possible incident at a Nittany Apartments residence that is supposedly inhabited by three football players. When asked about the incident this morning, quarterback Daryll Clark said he was aware of it, but that he didn't know much more. "I really don't know what's going on now," he said.
Hopefully, we'll have some more information on this story.
A hurricane's a coming and, no, it's not Oregon State. Here's this morning's story off Joe Paterno's weekly teleconference. The Beavers are 0-6 in non-conference road games under head coach Chris Riley, which bodes well for the Lions. Oregon State is also the only BCS school to open its season with two road games.
The Associated Press and USA Today Coaches' polls are in and the Lions have moved up to No. 19 in both rankings. My AP ballot is listed below if you want to sling some arrows.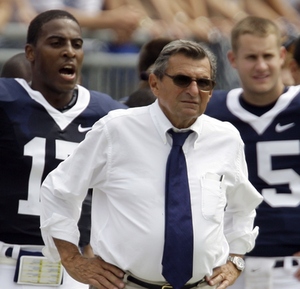 Coach Joe Paterno had his weekly teleconference this afternoon. Here is a condensed version (with from-the-balcony comments from yours truly):
1. Coach expects to learn more about his team with Oregon State coming to town. (What did we learn from the Coastal Carolina game? That playing pansies is a waste of everyone's time.)
2. Just because Oregon State threw the ball 54 times against Stanford in its season opener, don't expect the Beavers to not come out with a balanced offense against Penn State. "I don't go by that," Paterno said. (That could have been Paterno's answer to a later question about following Bobby Bowden and Joe Tiller's lead as far as having a succession plan in place.)
3. Defensive end Aaron Maybin was this week's entry into JoePa's "Not Praising a Kid That's In His Doghouse" routine. "He's got a long way to go," Paterno said.
4. Paterno said he thought the linebackers played fairly well against Coastal Carolina. (Uh, let's hope so.)
5. Backup quarterback Pat Devlin doesn't seem less motivated since being told he wasn't the starter. Paterno expects Daryll Clark and Devlin to battle out for the position over the next two years. (Hmm, does that mean Clark may not start next week against Syracuse? Just kidding.)
6. Paterno hasn't begun to prepare for the possible hurricane-like weather that will hit State College come Saturday. (The Lions better not hope for rain. Beavers are good in water).
OK, that was about as uneventful a Joe Paterno press conference as you'll ever have. Of course, all is good at the moment.
Folks, the Athletic Department just released it's weekly press, um, release. There is only one additional injury. Reserve tackle Ako Poti is possible for Saturday's game with a knee injury. As far as the depth chart goes there were a few additional changes that I noticed.
1. True freshman DeOn'tae (God, I'm going to hate spelling that name for the next four years) Pannell is listed behind Gerald Cadogen at left tackle. Starting right tackle Dennis Landolt was slotted there last week.
2. Andrew Quarless OR Andrew Szczerba is listed as the backup to tight end Mickey Shuler. Coach Joe Paterno said Quarless was the backup during last week's weekly teleconference and, for all intents and purposes, it's only a matter of time before Quarless supplants Shuler. He actually played with the first team a good amount against Coastal Carolina.
3. Pat Devlin is officially the second-string quarterback. I'm now starting to think that a platoon will be avoided like herpes.
4. Defensive end Aaron Maybin is back on the depth chart listed behind left end Maurice Evans. On Saturday, Paterno said Maybin's omission was because the coach was waiting on grades.