Archive: October, 2011
Join the Inquirer's Jake Kaplan as he provides live updates and commentary on the Penn State-Purdue game, scheduled to start Saturday at noon.
On a mobile phone? Click HERE to join the chat!
Penn State quarterbacks coach Jay Paterno reiterated Thursday night that the team feels it has two No. 1 quarterbacks in sophomore Rob Bolden and junior Matt McGloin, despite McGloin's superior statistics through six games.
"We don't designate a starter. We have two one's," Paterno said as a guest on Penn State's weekly radio show. "That's something that I think people outside the program have tried to apply to it, and we are not inside the program. We are playing them the order that we have the last couple of weeks because we feel like that is the best situation for us to play those two guys in."
Paterno would not get into specifics as to the reason Bolden has started and McGloin has come off the bench in all six games, saying, "There's things about each guy that is unique. The way we're playing them right now is the way we feel gives us the best chance to win."
At Indian River High School (Philadelphia, N.Y), Curtis Dukes could often let his large frame – he's now listed at about 6-foot-1 and 237 pounds – and strength do a lot of the work for him. Dukes dominated his way into the end zone 16 times during his senior year, rushing for 1,168 yards on just 87 carries (13.4 yards per carry) in the process.
But when he arrived at Penn State two years ago, he learned there was more to his job description. He had to pass block, too.
"He's never done any of that," coach Joe Paterno said this week. "Came out of high school, a small high school, and a very dominant football player. He's just got to spend a little more time worried about his technique blocking. He's got good hands, but he doesn't quite understand timing on passing and things like that. But he's got a chance to be really good."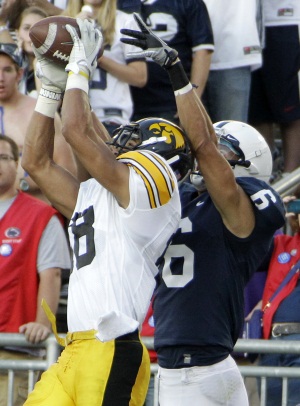 Standout wide receiver Derek Moye broke the fifth metatarsal bone in his left foot Tuesday night and is expected to miss Penn State's next two games, the school announced Thursday afternoon. The injury occurred when Moye slipped on the stairs at his apartment after dinner on Tuesday. His injury will not require surgery, Penn State Director of Athletic Medicine Wayne Sebastianelli said in a press release.
The loss of Moye, who leads the team with 28 receptions, 485 receiving yards and three touchdowns, is a big one for the Nittany Lions. The senior and team co-captain ranks fifth in the Big Ten in receiving yards and sixth in receptions.
Moye is third all-time at Penn State with 2,226 receiving yards, fourth with 18 touchdowns and fifth with 132 receptions.
Video: Can the Urban Meyer rumors be taken seriously? Joe Juliano of the Inquirer tackles the latest coaching gossip swirling around Happy Valley and lets Penn State fans know what they can expect from the Nittany Lions this weekend against Purdue.
A dropped ball or false start penalty, things Andrew Szczerba used to beat himself up over, were made to look so trivial, so miniscule in the grand scheme of things, almost four weeks ago.
Early on Sept. 16, his uncle, New Castle County Police Sgt. Joseph Szczerba, was stabbed to death while trying to apprehend a suspect near New Castle, Del.
Despite the tragedy, Penn State's starting tight end suited up and played in the team's 14-10 win over Temple at Lincoln Financial Field less than 36 hours later and has started every game since.
Penn State standout wide receiver Derek Moye sustained a foot injury on Tuesday and his status for Saturday's game against Purdue is uncertain, Fight On State, a scout.com affiliate that covers the program, reported Wednesday night.
The report, which cited "a team source," said Moye did not practice on Wednesday and that the senior co-captain was wearing a protective boot.
The Altoona Mirror, citing "a source close to the team," reported that Moye fell down some steps Tuesday night and it is his right foot that he injured. The source told the Mirror that Moye did not seem too concerned about the injury.
Join The Inquirer's Joe Juliano and Jake Kaplan for a live chat about all the latest Penn State football news, starting at 3 p.m. Wednesday.
If you're on a mobile device, click here to follow along and post questions.
Joe Juliano
The fact that Penn State is 5-1 at the halfway point of its season can't be considered surprising. Few thought the Nittany Lions could defeat Alabama, and forecasts of doom against Temple and Iowa were proven wrong thanks to the Lions' defense.
So that means the biggest surprise in the first half of 2011 had to be Joe Paterno sticking with the two-quarterback rotation of Matt McGloin and Rob Bolden, even as McGloin has opened up an advantage in the last three weeks.
And, Paterno said Tuesday at his weekly teleconference, expect to see the two-quarterback shuttle once again Saturday for the Lions' game against Purdue at Beaver Stadium.
Penn State defensive tackle Devon Still has garnered a lot of attention in the first half of the season for constantly finding his way into opposing defense's backfields. So much so that on Tuesday he was added to the Chuck Bednarik Award Watch List. One of a group of end-of-the-season honors presented by the Maxwell Football Club, the Bednarik award is given to the nation's top defensive player.
Still, a Wilmington, Del. native, has emerged as a driving force of Penn State's improved defense that ranks in the top five in total defense, scoring defense and pass defense. The 6-foot-5, 310-pound lineman has 30 tackles, including a whopping nine for loss. Still, who doubles as a team co-captain, also has two sacks and a fumble recovery this season.
The original watch list consisted of 65 players before 11 were added on Tuesday. It will be narrowed to semifinalists on Oct. 31 before three finalists are selected on Nov. 21. Last year's winner was LSU defensive back Patrick Peterson. Former Penn State linebackers Paul Posluszny (2005 and 2006), Dan Connor (2007) and LaVar Arrington (1998) previously won the award.