Archive: September, 2012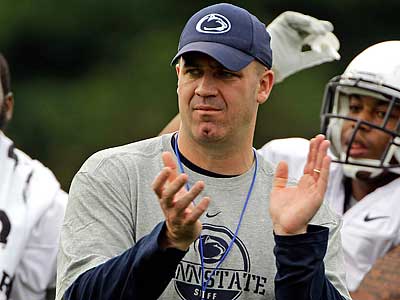 Join the Inquirer's Joe Juliano as he chats Penn State football on Wednesday at 3 p.m.
On a mobile device? Click HERE to join the chat.
Joe Juliano
Sophomore Allen Robinson of Penn State was one of eight players added Tuesday to the watch list for the Biletnikoff Award presented to the nation's top wide receiver.
Robinson, of Southfield, Mich., has caught 24 passes for 322 yards and four touchdowns in the Nittany Lions' first three games. He is ranked 10th in both receptions and receiving yards in this week's NCAA FBS statistics.
Robinson caught five balls for 136 yards and three touchdowns in Saturday's 34-7 win over Navy.
Penn State coach Bill O'Brien and defensive end Deion Barnes talk about Saturday's game against Temple. (Video by Emily Kaplan/The Philadelphia Inquirer)
The Nittany Lions' Big Ten opener at Illinois will kickoff at noon ET (11:00 a.m. CT) on Sept. 29.
The game will be broadcasted nationally by ESPN or ESPN 2, meaning Penn State's first five games this season will all air on the ESPN Network.
The Nittany Lions also have a trend of starting early. Three of Penn State's first five games have a noon (ET) start. Last week's contest against Navy began at 3:30 p.m., as will this week's game against Temple.
Ted Roof's defensive unit effectively shut down Navy's triple option on Saturday, limiting the Midshipmen to just one touchdown. According to the Big Ten, it was one of the more dominant performances in the conference this week.
Linebacker Mike Mauti and defensive tackle Deion Barnes both picked up weekly conference accolades.
Mauti, who racked up 12 tackles, is the Big Ten defensive player of the week. Meanwhile Barnes, a redshirt freshman defensive tackle, was named the co-freshman of the week with Indiana quarterback Nate Sudfeld.
Bill O'Brien's first win as head coach ended with a Gatorade bath.
It was all smiles on the Nittany Lion sideline as Penn State notched its first win of the season, a 34-7 win against Navy (0-2). Well, mostly all smiles
"I wish they didn't do that," O'Brien said in his postgame press conference. "I think it's more about the players. It's really about the players and this staff. I am soaking wet right now and it was one game."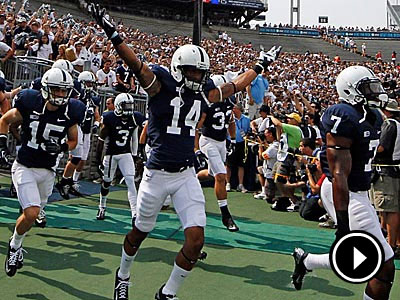 The line snaked down Curtin Road, leading up to a grassy hill by tunnel on the West end of Beaver Stadium.
It was two and a half hours before kickoff of Penn State's second home game of the season -- against Navy (0-1) -- but hundreds of fans were there. They waited, patiently, many wearing t-shirts that said things like, "Still Proud to Support PSU Football" and "One Team."
Indeed, it appears most Penn State fans are still proud to support Bill O'Brien's squad, which is seeking its first win of the season.
How exactly did the Paul Jones tight end experiment begin? According to Jones, it started as a joke.
"We were watching the Patriots film, and Aaron Hernandez caught a lot of balls," Jones recalled. "And I said, 'Coach, that was me,' kind of joking around."
Coach Bill O'Brien didn't see it as a joke. He and Jones talked about the possibility and said Jones should try it out.