Archive: October, 2012
IOWA CITY, IOWA -- In a sea of black and yellow, in a parking lot neighboring Kinnick Stadium, Chris Sherman wore a white Penn State jersey. He was smiling.
Sherman, a 2008 Penn State graduate who played tennis for the Nittany Lions, lives in Minneapolis and drove five hours to Iowa City for tonight's game. He tailgated with coworkers -- all Iowa fans -- and threw around a football.
For the most part, he said, Iowa fans have been very respectful. This is the first away game Sherman has attended since the Jerry Sandusky scandal and ensuing NCAA sanctions. Sherman did see one thing, though, that made him turn his head: Five Iowa students wearing black and white striped jumpsuits that read "Sandusky" on the back.
Penn State faces Iowa at 8 p.m. tomorrow in a clash of two teams undefeated in Big Ten play. All the while, the Nittany Lions and Hawkeyes are taking part in another competition.
This one is off the field.
Both teams have made offers to Aaron Wimberly, a 5-foot-11 running back for Iowa Western Community College, the top-ranked junior college in the country.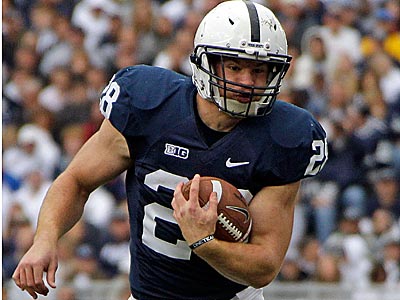 CHAT CANCELLED: We are unable to chat Saturday's game between Penn State and Iowa. We apologize for any inconvenience.
____________
Join our chat for live updates and commentary as Penn State travels to face Iowa at Kinnick Stadium. Kickoff is set for 8 p.m. on Saturday.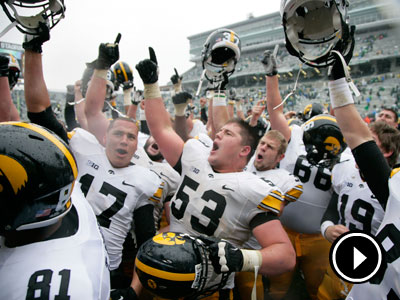 Penn State is preparing to battle Iowa on Saturday. It's a matchup that has historically given the Nittany Lions a lot of trouble. The Inquirer's Joe Juliano talks about the Hawkeyes' success against Penn State as well as the challenges of playing night games in a chat with CineSport's Noah Coslov.
Penn State coach Bill O'Brien reiterated earlier this week that he doesn't pay much attention to awards or accolades -- especially those handed out in the middle of the season.
"I'm trying to figure it all out, like shouldn't the award lists come out when the season is over and we compile the whole 12‑game season?" O'Brien said Tuesday. "I don't know."
O'Brien may be unsure, but the national pundits are -- and many of them have honored the first-year coach and two of his senior leaders for an impressive four-game stretch.
A fan asked Bill O'Brien what four-star verbal commit Adam Breneman has meant to Penn State's recruiting class. O'Brien -- well versed in NCAA's rule book -- didn't take the bait. He can't comment on individual high school players until they actually sign with the Nittany Lions.
But O'Brien did open up about something else: recruiting has been going well. Really well.
According to O'Brien, there will be between 80 and 100 high school prospects at Beaver Stadium next week when Penn State hosts undefeated Ohio State.
Penn State assistant coaches spend two to three hours every night working on recruiting. After practice, they watch tape. In the middle of the week -- usually Tuesday through Thursday -- the coaches make calls, write letters, watch film and evaluate.
"Each guy here on the staff is a veteran recruiter, so every body's got their own kind of recruiting style," running backs coach Charles London said.
Nobody knows more about the Nittany Lions' recruiting process than London, who also serves as the team's recruiting coordinator.
After a week off, Penn State (4-2, 2-0 Big Ten) takes its four-game winning streak to Iowa on Saturday to take on the Hawkeyes. And it will be no easy task.
Iowa (4-2, 2-0) rolls into the game with momentum after defeating Michigan State on the road in double over time last week.