Archive: October, 2011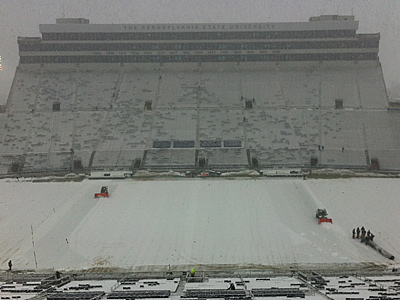 Joe Paterno didn't hesitate in making it known that today's game against Illinois will be the toughest for his 7-1 Nittany Lions (4-0 Big Ten) since they played Alabama on Sept. 10. The Fighting Illini (6-2, 2-2) enter having lost two straight games – against Ohio State and at Purdue – after winning their first six.
"You look at it. You don't just stare at any one part of their game," Paterno said Tuesday. "You've got to be ready for good solid all‑around squad. We've got to play a better football game than we've played all year."
With a few hours left before kickoff at Beaver Stadium and a heavy snowfall doing its best to aid today's student section "Whiteout," here are some pre-game notes to help preview today's game.
Quarterback Matt McGloin led a game-winning drive that culminated in a 3-yard touchdownrun by running back Silas Redd and Penn State beat Illinois 10-7 on Saturday in a snowy afternoon game at Beaver Stadium.
The win was Joe Paterno's 409th career victory and made him the winningest coach in Division I football history, as he passed the late Eddie Robinson of Grambling State. It also improved his teams record to 8-1 overall and 5-0 in the Big Ten. The Nittany Lions are now the only team in the Big Ten undefeated in conference play.
"Well, you know, I think that's a tribute to the coaching staff and a tribute to the squad," Paterno said. "I think as I've said here; I think there are a bunch of guys that have stuck together. The coaching staff has stayed with some kids that have had some troubles and the kids themselves have reacted to the coaches. I think we have a nice setup in the sense that we're a team."
Join the Inquirer's Jake Kaplan as he provides live updates and commentary on Saturday's Penn State-Illinois matchup, scheduled to start at 3:30 p.m.
On a mobile phone? Click HERE to join the chat!
Joe Juliano
Fans traveling to Penn State's game against Illinois should be advised that a winter storm warning is in effect for the State College area until 10 p.m. Saturday. Four to eight inches of snow are forecast to fall during a storm that was scheduled to begin around dawn.
The heavy, wet snow, accompanied by winds that could gust to or above 25 miles an hour, is expected to make the roads slippery and visibility difficult. In addition, motorists should watch out for debris caused by branches snapping under the weight of the snow, and perhaps downed power lines as well.
Temperatures are expected to be slightly above freezing during the game, which kicks off at 3:30 p.m.
Penn State's Anthony Fera was named one of 20 semifinalists for the Lou Groza Award, which is given annually to the nation's top placekicker by the Palm Beach County Sports Commission.
The redshirt sophomore, who handles field goals and extra points, punts and kickoffs for the Nittany Lions, is 11-of-12 on field goals this season. Fera didn't kick his first field goal until the fourth game of the season, as he was serving a Joe Paterno-mandated suspension for an off-the-field issue.
Fera has been named the Big Ten's special teams player of the week twice this season.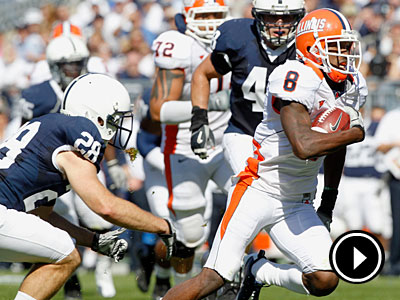 Video: CineSport's Brian Clark chats with Joe Juliano of the Inquirer about Penn State's matchup with Illinois on Saturday.
Until Saturday, wide receiver Devon "Moo Moo" Smith had made more headlines for accidentally running into Joe Paterno in a preseason practice than for his play on the field. Smith, Penn State's smallest yet fastest player, had thus far in his collegiate career been labeled as, more or less, a failed experiment.
But on Saturday night at Ryan Field in Evanston, Ill., with Penn State missing its top receiver in senior Derek Moye, Smith delivered the best game of his career.
The 5-foot-7, 157-pound speedster ran past Northwestern's secondary and reeled in a 45-yard touchdown pass from Matt McGloin. The junior also caught two other passes that went for more than 20 yards and finished with a career-high six receptions and 110 yards.