Archive: September, 2010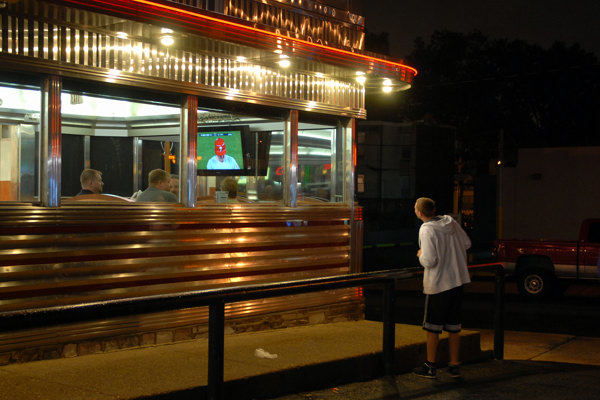 Outside the Mayfair Diner during final innings of the Phillies-Nationals game Monday night.

First night of the Philadelphia Orchestra's season - and a rare live simulcast at the Piazza at Schmidt's in Northern Liberties. A resident in an open window (left) with violin soloist Joshua Bell on the 26x16 foot LED screen.
I went back the SugarHouse Casino for the second preview trial run before the Thursday opening. I needed to get a photo that visually tied the building into the neighborhood, Ben Franklin Bridge and Center City skyline. Easy to do - from a helicoter. Or maybe from inside the casino (no cameras allowed until the opening). But really difficult from the parking lots. My solution? Shoot reflections and through the glass front doors as staff opened them for arriving guests.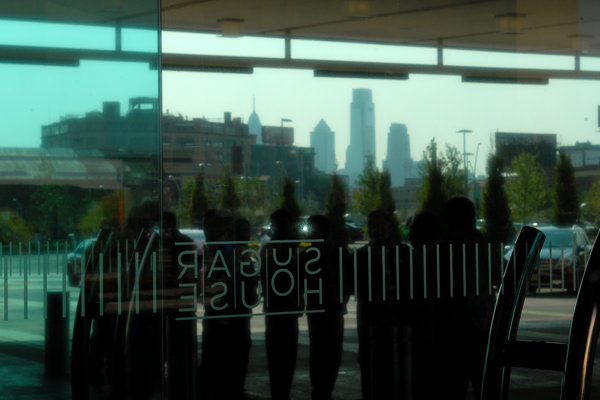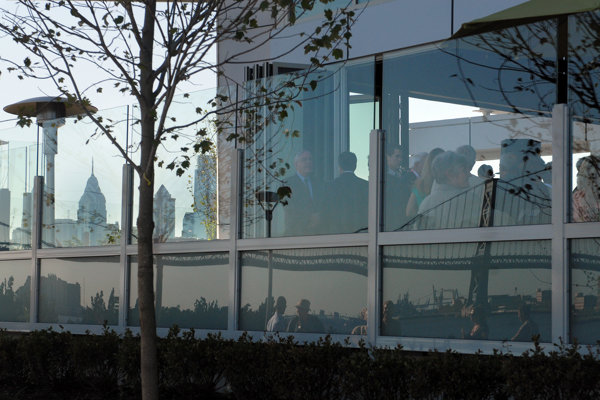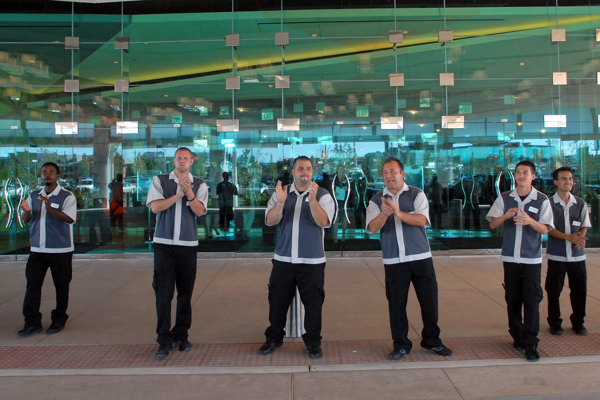 Six years after gambling was legalized in Pennsylvania, Philadelphia's first casino will officially open to the public on Thursday. On Monday afternoon SugarHouse Casino opened for a trial run so the commonwealth's Gaming Control Board could conduct a standard audit of the casino's procedures. Cameras were not allowed inside.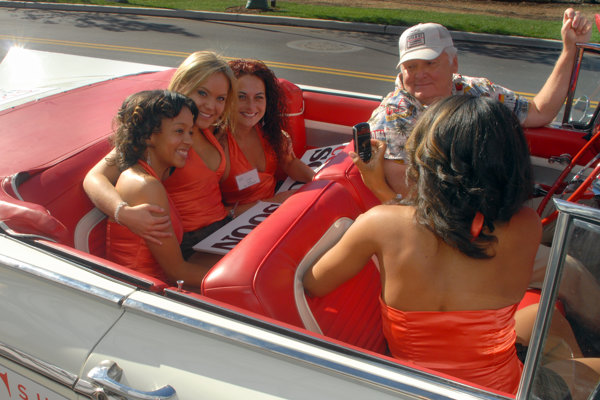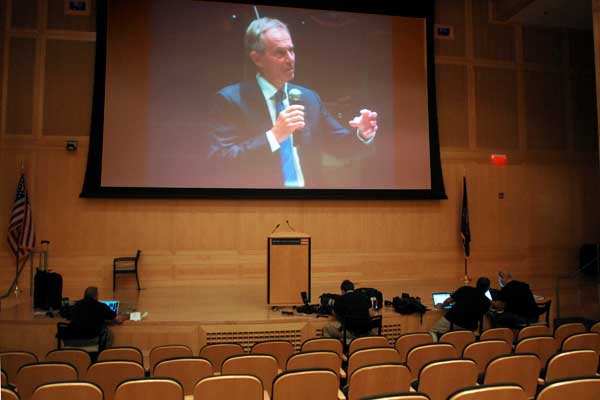 I've been asked by readers if I would post a color version of a B&W photo readers had seen in the newspaper. Some guessed they'd be "prettier," in color, and others wanted to be able to link to the photo so they could share it with friends online.
It's a simple way to fill a post, so maybe I'll do it every Monday from now on. This is the "Scene Through the Lens" photo from today's newspaper.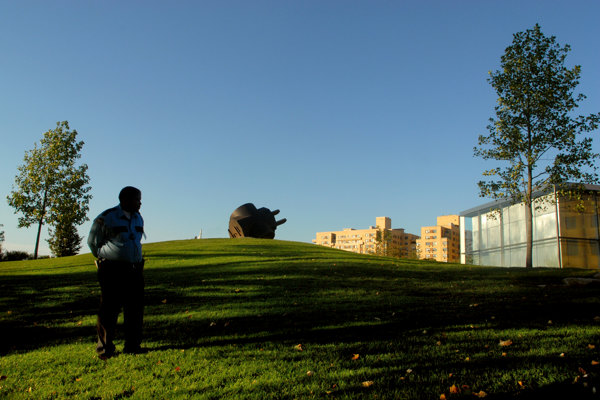 Claes Oldenburg's Giant Three-Way Plug (Cube Tap) recently given to the Philadelphia Art Museum of Art in honor of Anne d'Harnoncourt (its late director, who died in 2008) rests on a knoll in the sculpture garden. The year-old garden, built on the roof of a new underground parking garage was named in d'Harnoncourt's honor at an early evening ceremony. Museum Drive was also renamed Anne d'Harnoncourt Drive.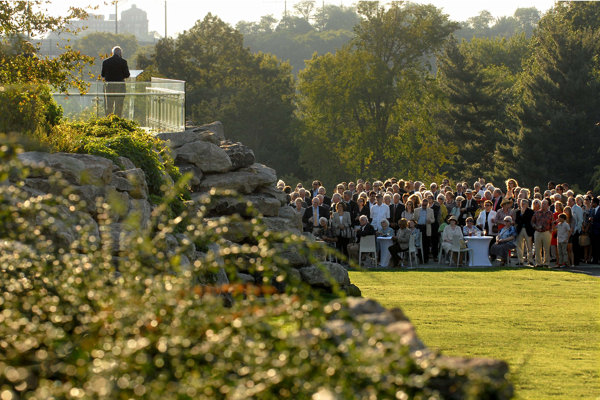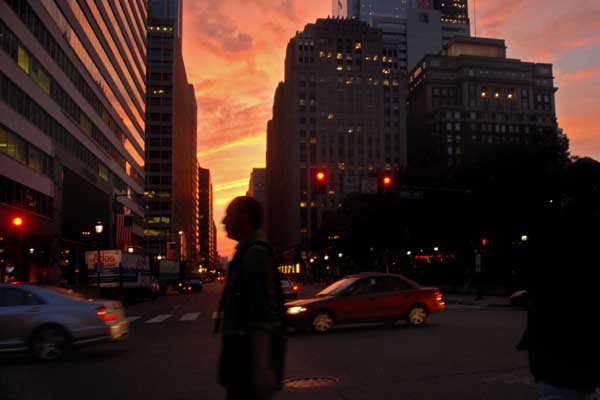 This was the view late last week as I walked back to the office AFTER photographing high school actors from the theater group SHADOW Company. When I first received the assignment to photograph the outdoor evening rehearsal of their performance-art piece "Flash!" the only thing I envisioned was great sunset lighting.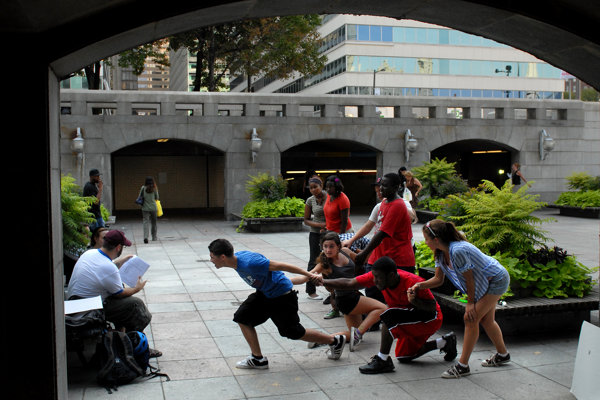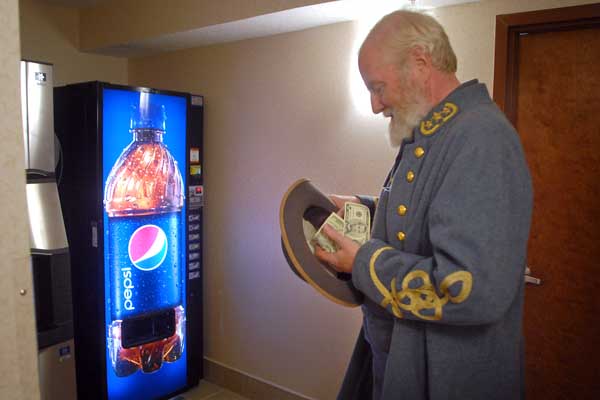 Richard Crozier, a Civil War historian and actor from Cortland, NY, sorts through his Lincolns to pay for a vending machine soda.

It was during a break in the state Gaming Control Board hearing on a proposed casino in Gettysburg. I first spotted him earlier in the morning talking with the front desk clerk across the hotel lobby from where everyone was lining up to testify. He was also registered to speak but he'd already checked in, so a photo I could envision of Confederate Gen. Robert E. Lee queued up among the pro and anti-casino buttons and t-shirts didn't happen.