Archive: May, 2011
Tom Gralish

, Inquirer Staff Photographer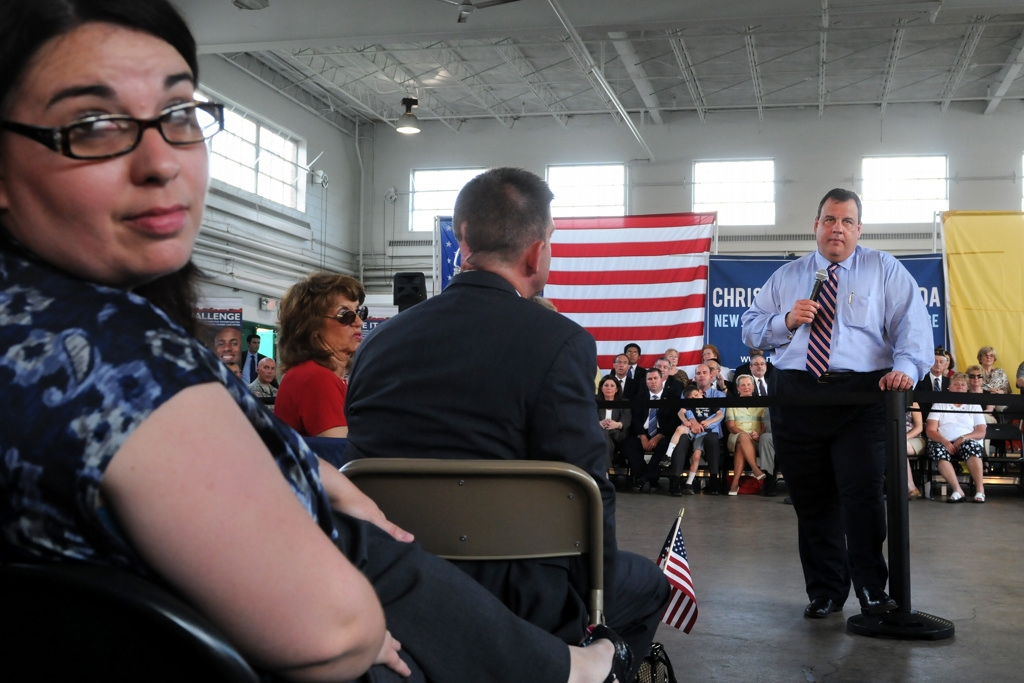 Gov. Christie stopped at the National Guard Armory in Cherry Hill this past week for a scheduled town meeting, a few hours after a NJ Supreme Court decision left him with a $500 million bill for funding the education of poor students in the state's neediest districts.

Read more on the Christie Chronicles, the blog by Inquirer writer Matt Katz who is on a full time beat covering "the gov" (that reference is the easy way to tell if you're reading his blog or a news story he wrote).
As the governor's star keeps rising nationally, I'm reading and enjoying Matt's blog regularly now. Most people around here believe "the gov" when he says he's not going to run for president in 2012, but... a group of Republican nominee fundraisers from Iowa is flying to meet with Christie this week at Drumthwacket, the governor's mansion.
Tom Gralish

, Inquirer Staff Photographer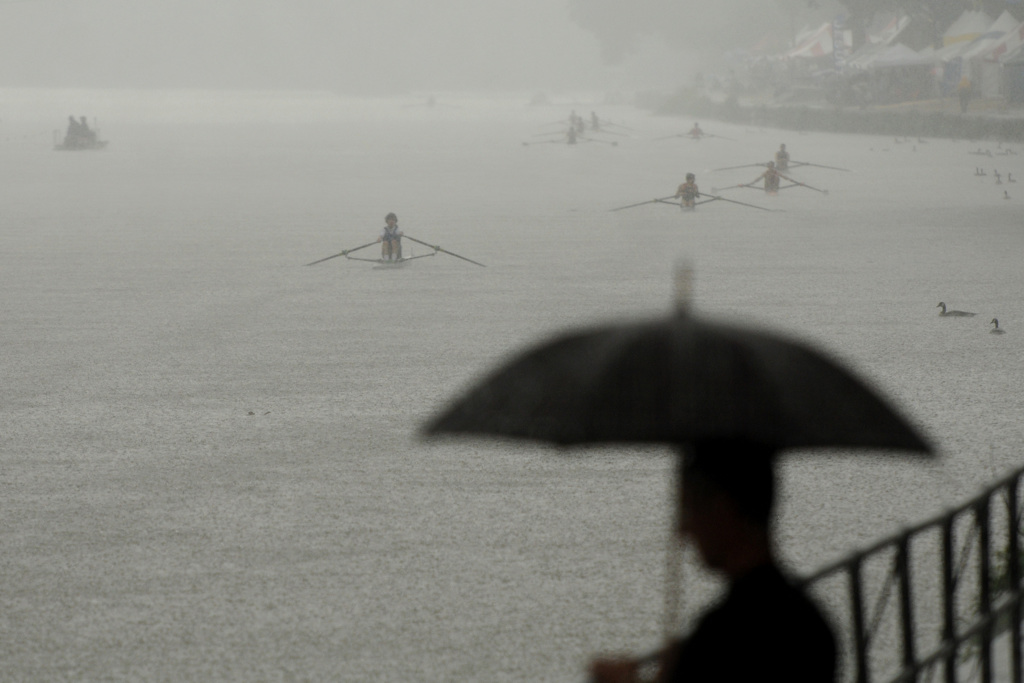 The pouring rain made the Schuylkill River faster - and made my choice of equipment easy. I decided NOT to carry a long lens - a 600mm or 800m - to cover the 85th annual Stotesbury Cup Regatta competition.
This was the day of qualifying heats, so I knew the newspaper would only want one or two photos of the boys and girls senior eight crews. I also didn't know where I'd end up having to park, and enjoy wandering and shooting feature photos, so I only took my 300mm telephoto lens and a couple of zoons - a wide angle (24-70mm) and mid-range (70-200mm). Even though I sort of knew that covering the race with only a 300mm limited me to really wide horizontal photos.
Covering the event last year, I photographed a line of Canada Goose goslings swimming past a girls junior eight boat. This year I noticed, not just on the river, but even in my travels around the area, there seem to be fewer of the baby geese around. So I wandered the course looking for other photos until the senior eight heats began.
Tom Gralish

, Inquirer Staff Photographer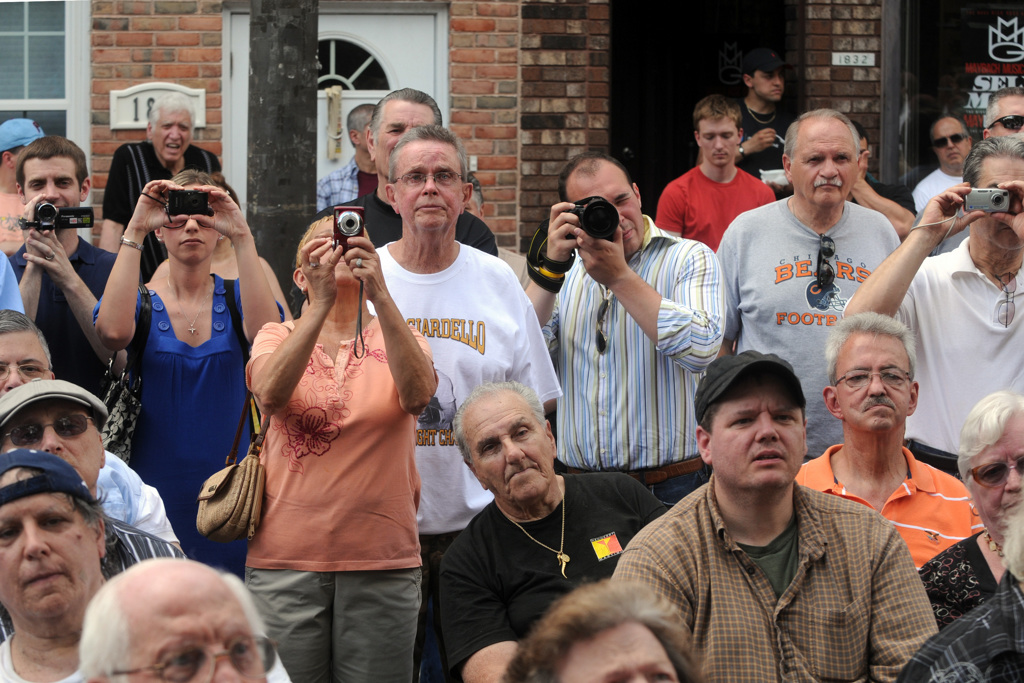 On Saturday I covered the the unveiling of a statue of a South Philly fighter who reigned as world middleweight champion from 1963 to 1965. Joey Giardello, really Carmine Orlando Tilelli, died at 78 in 2008, the year before he was inducted into the Philadelphia Sports Hall of Fame.
But, as Inquirer writer Bonnie L. Cook says in her story, his memory lived on in the stories of the old sparring partners and training-camp buddies.
Tom Gralish

, Inquirer Staff Photographer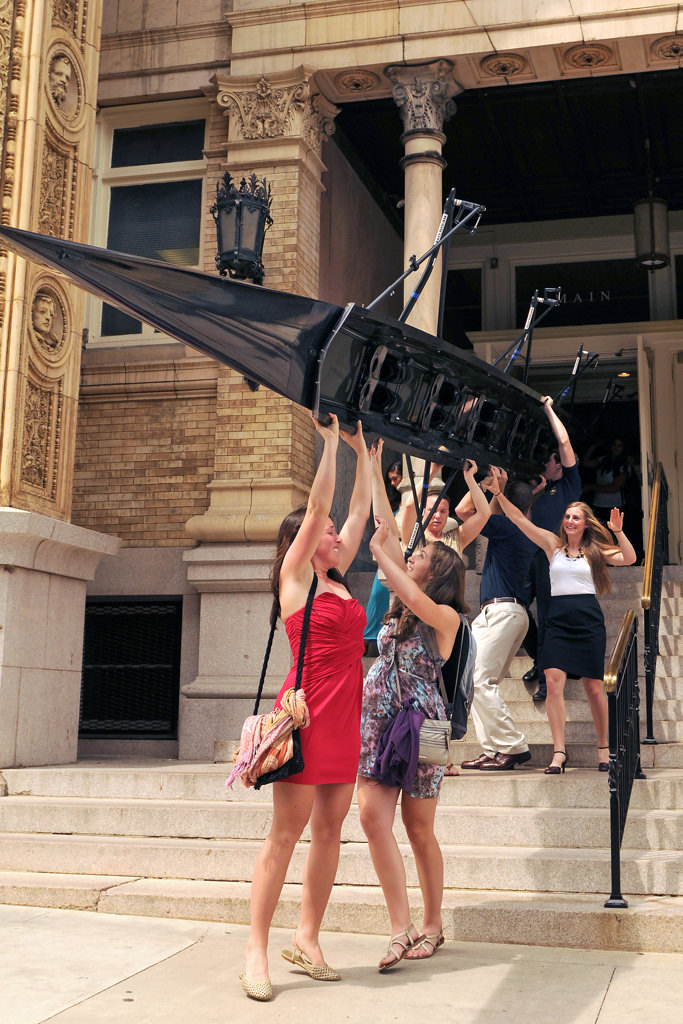 Rowers on Drexel's woman's varsity eight carry their boat out of the school's Grand Hall following a press conference where they received the Chairman's Cup from the Dad Vail Regatta committee. Drexel won the Henley Women's Regatta in June.
Tom Gralish

, Inquirer Staff Photographer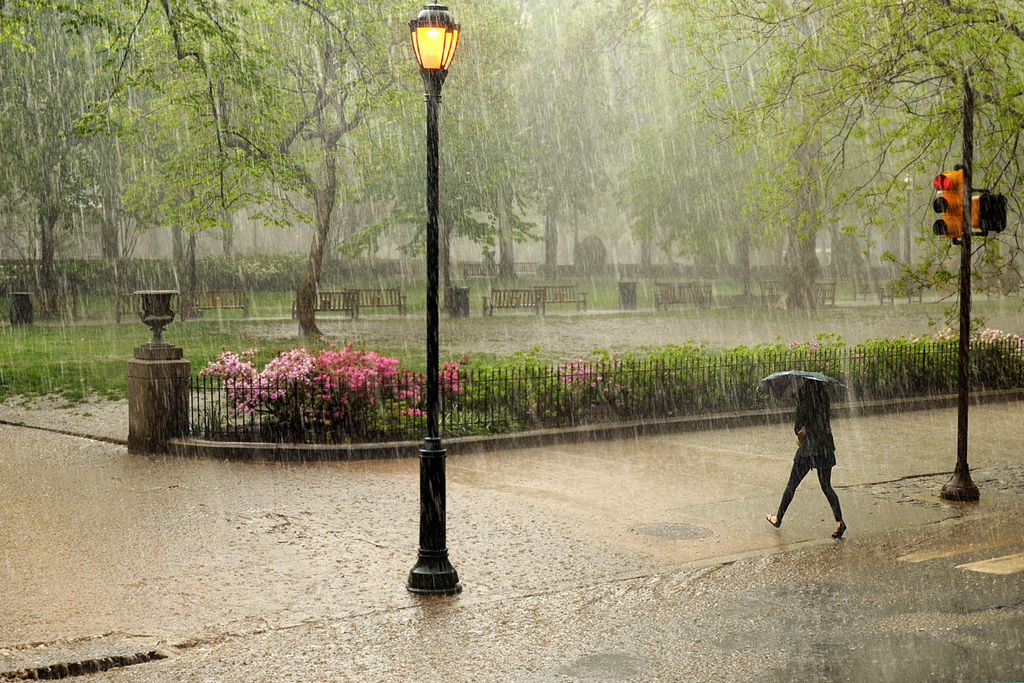 Waiting between classes while shooting at Curtis Institute of Music, I watched out the window as a fast-moving rain shower passed through. Rittenhouse Square, right across the street, emptied out, as did the sidewalk cafe patrons on the opposite corner.
I always marvel at how it's not just the smell and taste of things - like Marcel Proust's madeleine - that unleash "un tableau vivant" of memories for me. No, more often than not, it is a single image that conjures up distant memories. Makes sense (no pun intended) as I am a photographer.