Archive: February, 2009
Tom Gralish, Inquirer Staff Photographer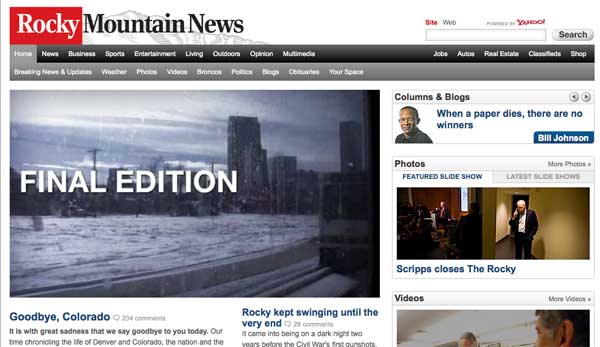 I deliberately have not said much here about the recent troubles with newspapers, including my own. Even last month when the Rocky Mountain News, one of the country's top photo newspapers was put up for sale.

But there were no buyers. So on Thursday, the owners announced their decision to fold it. And just like that, less than 24 hours later, the last edition of the 150-year-old newspaper was published yesterday.

Colorado's first newspaper, The Rocky, as it's known in Denver, has about 230 reporters, photographers, editors and other newsroom employees. The end came just two months shy of its 150th anniversary. The staff still put out a complete final edition and web site, which the owners said would stay up for a while. They also produced a video.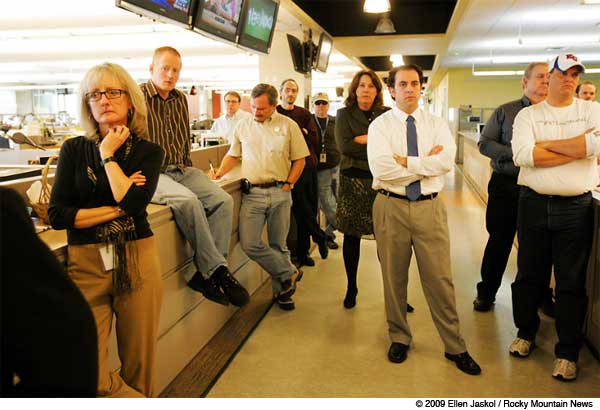 The Rocky photo staff has always been listed among the best photo newspapers in the nation. In the past decade, earned three photo Pulitzers. Click on each photo to see the galleries.

In 2005, Todd Heisler (now with the NY Times) photographed a Marine major assigned to casualty notification for families with fallen relatives in Iraq, and helping them to cope with their loss.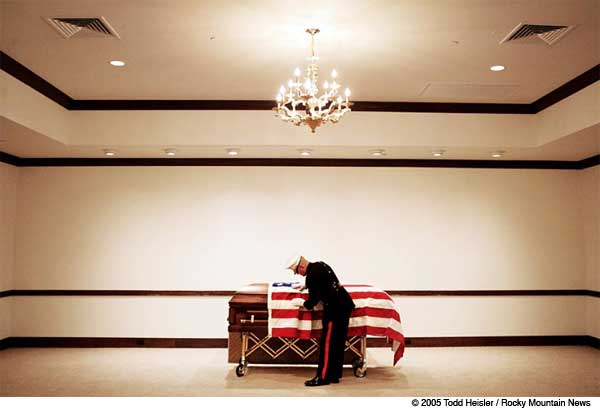 The staff covered devastating wild Fires in Colorado during the summer of 2002:



And from the citation for the 2000 Pulitzer Prize in Breaking News Photography: "Awarded to the Denver Rocky Mountain News Photo Staff for its powerful collection of emotional images taken after the student shootings at Columbine High School."
More from the end of The Rocky, as it's known in Denver... »
Tom Gralish, Inquirer Staff Photographer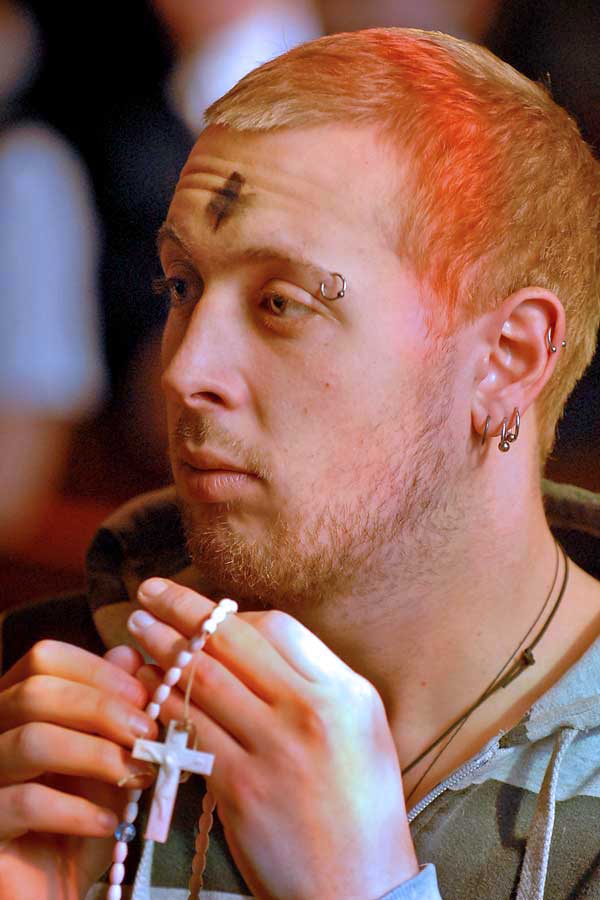 Stained glass window light, a rosary and ashes.
St. Mary's in Gloucester City, NJ.
Tom Gralish, Inquirer Staff Photographer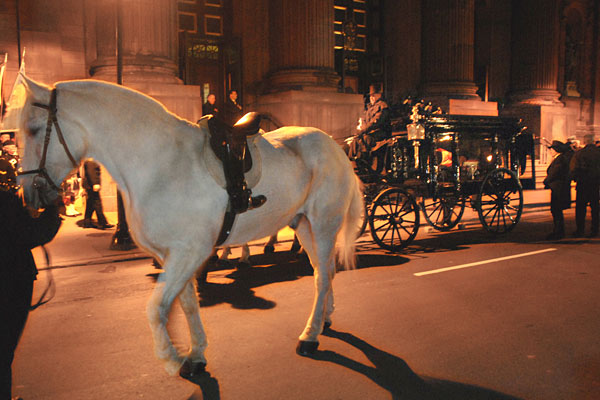 The single riderless horse that follows the caisson with boots reversed in the stirrups and an empty saddle symbolizes the departed will never ride again. It is said to date from the time of Genghis Khan, when the Mongols believed the spirit of a sacrificed horse went through a "gate to the sky" to serve its fallen warrior in the after-life.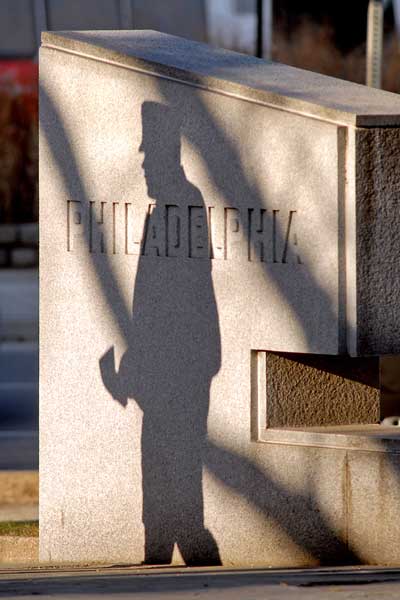 This custom is just one of many protocols observed in a military funeral, or following the line of duty death of a police officer or firefighter. Sadly, Philadelphia has had plenty of practice in the past year, with the funeral of Officer John Pawlowski on Friday, we've now buried five officers who were killed in the line of duty in less than a year.
Tom Gralish, Inquirer Staff Photographer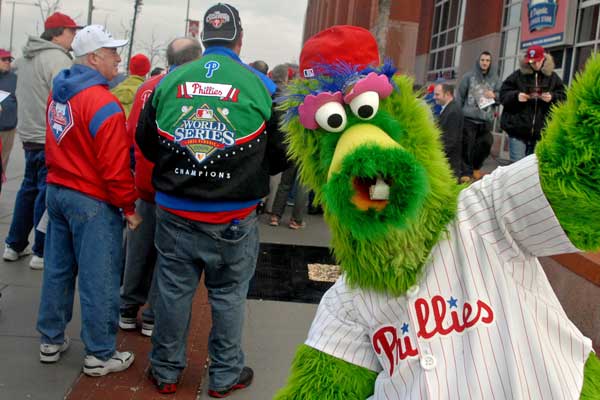 The Phillies action moved from Spring Training to Citizens Bank Park today as fans showed up early to buy single-game tickets in person, and jammed the Phillies website wanting to see the World Series champs this season. Click here, or on the Phanatic photo for a slide show.

Tom Gralish, Inquirer Staff Photographer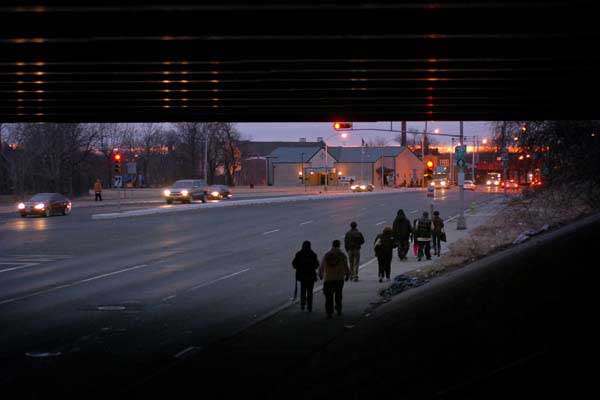 Two weeks ago I talked about "if only..." in a post titled Relearning Photo Lessons about not getting a second chance to photograph in a tent city in the woods inside the I-676 interchange east of downtown Camden during a national homeless census. I guess I could have gone back on my own at anytime in the ensuring two weeks -- but I didn't.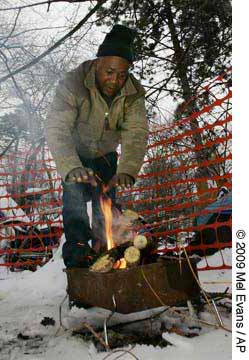 But on Friday, I was back in the woods again with Inquirer reporter Matt Katz, after a sister of one of the homeless men he originally interviewed contacted Matt to help her and their family get him off the streets.

You can read Matt's story here, but the gist of it is Yolanda Shorts did an internet search for her brother Neal Floyd who had not been seen by the family in six years. She found Matt's story, and one by Associated Press Writer Geoff Mulvihill, who was also with us in the woods that day.

She also saw a picture (right) by AP photographer Mel Evans, who had gone with Floyd back into the woods after we'd left with the census officials, and photographed him making a fire outside his tent.

Shorts told Matt, "It was heart-wrenching. I was fixated on that picture. I wanted to keep looking at it. I wanted to get closer to his face." Then she gathered up their 71- year old mother, and six other family members and drove through the night from North Carolina.

So just before the sun came up, along with Inquirer photographer Michael S. Wirtz shooting video, we met the family in the McDonalds parking lot and walked with them all into the woods, where his sister looked into his tent asking, "Hey, do you know who I am?"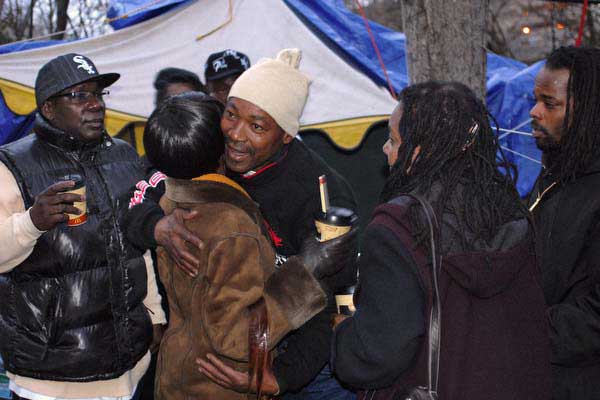 Floyd wasted no time getting out. "Praise the Lord," he said, grabbing a backpack. "Let's move it."

Of course everyone embraced, and started to catch up. I thought one of the most poignant hugs (below) came when Floyd said his goodbyes to Lorenzo "Jamaica" Banks, the founder and unofficial "mayor" of the Tent City.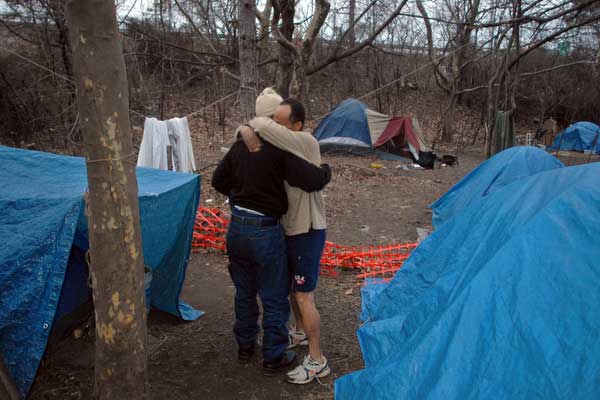 It was just getting light out as we were in the woods, but still dark under the trees. I don't like using a flash outdoors, especially when it looks to your eye - and the video camera - as though it is much brighter out. But I was shooting at 1/15th second at f/2.8 with an ISO equivalent of 500, and all the faces were still in shadow. You can see my flashes going off during Michael's video below (along with me and Matt trying to stay out of his frame. Sorry Michael). I found it interesting to see how selective I was in my shooting. Maybe it's the strobe that makes you think like you're using a single frame camera, instead of a rapid fire motor drive, and it's evident in the video (again, sorry Michael) :


Tom Gralish, Inquirer Staff Photographer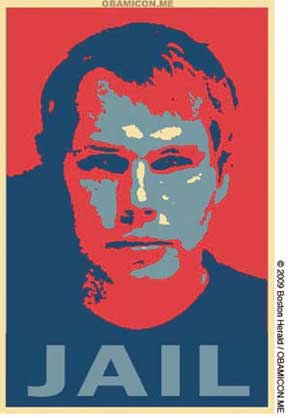 I wasn't planning on posting more on the Obama poster source photo, but then I read the news stories about the arrest of artist Shepard Fairey in Boston Friday night. And saw the Boston Herald's illustration using Paste Magazine's web application obamicon.me to Fairey-ize the artist's mug shot with his own iconic silkscreen treatment. No doubt you'll be seeing the image everywhere now – it's not that great a leap for any other derivative artist out there to come up with the idea…

So this got me thinking: what is art? who had the idea first? what's original? what is a derivative, appropriatiive, transformative, and infringed anything? And what does creative commons, copyright, public domain, and intellectual property all mean?
I spent a considerable amount of time and effort over the past couple of weeks photographically copying the work of sculptors Randolph Rogers, Emil Seletz, John Otto Schweitzer, Daniel Chester French, Leonard Volk, and Franklin Simmons; U.S. Mint engraver Victor D. Brenner; painter John Rogers; the architects/ designers of Abraham Lincoln High School in Northeast Philadelphia, Lincoln Financial Field (home to the Philadelphia Eagles) and American Legion Lincoln Post 89 in South Philadelphia; as well as sign makers at the Pennsylvania Department of Transportation, City of Philadelphia Streets Department, the National Park Service and Lincoln University.
The result of my very own foray into derivative, appropriated, transformated and infringed imagery fills most of an entire page inside the op/ed section of today's Inquirer - fifteen photos celebrating the 200th anniversary of Abraham Lincoln's birth this Thursday.
Tom Gralish, Inquirer Staff Photographer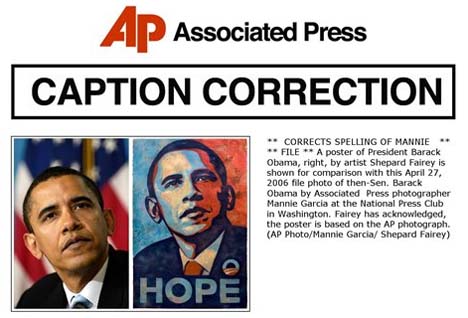 The story of the iconic Obama poster source photo finally moved from the blogs to the mainstream media yesterday when the Associated Press accused artist Shepard Fairey of copyright infringement.

BUT, this morning photographer Mannie Garcia told Don Winslow, editor of News Photographer magazine, that the Associated Press - which misspelled Mannie Garcia's name in the file photo they moved yesterday - that he believes he actually own the copyright - not the AP - to his photograph, which the artist has acknowledged he used for the poster.

Mannie told Don this morning on the NPPA website, "I'm certain that AP and AP's lawyers feel that they own the copyright, otherwise they wouldn't have put out this statement last night, but that's not my position."

For further discussion of the Obama poster source photo, see this earlier post in Scene on the Road.