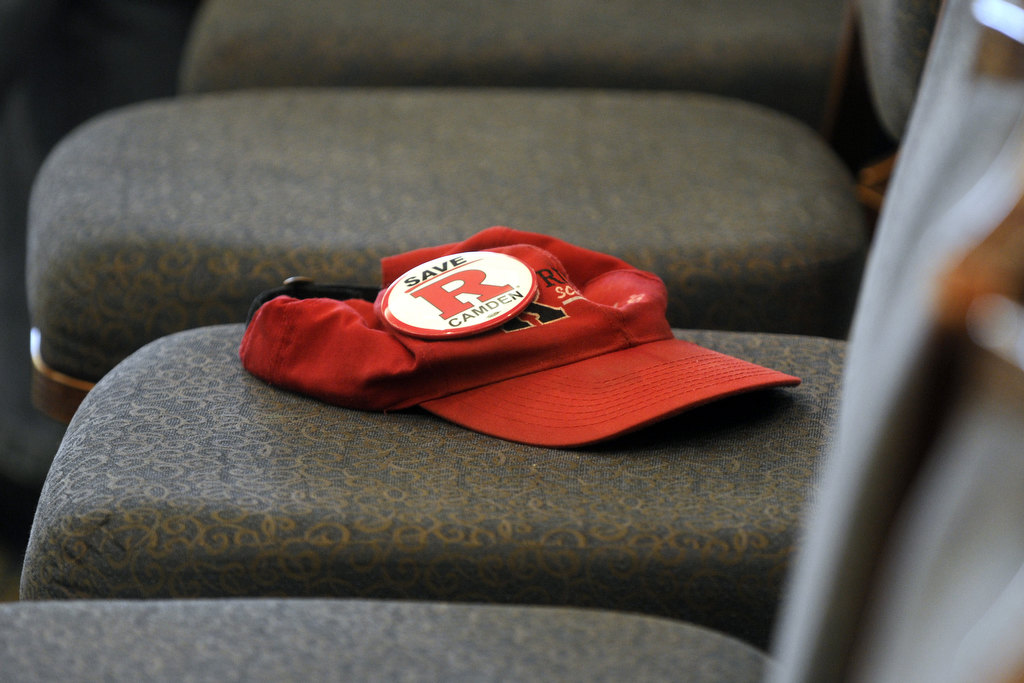 A joint Senate-Assembly Higher Education Committee met at Rowan University's Student Center to hear testimony on Gov. Chris Christie's plan to merge Rutgers' Camden campus into Rowan.
At previous meetings, Rutgers students, alumni, and faculty and administrators have been boisterous in their opposition to the idea, but testimony at this this hearing was subdued.
A new veterans cemetery in Camden is to be dedicated Memorial Day weekend, so we did a story this week on the site. Over the past few years I'd noticed a billboard on Route 130 for the Camden County Veterans Cemetery, but had no idea where it would be located. Not a clue that it has been slowly rising since 2007 from along the Cooper River. County veterans advocates gave Inquirer writer Edward Colimore and me a tour, and pointed out long-abandoned remains of the original 1885 gate posts which, until the 1920s, served as a back entrance to the adjacent famed Harleigh Cemetery (final resting place of Walt Whitman).
I thought that was a pretty cool detail, so I hiked down to the river to get it into the photo as the vets walked up the hill. I also really liked the old tree. Nothing against another veterans cemetery I photographed a few years back, but if I had to choose a resting place, I'd rather have some trees around me.
At the top of the hill, there not were some graves already, but a mausoleum. Highly polished black granite. There are just some things that are just too hard to ignore if you're a photographer.
I've been known to look kindly on pigeons in my street photography. Sometimes when taking pictures, of say the exterior of a bank building for a business story, I'll wait for one - or a bicycle messenger - to enter the scene before snapping the shutter.
So when I was shooting the USS New Jersey for a story (by Inquirer writer Edward Colimore) on the historic battleship's latest fight - to pay its bills and fend off attempts to move it from Camden to North Jersey.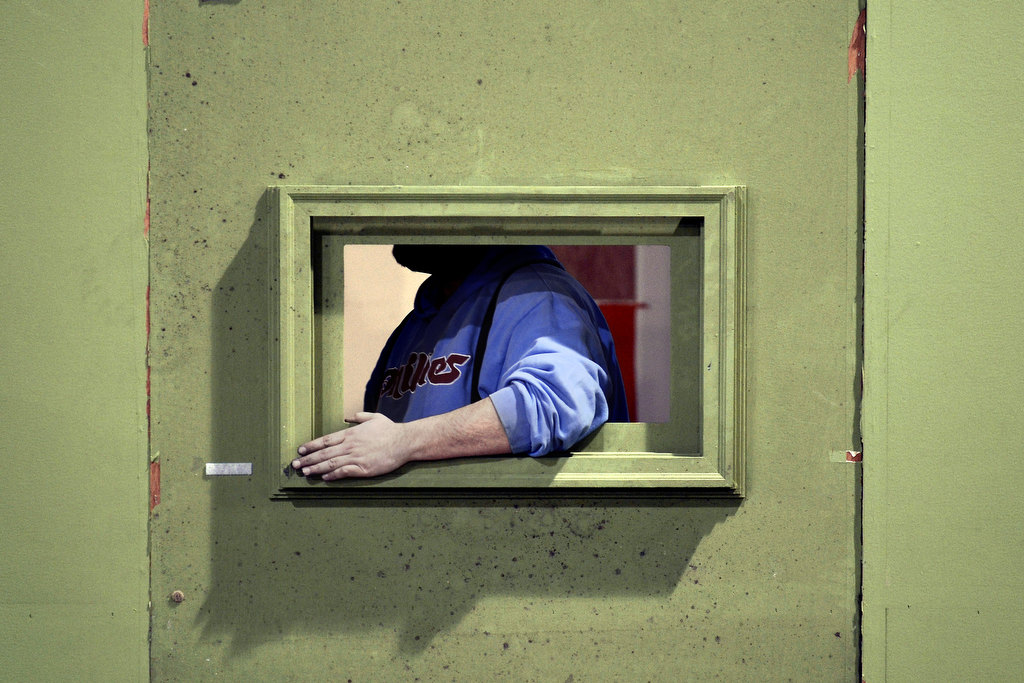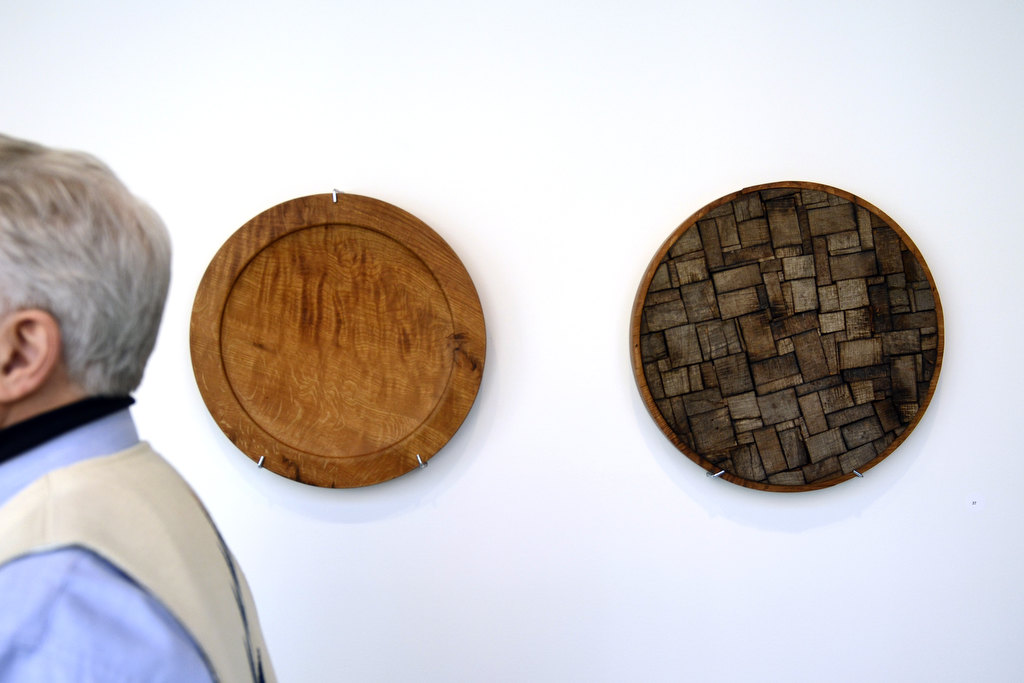 Sneaking in a couple last minute headshots, just before midnight, before ceasing all Inquirer work to begin a week of furlough...
Of course, it's all about the music.
But in reading the reviews and previews of the Springsteen exhibit at the Constitution Center that opened last weekend, I noticed how much a part photos play in, "From Asbury Park to the Promised Land: The Life and Music of Bruce Springsteen."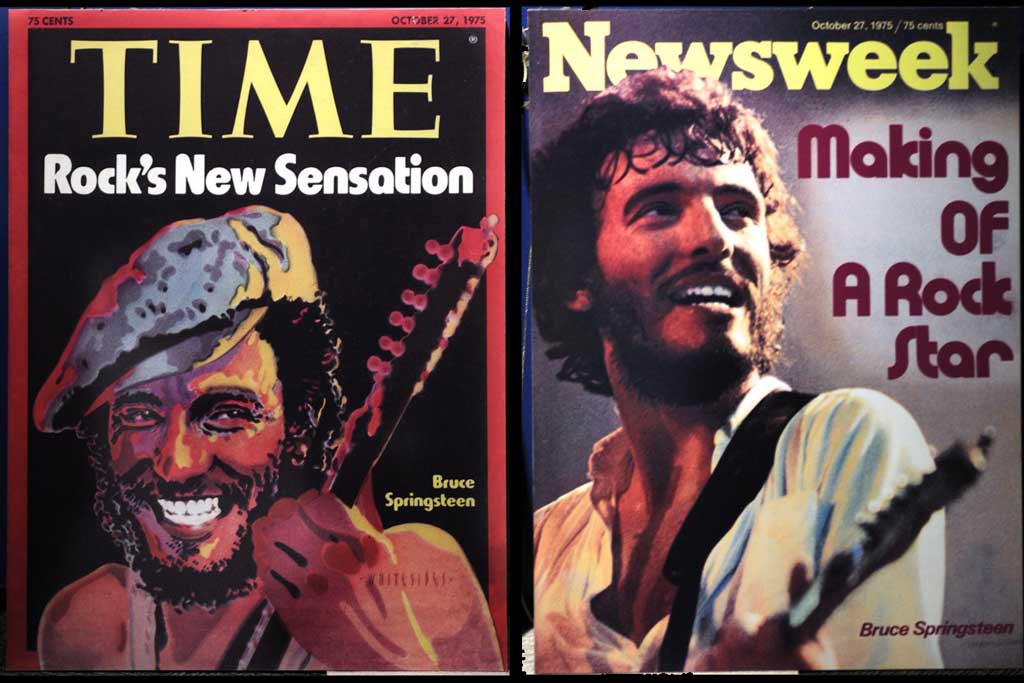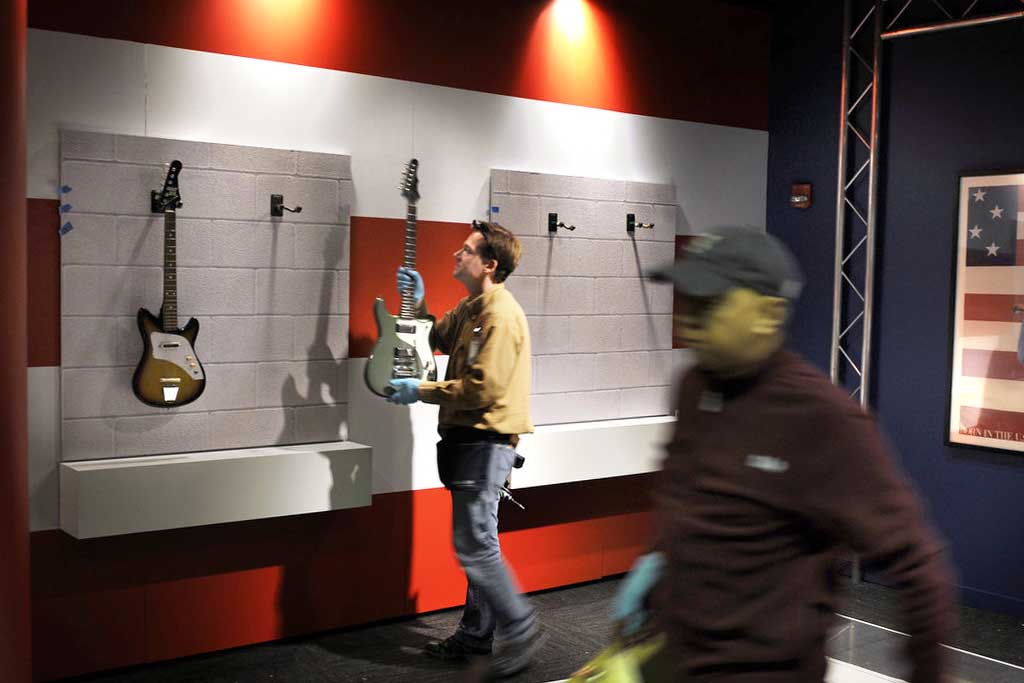 That's Bruce Springsteen's Epiphone Wilshire electric guitar going up in the display case at the National Constitution Center, next to his first electric - a Kent - bought for him by his mother (for $60) when he was 16 (later memorialized in his song "The Wish"). It's for exhibit (from the Rock and Roll Hall of Fame in Cleveland) opening this weekend, "From Asbury Park to the Promised Land: The Life and Music of Bruce Springsteen."
Why the Constitution Center? That's what Inquirer music critic Dan DeLuca asked NCC chief executive officer David Eisner for his story in today's newspaper. Part of his answer: "I think there are people who see us promoting an American rock-and-roll star and think, 'What the heck does this have to do with the Constitution Center?' It's on the edge where a lot of people will say, 'This is about freedom of speech, the American Dream, the artist as a protester,' and others will say, 'What does rock-and-roll have to do with the Constitution?' The fact that we're on that cusp and able to engage in that debate, that's actually really constructive for us. Because it puts us in a position where we can talk about the extent of the contemporary values of the Constitution, and how it really is relevant in a broader scope of life than people might think."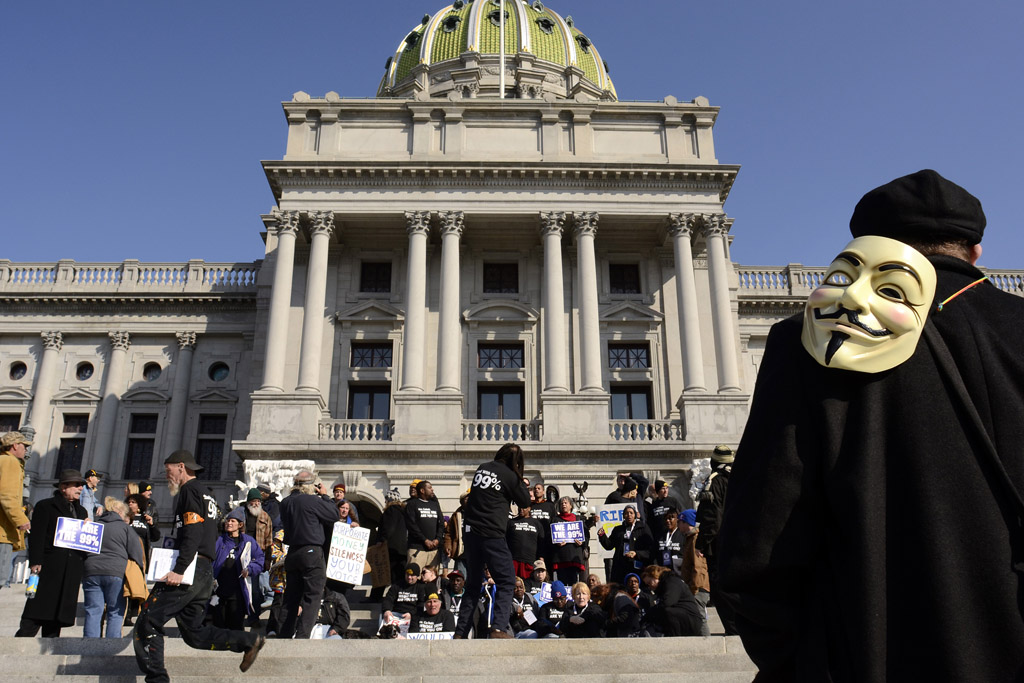 While covering Gov. Tom Corbett unveiling his 2012-13 budget I had a chance to add to my Head-Shots collection.
That's a Guy Fawkes mask with the group Occupy Harrisburg (joined by Occupy Philadelphia, Occupy Pittsburgh, Occupy Kennsington, Occupy Norristown, Occupy Lansdale and Fight For Philly and others) on the steps of State Capitol to protest the $27.1 billion plan.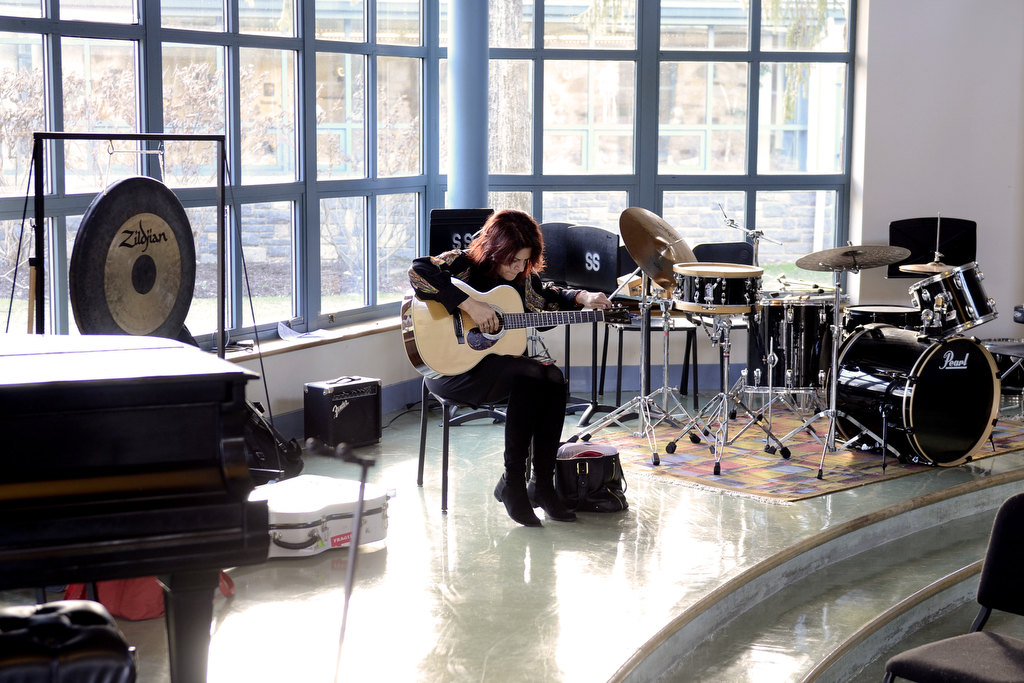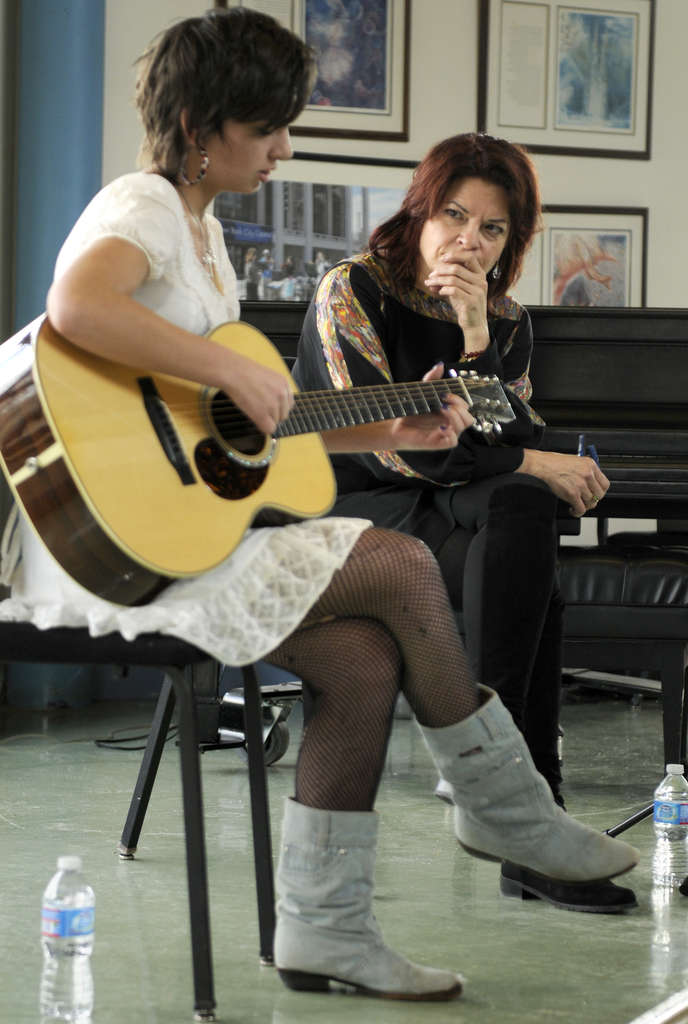 Lots of blogs have weekend music videos. They usually post on Fridays. Oh well. Here are couple really late weekend videos.
I photographed singer songwriter Rosanne Cash as she visited Springside Chestnut Hill Academy as part of their Dempsey Writer-in-Residence. She conducted a master class on songwriting and then performed for students in the auditorum.