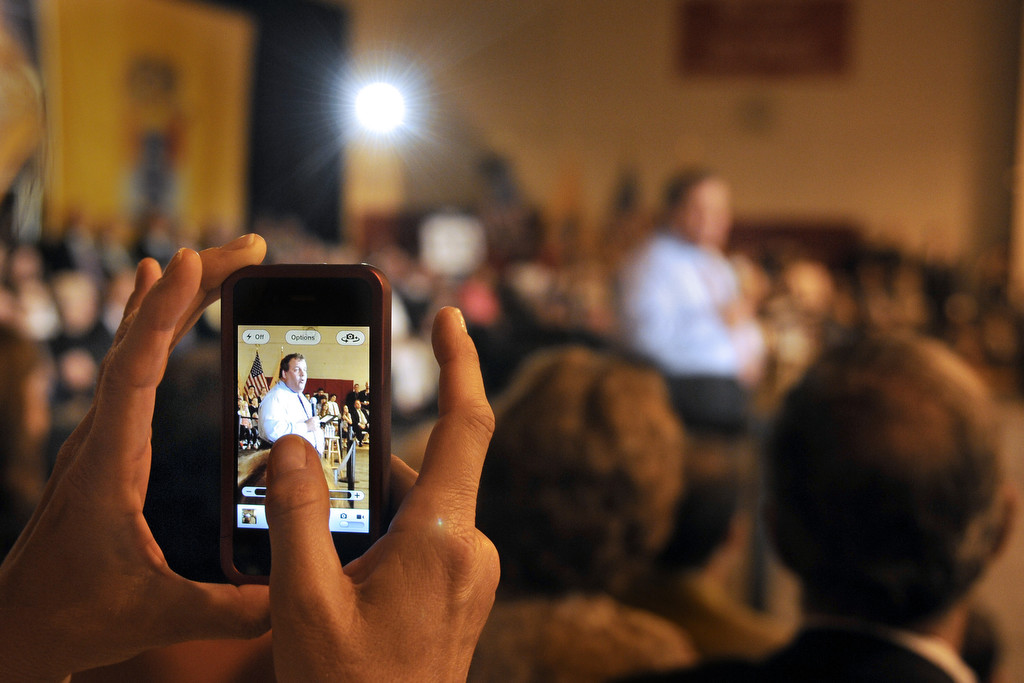 For a few days after I speak and show my photos to a group of photography students or to a meeting of a local camera club, I will often imagine the person in the front row picking up the newspaper and thinking, "okay, he had some images he was pround of, but let's see what he's done TODAY."
And that's a good thing. It keeps me humble. It reminds me that you only get one chance to make a first impression. It doesn't matter how many great photos I took last week, or a few years ago, if someone is looking at one of my photos for the first time, I want it to be one that they will appreciate.
When I'm photographing an event in my town, with my friends and neighbors are attending, I want to make a good first impression. They may know I'm a photographer for the newspaper, and they may read it every mornming, but maybe they don't ever really look at the pictures - or the byline. So, perhaps today, because they attended the town meeting appearance by Gov. Chris Christie in our Middle School gym, and saw me running up and down the aisles taking pictures - perhaps TODAY they'll look to see what I did.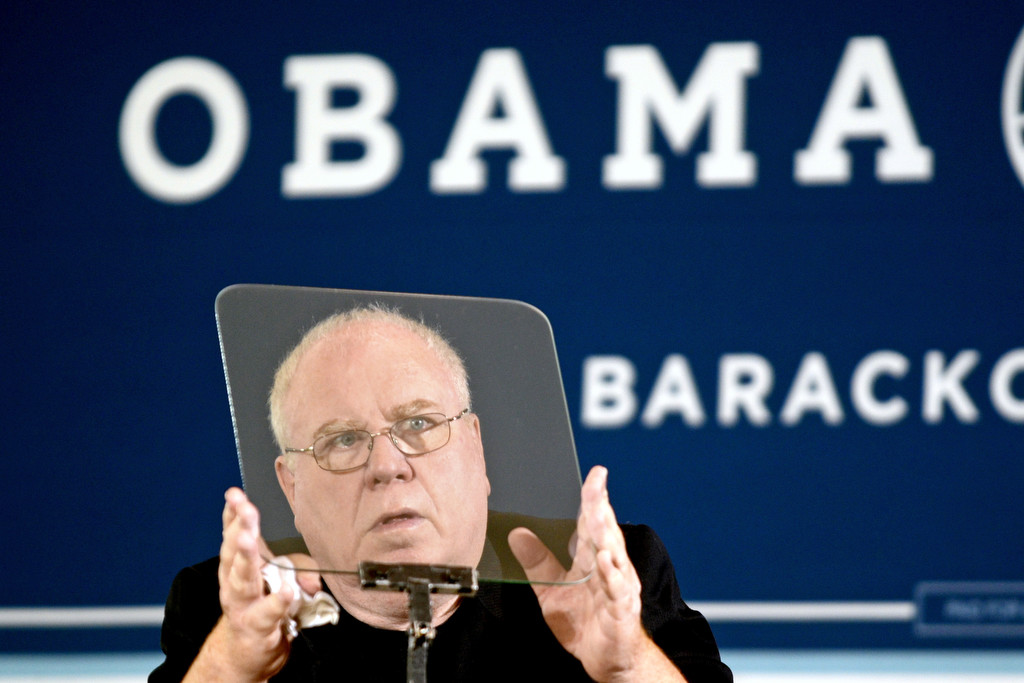 Because I asked, I was at the National Constitution Center five hours before first lady Michelle Obama yesterday morning. It's a story that's longer than it has to be…
The White House media advisory said equipment must be in the hall for a security sweep by 11:30 a.m. That usually means only large television camera and tripods. Smaller still cameras and camera bags are usually screened - along with reporter's laptops - when the the press arrives and is metal-wanded a few hours later, closer to the start of the event. But since the email advisory went to my editor, he was concerned I not risk getting locked out. So I double-checked with the White House logistics staffer - even laptops and small cameras? "Yes," she emailed me, "all equipment has to be inside the hall 4-1/2 hours early.
And that's how I ended up photographing the TelePrompter technician cleaning and adjusting the screens on stage.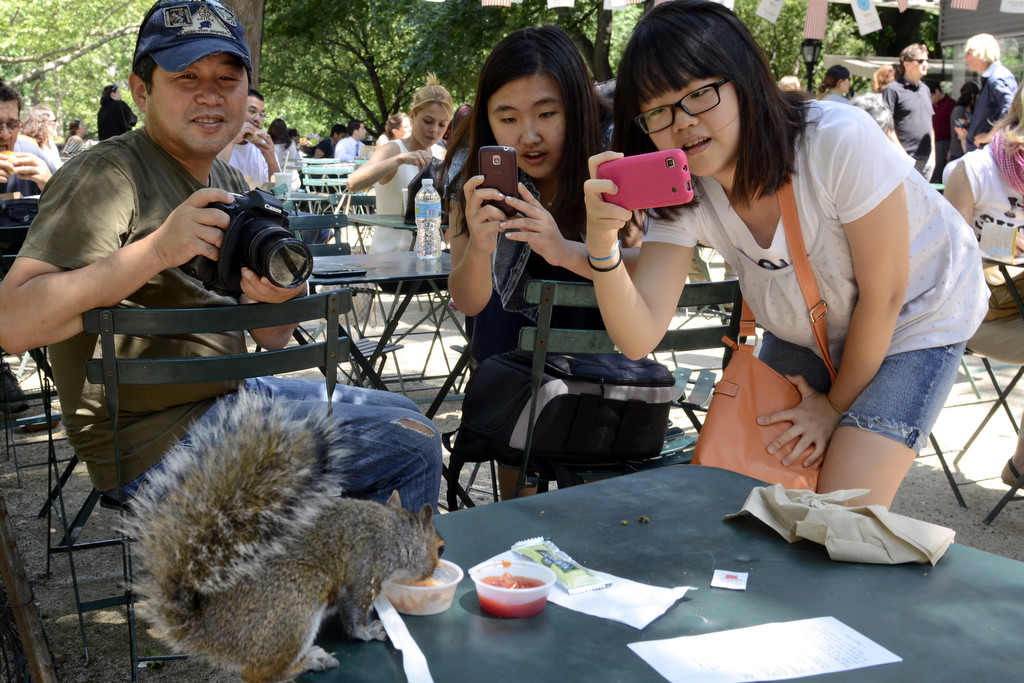 I was in NYC's Flatiron Distirict last week to check out the original Shake Shack as Danny Meyer's 15th location - the first in Philadelphia - opened this week at 20th and Sansom Streets.
Philly.com food writer Michael Klein went to interview Meyer, who spent a career planning such landmarks as Gramercy Tavern, Union Square Cafe, and Eleven Madison Park. He told Mike Shake Shack was created by accident twelve years ago, as he was helping the Madison Square Park Conservancy, which he cofounded, raise money to beautify the park, he dipped into his Midwestern past and came up with a roadside custard stand.

Arriving to cover the final of three days of the Intercollegiate Rowing Association National Championship Regatta in New Jersey, I decided to park on the opposite side of the Cooper River.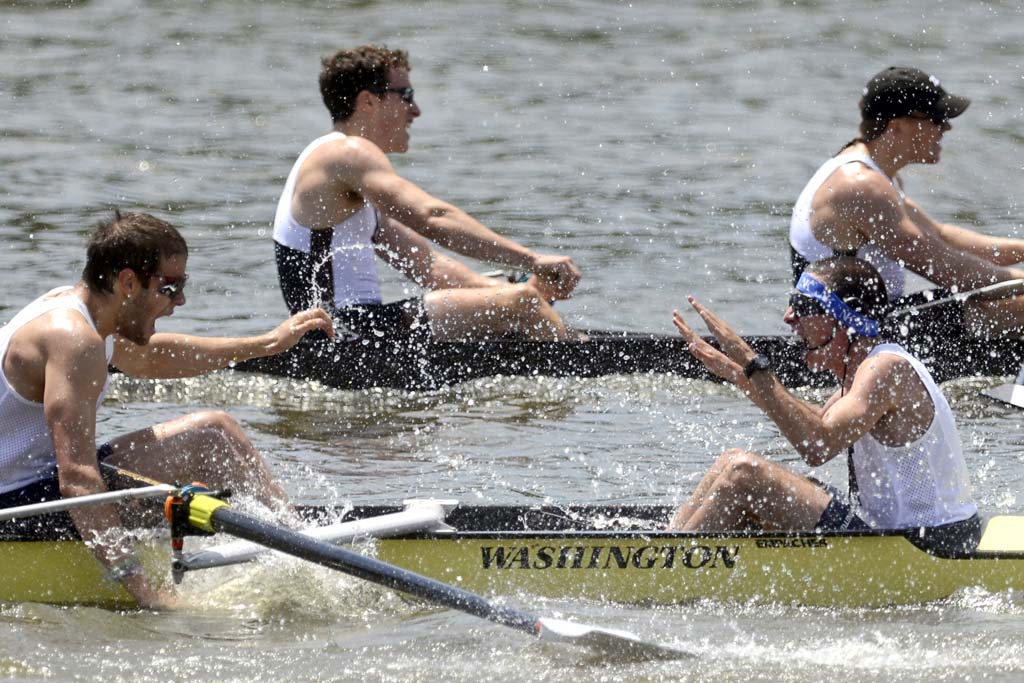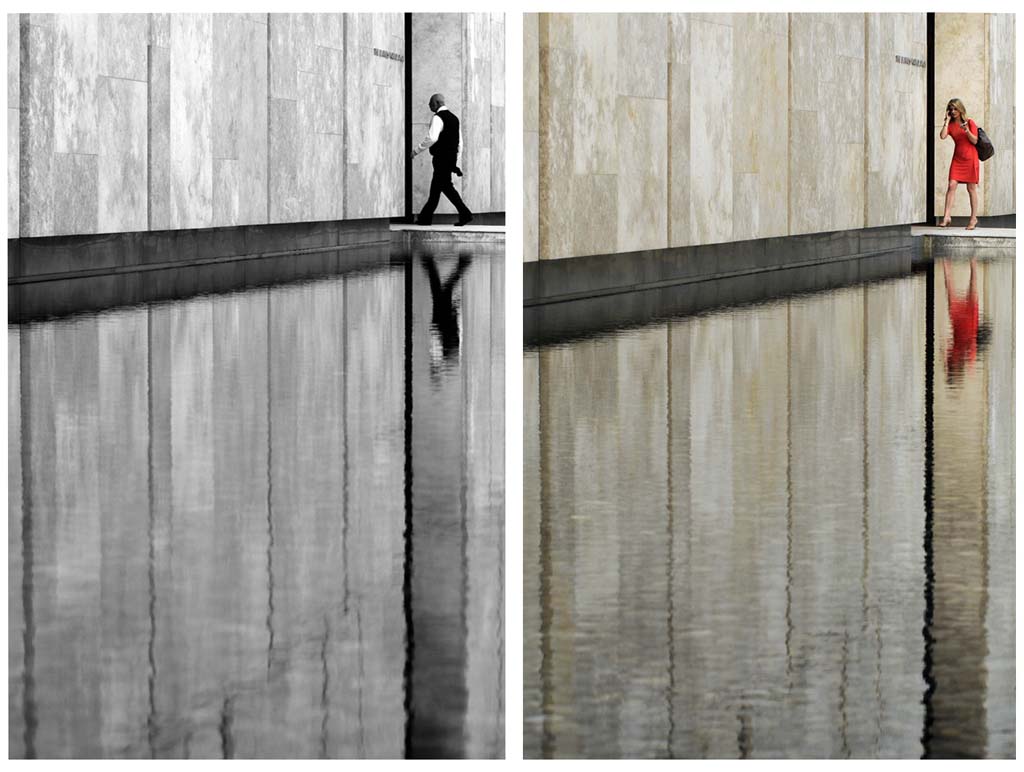 Of course the collection assembled by Albert C. Barnes, moved from his old Merion mansion to the new Barnes Foundation on the Benjamin Franklin Parkway was impressive. Inside the galleries are the originals of almost every modernist and impressionist masterpieces you've ever seen in any text book or art poster.
But, it was the design of the building and grounds by Architects Tod Williams and Billie Tsien and landscape architect Laurie Olin that I focused on (after shooting the 200- some reporters, critics, and photographers from the United States and abroad who toured the building yesterday). You can see those pictures are in a gallery here.
The Inquirer's complete package of videos, stories, graphics and photos is here.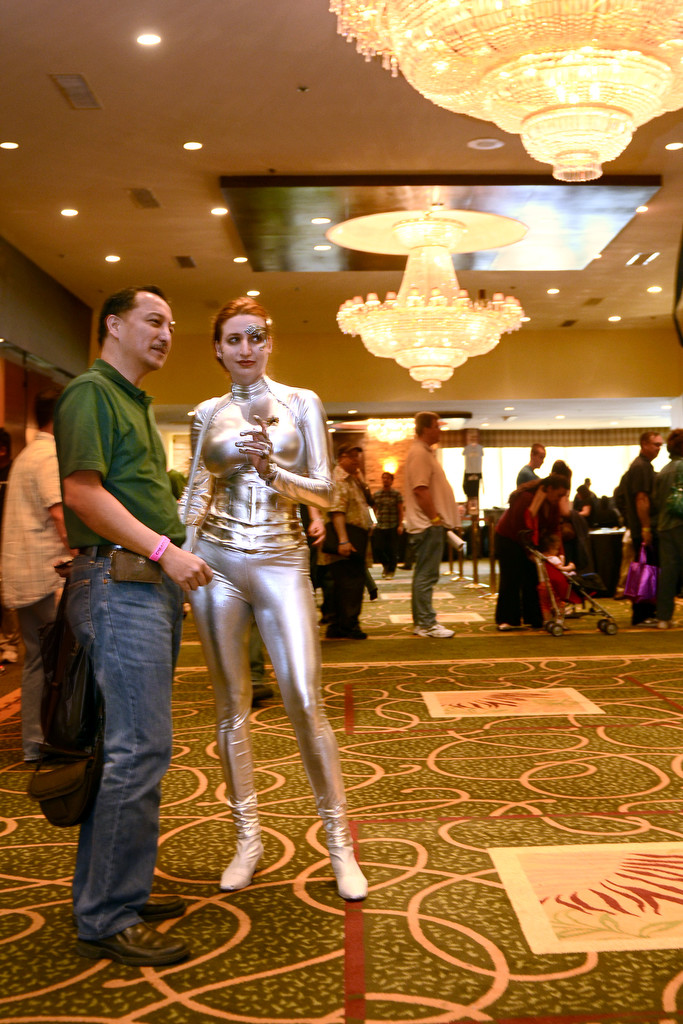 Photographing some events: The Mummers, Mardi Gras, Halloween Drag Parties - and Star Trek Conventions - is like taking candy from a baby Betazoid (that a better metaphor than this post's title?)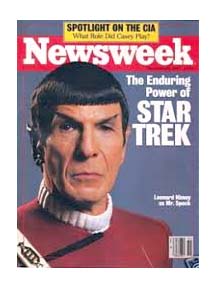 My first experience "to boldly go" out photographing Trekkies (they actually prefer to be called Trekkers) was around the time the science officer of the Starship USS Enterprise made the cover of Newsweek (1986 - "The Enduring Power of Star Trek").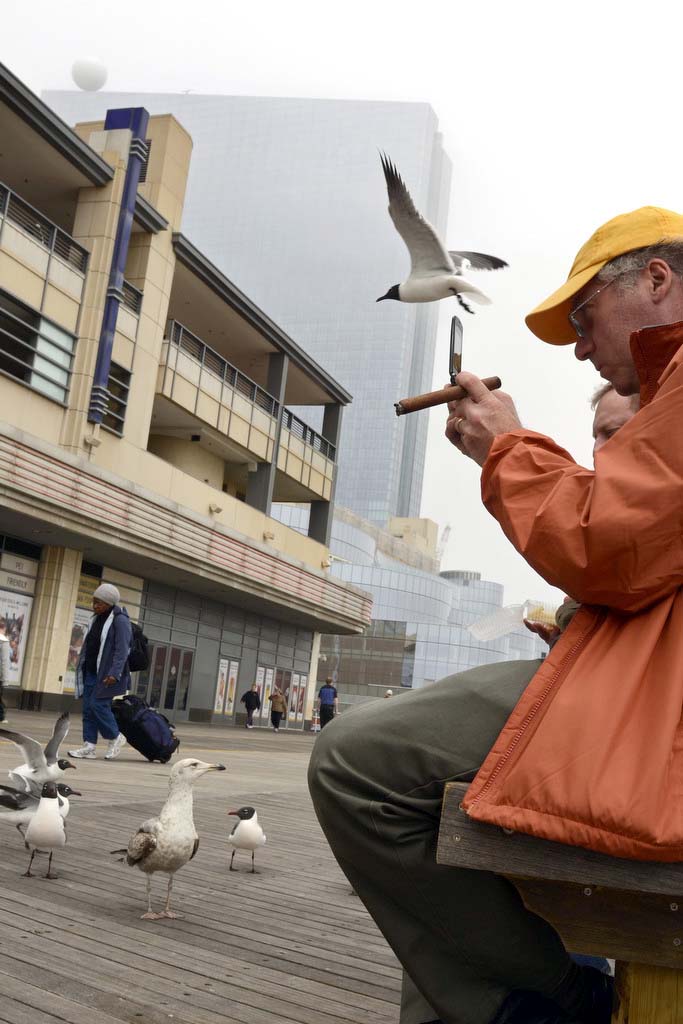 Between other assignments in Atlantic City this week, I walked over to the new Revel resort casino. It's been open a few weeks, but will have its "Grand Opening" on Memorial Day weekend with Beyoncé headlining the 5,500-seat Ovation Hall for three nights.
Ididn't go inside - so didn't get a chance to try out Iron Chef Jose Garces' indoor taco truck - but I had a productive hour wandering around on the boardwalk side of the $2 billion resort, hotel, casino and spa. Then, drove by the "back" side on my way out of town.