Tom Gralish

, Inquirer Staff Photographer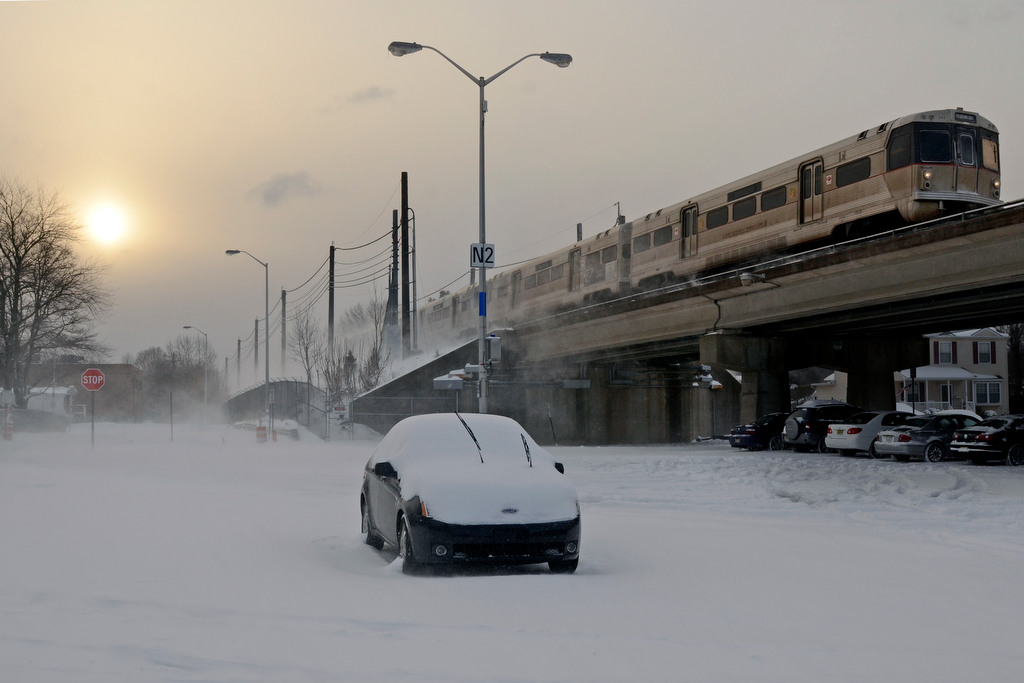 Forecasters are saying snow coming tomorrow, five days after spring arrived.
It will be the 15th day this winter with at least 1 inch of snow. We tied a record (for second most) at 14 days with the winter of 1898-99.
Tom Gralish

, Inquirer Staff Photographer

Okay, so I know you're not supposed to begin any letter, email, correspondence, intercommunication, note, dispatch, card.. or blog post with the phrase, "sorry I didn't write earlier."

It has been a while. But here, included in a gallery of my favorite photos of the year 2013 are many of the photos I might have talked about. If I had posted earlier.
Tom Gralish

, Inquirer Staff Photographer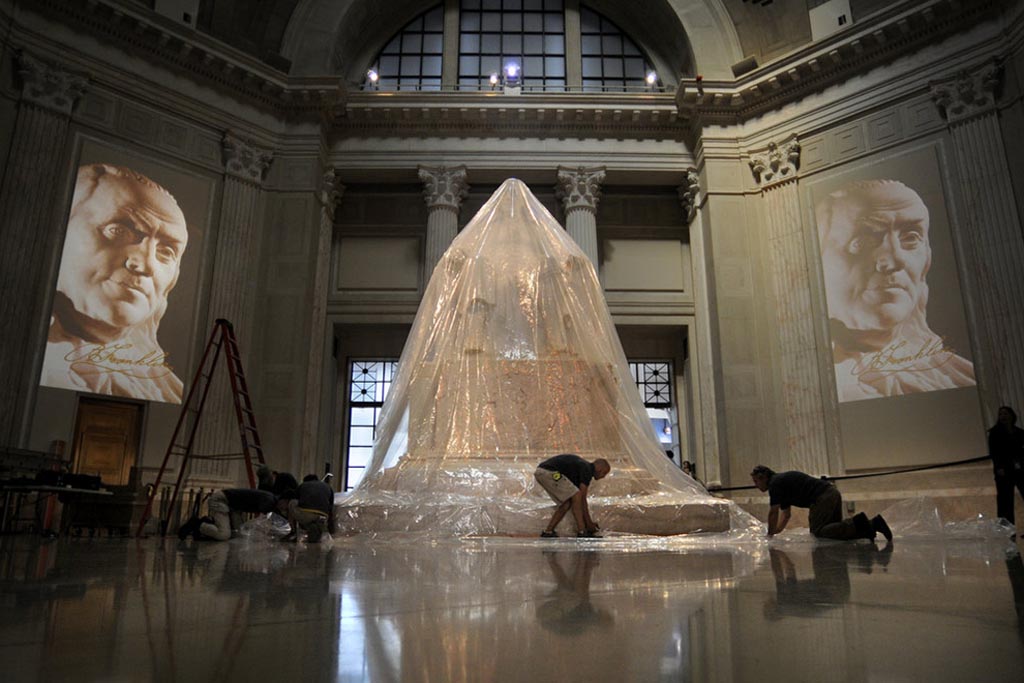 The iconic 20-foot high statue of Benjamin Franklin inside the rotunda of the Franklin Institute gets a special protective polyethylene cover.
Ben is actually the Benjamin Franklin National Memorial, as designated by the United States Congress in 1972 as the official national memorial to Franklin. It was sculpted by James Earle Fraser, and weighs 30 tons, sitting on a 92-ton pedestal of white Seravezza marble. Originally opened in 1938, the rotunda was designed by architect John T. Windrim and modeled after the Pantheon in Rome.
Tom Gralish

, Inquirer Staff Photographer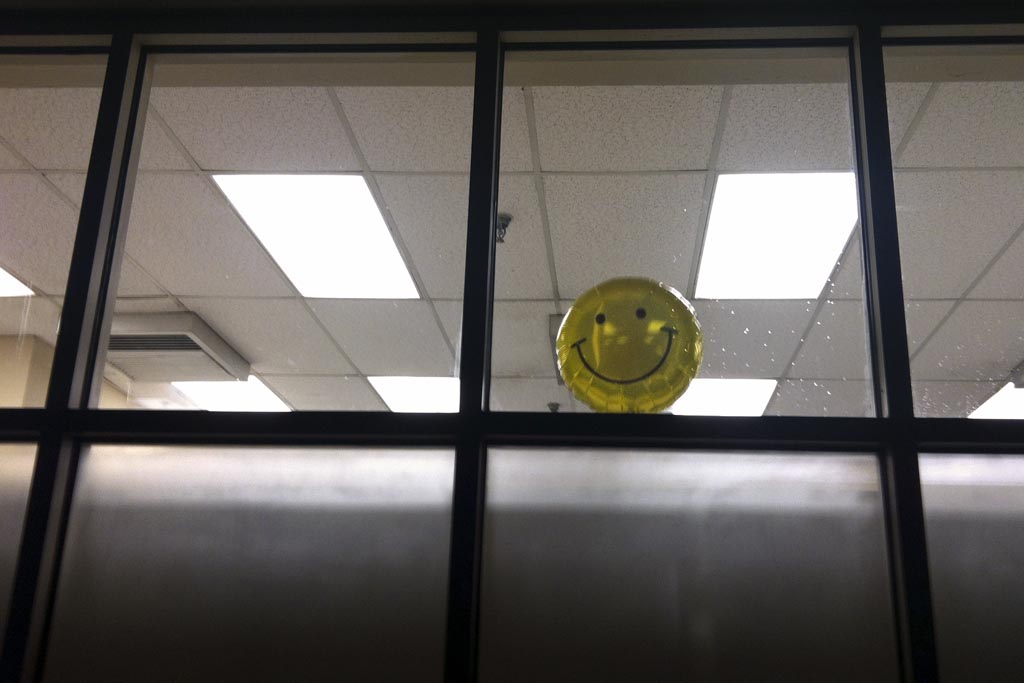 What is it that catches a photographer's eye? That question is one of the things that makes photography so personal.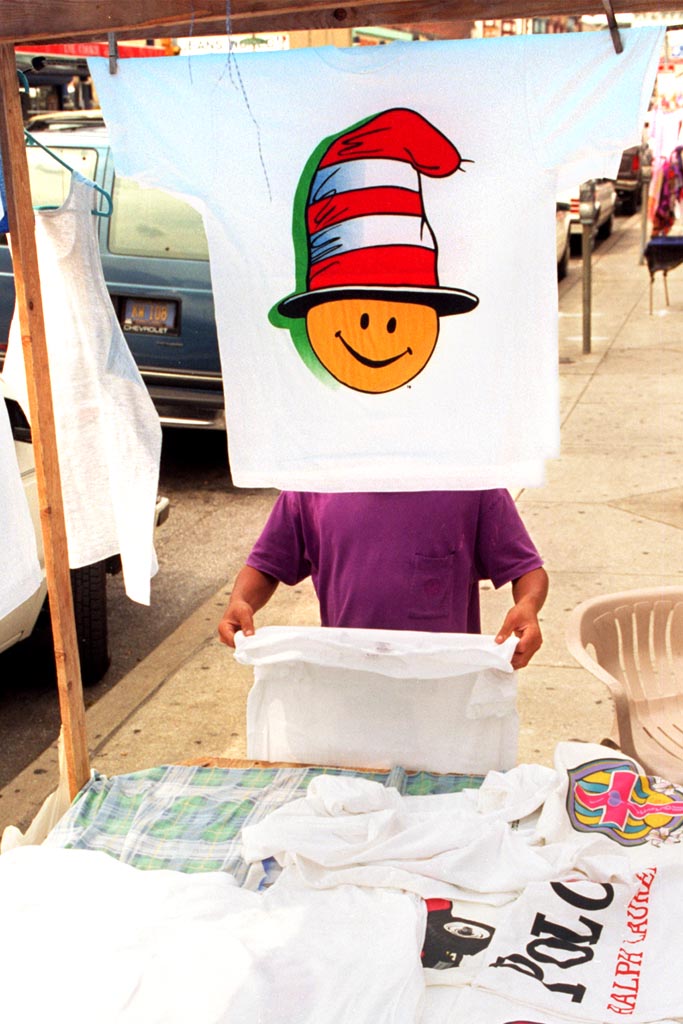 Tom Gralish

, Inquirer Staff Photographer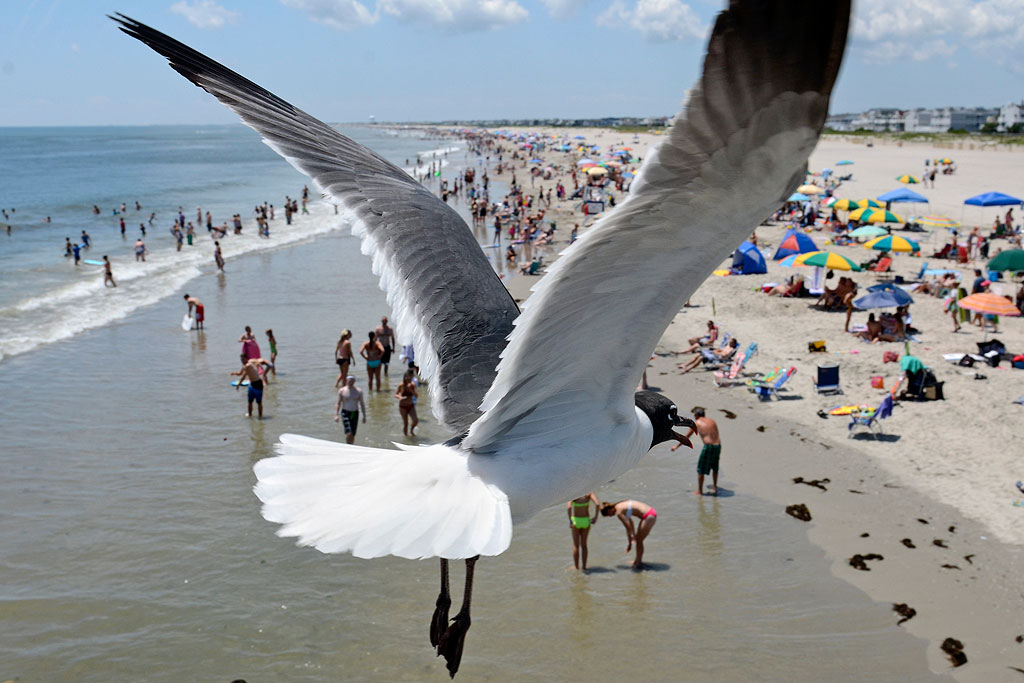 Shooting in the city, I like to include pigeons in photos when possible. At the Jersey Shore, I wait for gulls to pass through my viewfinder.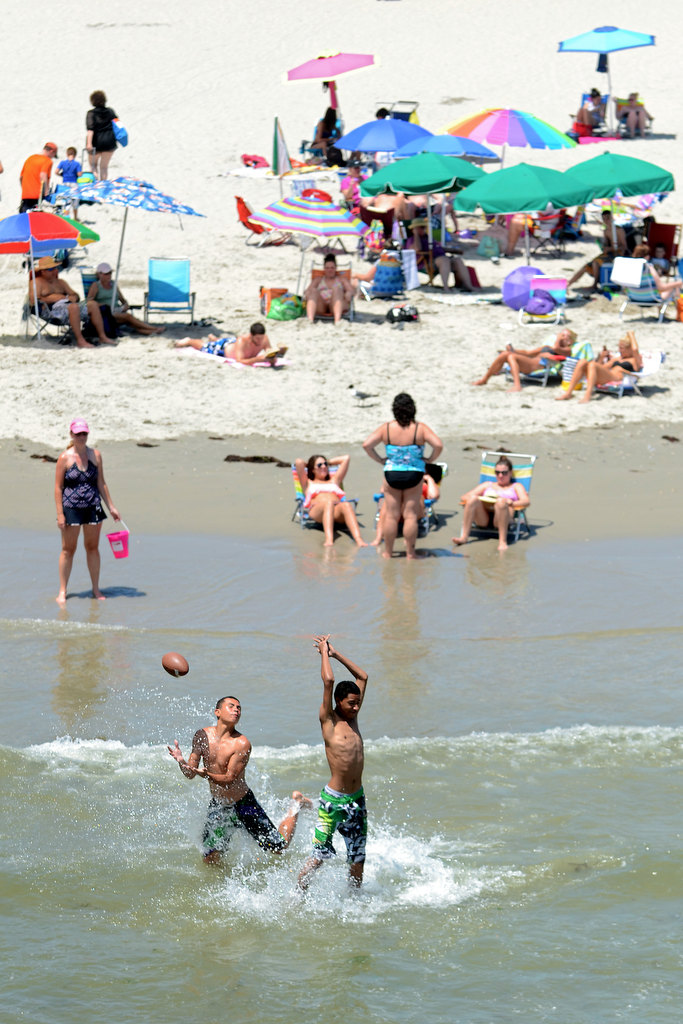 I was on assignment yesterday in Ocean City for an upcoming story on the 100th anniversary of the country's oldest continuously operating fishing club - The Ocean City Fishing Club, which owns a pier that extends 635 feet southeast from the boardwalk (they have a live webcam).
After photographing some members fishing, I took advantage of being on their pier to shoot some First-Day-of-the-Heat-Wave photos. It was an opportunity to use a different vantage point - looking back toward the beach from over the water - than most of the photos I'd shot there over the past thirty years.
Tom Gralish

, Inquirer Staff Photographer
So, just a few days afer talking about repeating oneself, I find myself shooting another one:
The day after the U.S. Supreme Court rulings, I covered a rally by supporters of marriage equality at the New Jersey Statehouse in Trenton.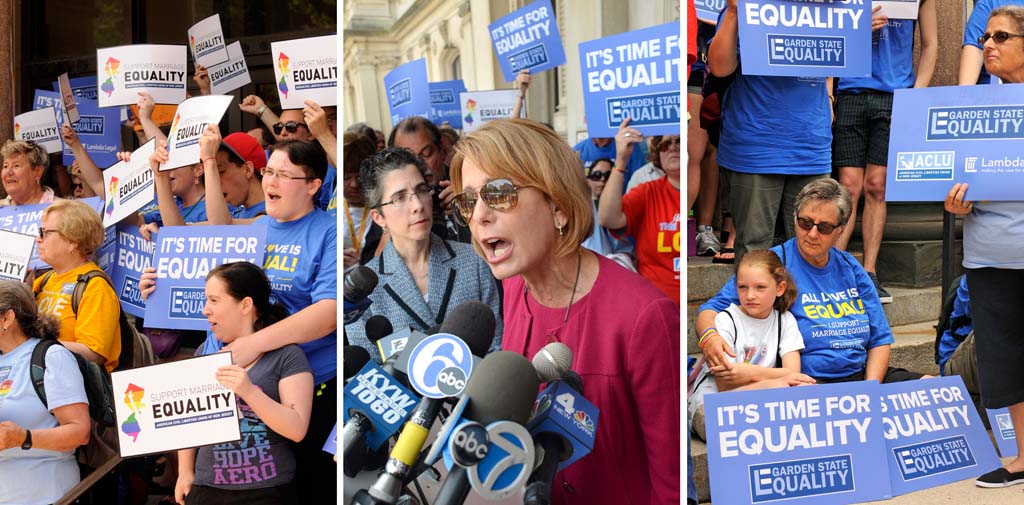 I know my editors always want a crowd shot, and you have to shoot the main speakers - here it is Barbara Buono, the Democratic gubernatorial candidate and state senator from Middlesex County - at any assignment with a group, including both sides of an issue, if present.
Tom Gralish

, Inquirer Staff Photographer
It's hard not to shoot the same photo again every 17 years or so.
As I approach my 30th anniversary of starting work at the Inquirer, I am reminded of that all the time.When you've been in one place for a while you can't help repeating yourself.
This week I ended up shooting a little bit of the World Championship of Sand Sculpting on the beach in Atlantic City. I'd gone there to photograph a Miss America press conference (the scholarship pageant returns to A.C. after seven years in Las Vegas).
Tom Gralish

, Inquirer Staff Photographer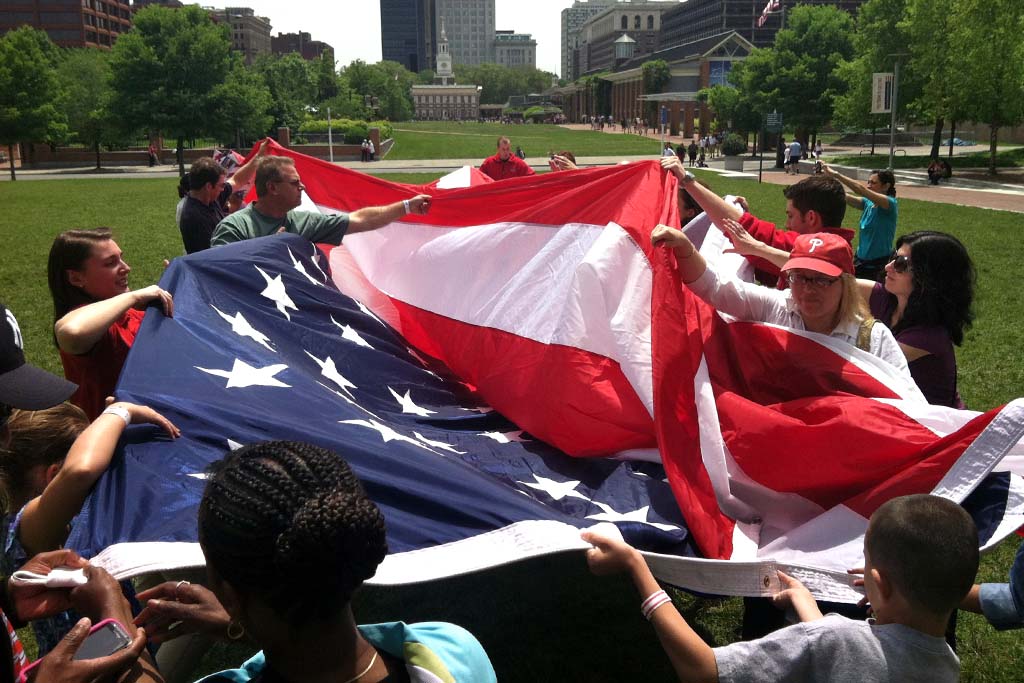 (Memorial Day "Giant Flag Folding" activity for National Constitution Center visitors, on their front lawn on Independence Mall Sunday, May 27, 2013)
Back at home from a Memorial Day day-off spent with my family,I was just looking through Time Magazine's LightBox gallery, at the photographs of Baltimore-based free-lance photographer Steve Ruark. Shooting mostly for the Associated Press, he has made 278 trips to Dover Air Force Base in Delaware, covering the return of 490 fallen troops. His pictures are incredible. It is remarkable how he found so many ways to make each and every one a unique photograph, especially considering the restrictions placed on the media: stay in the same spot and do not photograph family member. Ruark, who has probably seen more of these brief ceremonies, known as dignified transfers, than any other civilian, tells Time writer Nate Rawlings that sharing his images is part of a crucial undertaking: "If something's not photographed, it's easy to deny...It's a fact that Americans are getting killed overseas. Making people look at it makes them weigh the costs."
Like most Americans today, owing to the demographics of our all-volunteer military, I don't have any family or good friends in the service. So it's easy not to have to think about the risks they face every day.