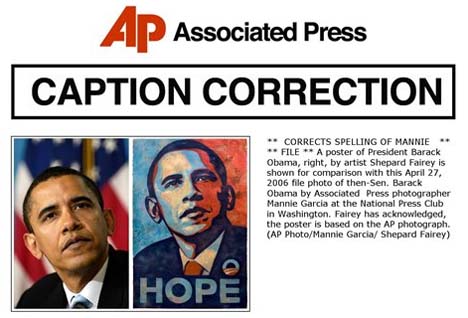 The story of the iconic Obama poster source photo finally moved from the blogs to the mainstream media yesterday when the Associated Press accused artist Shepard Fairey of copyright infringement.
BUT, this morning photographer Mannie Garcia told Don Winslow, editor of News Photographer magazine, that the Associated Press - which misspelled Mannie Garcia's name in the file photo they moved yesterday - that he believes he actually own the copyright - not the AP - to his photograph, which the artist has acknowledged he used for the poster.
Mannie told Don this morning on the NPPA website, "I'm certain that AP and AP's lawyers feel that they own the copyright, otherwise they wouldn't have put out this statement last night, but that's not my position."
For further discussion of the Obama poster source photo, see this earlier post in Scene on the Road.