Clearing the record: A photograph Saturday with a story about two deaths on railroad tracks in Norwood incorrectly identified a passing train, which was not an Acela Express but was Amtrak Northeast Corridor Train 95. The Inquirer wants its news report to be fair and correct in every respect, and regrets when it is not.
**********************
Despite my best intentions, I made a big mistake in my caption last weekend. As I wrote in a previous post, before photographing the scene of two rail deaths in Norwood I decided it was important that I only show a southbound Acela train - that it not be a SEPTA or any other train. So I consulted the Amtrak timetables to find out when the right train would pass through the station. What I did not do was check the times of other trains. After photographing Acelas that had left Philadelphia's 30th Street Station around 10am and 11am and not being satisfied with the results, I left the station to shoot some weather feature photos (it was morning of our latest storm). Then I returned a little past noon, positioning myself in the snow for the #2155 Acela Express scheduled to depart Philadelphia for Washington at 12:10pm.
I was expecting the Acela about the same time as the two previous trains -- around twenty minutes past the hour. So when an Amtrak train -- the #95 Northeast Regional it turns out -- with a noon Philadelphia departure approached, I made my photo.
It never even occured to me that it wasn't the same Acela I'd photographed (the top and left photos below) on the two previous passes. I left before the Acela arrived, presumably just a few minutes later. I had lunch and transmited some photos, then actually ended up going back to the station to catch a fourth pass from a different angle (the photo on the right, below).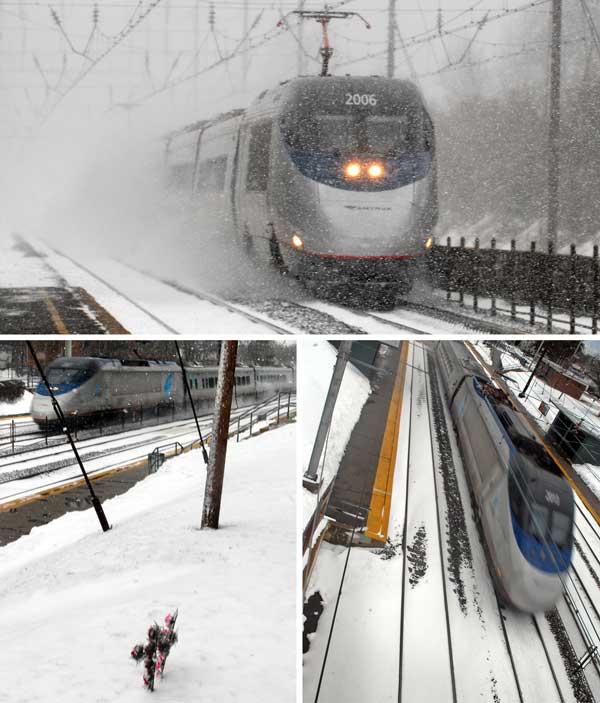 Almost every mistake I've ever made in a caption - or a photo - is the result of an erroneous assumption. I hardly ever write down a name wrong, or get a fact incorrect. When the error is pointed out to me - as in this case by a couple readers who know their trains - it is always obvious how I screwed up.
This doesn't lessen my concern for the families and classmates of the girls at Interboro High School. Psychologists and counselors were on hand when students returned to class Monday to console those struggling with the deaths, and to offer guidance to teachers on how to talk about the tragedy in class. "The most important thing is to just try to bring in the support that the students need to get them through the week and cope with the magnitude of this," Superintendent Nancy Hacker said.