(NOTE: I started this post earlier, but lost everything in a computer crash. In frustration, I forgot to "unpost" it, so it ended up "live" yesterday, with the default "Write text here" content. It received more comments than anything I've written in the past two years . Now how's THAT for a "fine sense of irony," commenter DonQ? )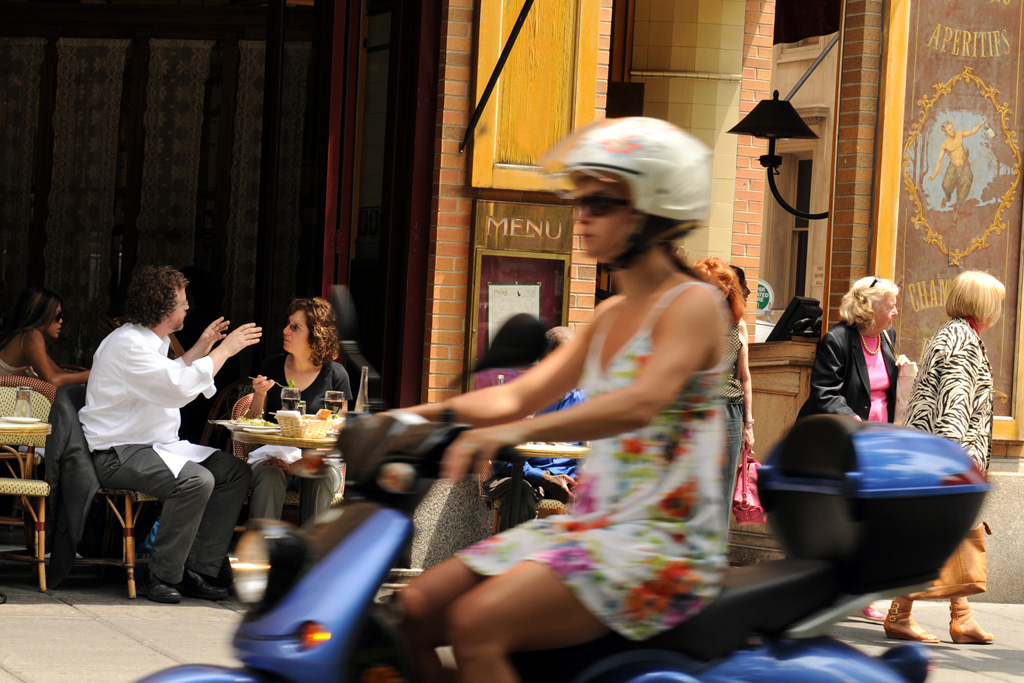 I have taken plenty of pictures of kitten, flowers, sunsets, abandoned factories, or interesting faces "just because."
But unlike mountain climbers - "Because it's there" (Mallory) or artists - "to translate my emotions, my feelings, and…my sensibility" (Matisse) - I don't usually take pictures because of some innate inclination. I need a good reason.
Don't get me wrong, as a young photographer I always carried a camera, and I was always taking pictures. Today, I still have a camera with me at all times, and still take pictures just for fun. But photography is mostly a way for me to share the things I'm curious about.
That's why as a high school photographer I leaned more toward reportage. I didn't want to take pictures just for myself. That didn't seem like a good enough reason.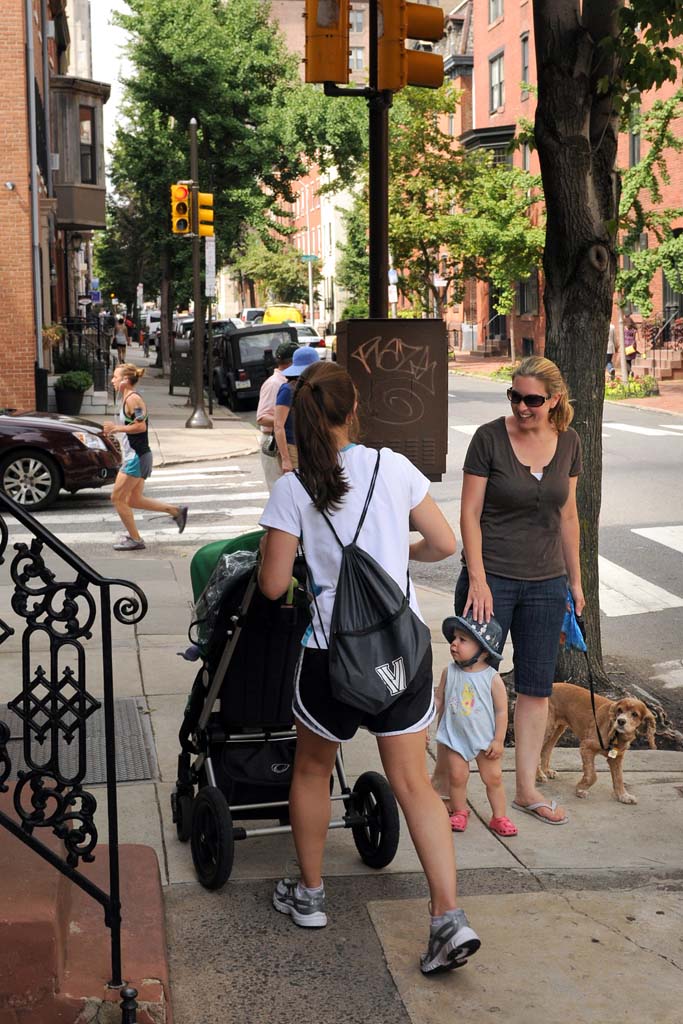 And that's why I ended up in newspapers, which provide a unique opportunity to inform, educate, surprise, entertain, and sometimes even disturb with photos.
Coming up when I did, I was inspired by "documentary" photographers like Robert Frank, Robert Doisneau, Josef Koudelka, Henri Cartier-Bresson, Garry Winogrand, Lee Friedlander, and Bruce Davidson. They followed in the tradition of the Farm Security Administration documentarians like Walker Evans, John Vachon and Dorothea Lange, but brought a more complex, and personal aesthetic to the photo-documenting of what they saw.

That's a reason I like: Try to take pictures more like those in the first group, less like the photographers in the second.
Nothing against the FSA photographs - their directions were a lot like many newspaper assignments: show us what a person or building looks like (or event, performance, weather, classroom, cubicle or baby zoo animal).
That's another really good reason to take pictures. It's my job. Today, the job was something called the "Man on the Street Interview."
Most newspaper photo assignments ask for a picture of the person a reporter is writing about. Usually that person has done something significant, interesting or inspiring. Sometimes they are just being asked their opinion. Inquirer reporter Jeff Gammage and I set out toward the Apple Store on Walnut Street to get some opinions for a story he was writing about figures released today from the 2010 census that show an explosion of 20- and 30-somethings moving into Philadelphia.
One more reason: photography today is so easy, anyone can take a usable picture. So, without resorting to use of Hipstamatic, how can I make a picture that does more than record what the opinion-givers look like? How can I shoot a photo that is more than a simple head-on portrait? Something that is more complicated, something that is framed by something, or has other intriguing elements - maybe shadows or reflections? (photo contest judges call that "layering").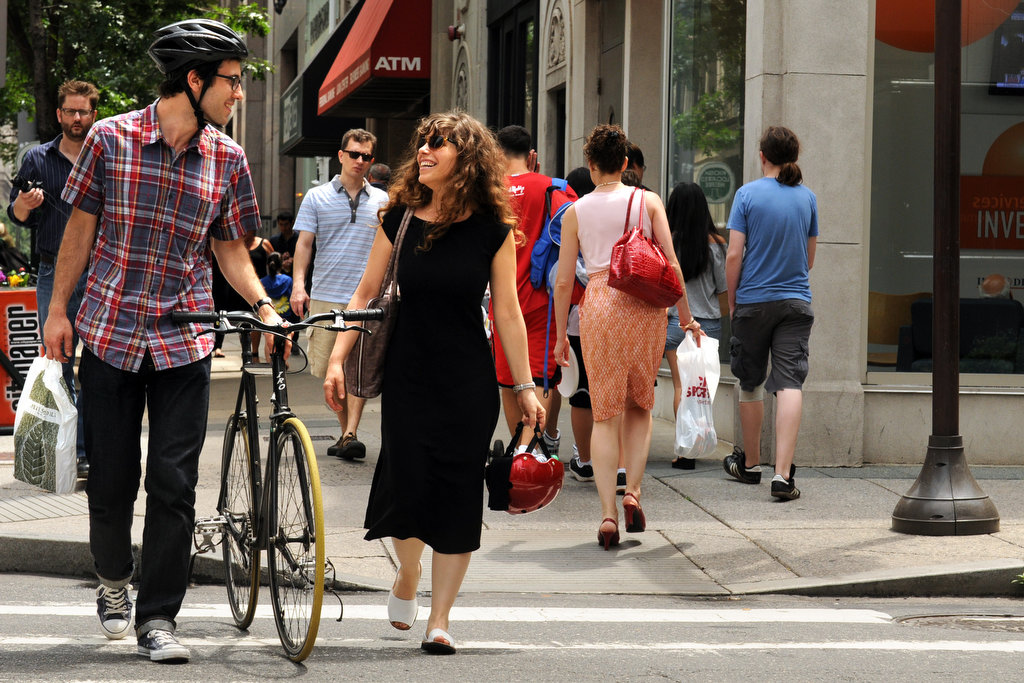 You can read Jeff's story in today's newspaper, or here. My photos of the people he interviewed are there too. Reasonable kidding aside, I tried to show the people he talked to in some sort of context - the couple shopping on Walnut and the young mother at 16th & Pine above - while still making them visually interesting.
And that brings me, finally, to the title of this post: "Street Shooting with a Purpose."
While it may not be as popular with viewers as kittens, flowers and sunsets, "street photography" remains a cherished subject matter for many photographers. Street photography combines observation and intuition with that another trait I've already mentioned - personal aesthetic. Street photographers sort out individual moments among the hubbub, pulling unique impressions out of the din.
As Doisneau himself once said, "The marvels of daily life are exciting; no movie director can arrange the unexpected that you find in the street."
City streets are both public and populated, so street photographers can remain almost as anonymous as their subjects among the the multitude of distractions on and around the sidewalks. It's fun, easy, artistic, - and you don't have to get people's names!
I love it. Especially when there is a good reason. Like when I get to illustrate the concept of a story, instead of just showing the people quoted in the story.
So after Jeff went back to the newsroom to pull together all the census statistics while making the numbers more approachable to readers by integrating the opinions and impressions of the people we interviewed (and working with graphics editor John Duchneskie and Inquirer computer-assisted reporter Dylan Purcell), I set out for some Street Shooting with a Purpose.
I wanted to capture some of that young vibe on the street, and some of the energy anyone who walks around Center City can feel thriving - even in the face of a dismal economy.
Without even co-ordinating with Jeff, I staked out the restaurants facing Rittenhouse Square - and shot a front page photo (at the very top of this post) that precisely matched the lead of his story: "The beat of a lively downtown is evident in full tables at restaurants..."
But then I felt the area seemed more about shopping and dining, and not as much about living, so I wandered the more residential streets.
Just me and the ambient light and liveliness. Who needs more of a reason than that?