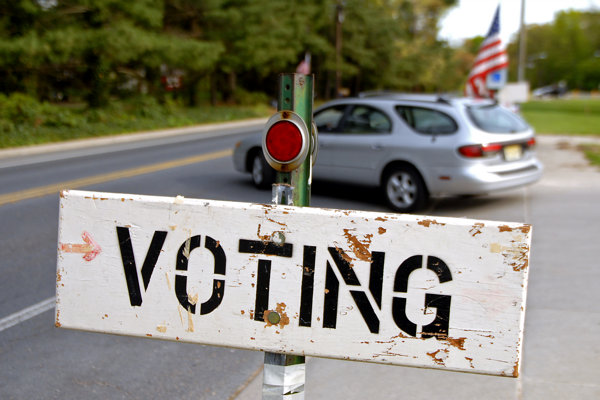 Some scenes around South Jersey as voters decide school boards and budgets. More photos here.
I volunteered to shoot "early" voting before I went online to look for polling times and places throughout the three counties around Philadelphia. Maybe I didn't remember, maybe I've just never actuallly covered a NJ school election before, but municipalities are only required to open the polls from 5 p.m. to 9 p.m. They have the option to open earlier, and some do, at noon or 2 p.m. but most open at 4 p.m. Haddonfield, which is losing all of its education aid - $1.5 million - under the govenor's proposed budget, was the only place I found that opened their polls at 7 a.m. So I started there.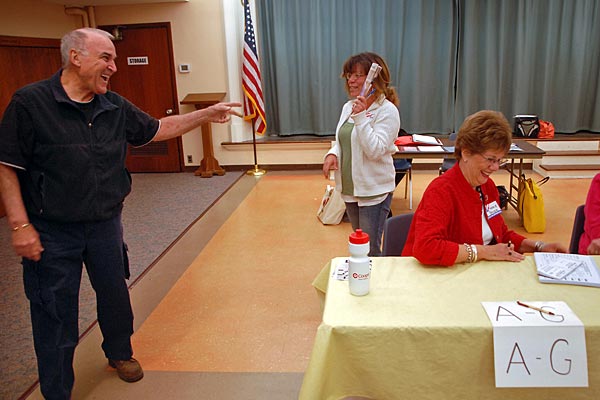 That's where I was when Ron Giordano caught up with a newfound cousin, Pattie Giordano-Sines. She was working as an election officer at the polling place inside the Lutheran Church of Our Savior and overheard Ron spelling his name out to another election worker, official Merrie Bender (seated). Pattie asked if he had any family in Magnolia (where she lives). He answered no, and besides Giordano is a common name. But when the two of them started comparing relatives, they realized their grandfathers were brothers, and they had many identical family memories.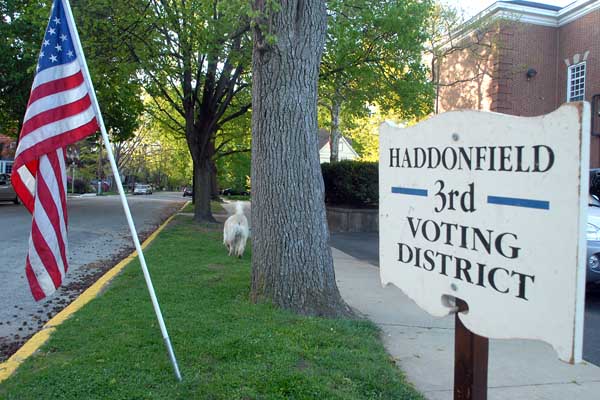 I framed this scene, and hoped a voter would walk through it. None did. Guess it was the combination of not stepping on the grass and being too polite to walk in front of a photographer - even if he wasn't looking through the viewfinder, but just holding his prefocused camera at waist level. A few dogs out for their morning walk wandered through, and when I gave up on voters, I starting thinking one of the dogs might stop to water the tree. That didn't happen either.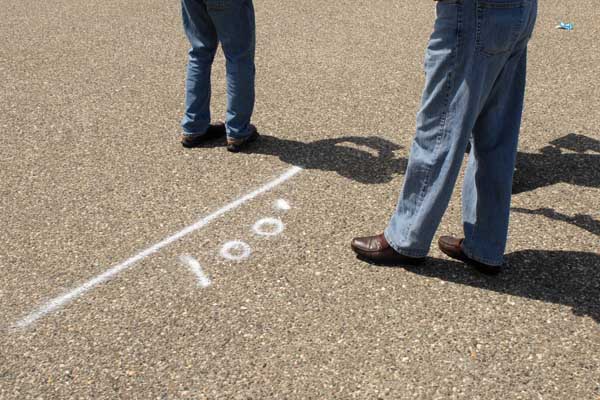 At the Washington Township High School gym, I saw something I'd never encountered before - spray painted lines 100 feet from the polling place. As a courtesy to the candidates and their leafleting supporters, election officials were kind enough to mark off the minimum distance for political campaigning, helping them all stay outside of the "no campaigning zone."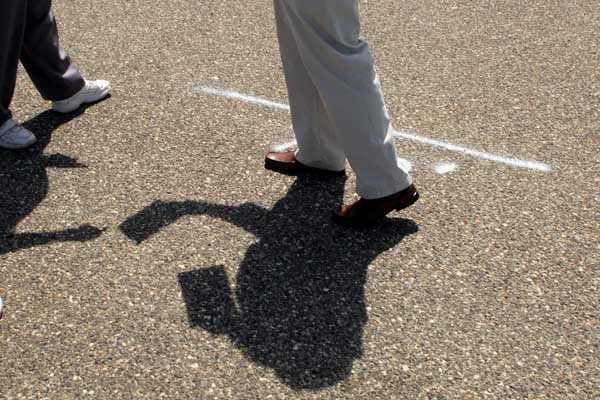 I focused on the shadows for a while, and when I finally got a good one, wouldn't you know it, the candidate was covering up the sign. I 'd have liked to work it longer, but had to move on to other polling places.