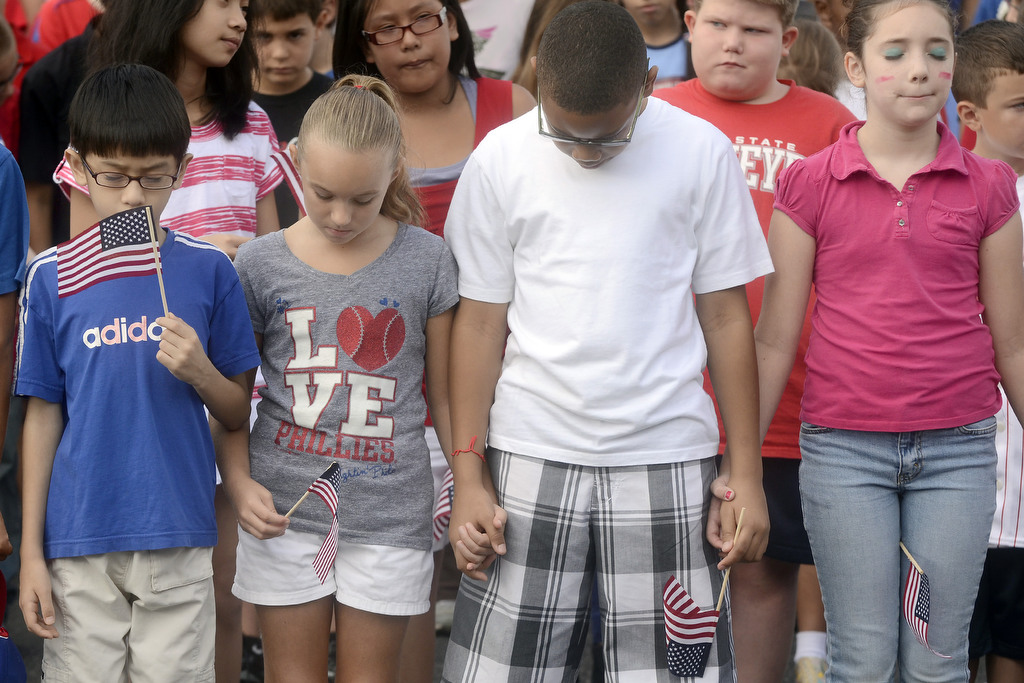 With the anniversary on a weekend this year, schools held their 9/11 remembrances on Friday. In Stratford, NJ, students at the Samuel Yellin and John Paul II schools joined together to honor their town's police, fire and ambulance departments.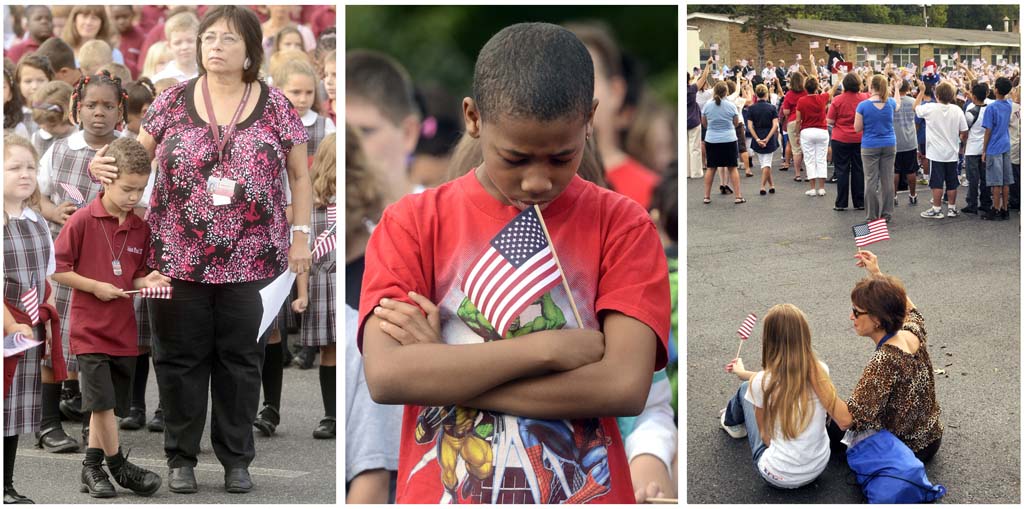 At Haddonfield Memorial High School, I was one of 40 members of the community who visited history classes throughout the day to talk with students – who were four to eight years old in 2001 – about 9/11 and the effect it has had on our lives. Following each class, students placed American flags – one for each victim who died in the attacks – in the shape of the United States on the school's front lawn. Members of American Legion Post 38 provided the flags, and guidance.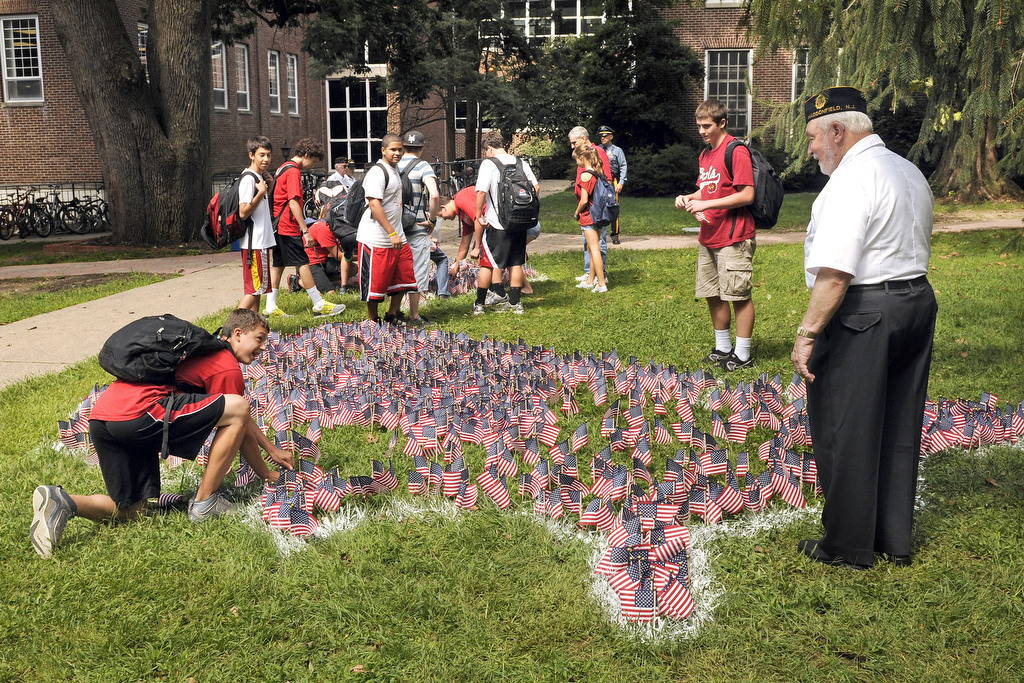 As I told the students during my talk, I was on a 10 a.m. shift the morning of Sept. 11, 2001 and running errands in town before heading into work.
At 8:46 a.m., I was sitting in my car, reading the newspaper with a cup of coffee waiting for the bank to open. I heard of the first crash on the radio, reportedly a single engine airplane. By the time I returned to my car, the second plane had crashed, and everyone knew they were passenger jetliners. I immediately checked in with my editor, and was told to stand by.
I went home to grab my overnight kit and a change of clothes and say goodbye to my wife. We watched television together for a few minutes before I left, calling the newspaper again as I got back into my car.
Three photographers where already on their way to New York, I was told. We needed local coverage. So I headed toward Independence Hall, and the Liberty Bell, arriving around the same time rangers were clearing out visitors from the park, and securing the pavilion that housed the bell. I spent most of the entire day there, wondering if I should just take off for New York on my own...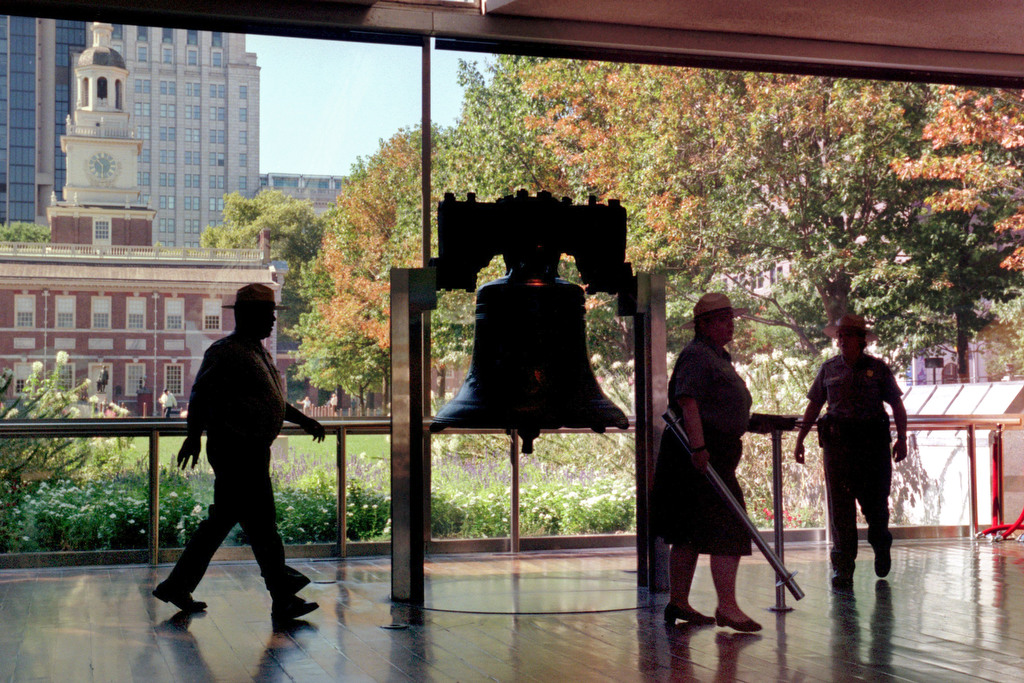 Then I remember recalling our newspaper's coverage of the MOVE standoff with police and subsequent bombing years earlier. As part of a large newspaper staff covering that all day event as it unfolded, I was stationed on a specific intersection on the perimeter of the neighborhood. Throughout the day, at one point or another, every single one of my fellow photographers, assigned like me to their own corner, wandered by, asking "anything happening here?" That reminded me of shooting as part of a team covering the Super Bowl. Each photographer also has a specific assignment: behind the line of scrimmage, ahead of the line of scrimmage, the team bench, the end zone. What would happen if each one decided things weren't too exciting in their area, and started wandering around?
The other thing on my mind then, besides my family, was my coverage of the Kansas City hotel walkway collapse in 1981.
At the time, before the Oklahoma City bombing, and the World Trade Center of course, it was the deadliest structural collapse in U.S. history. Two 32-ton walkways suddenly collapsed onto dancers in the atrium/lobby during one of the hotel's popular weekly "tea dances." 114 people were killed and 216 others were injured.
I arrived on the scene while the hotel's taxicab was still serving as a triage area. I was thrown out of the hotel (by corporate security) a number of times, as I photographed first responders working to recover the victims, others receiving IV's while still trapped under the wreckage, and in a makeshift morgue set up a meeting room.
How badly did I want to go and possibly see more of that?
...all that was on my mind as I remained at my assigned post. I ended up, along with many others who left their office buildings, in front of the KYW-TV & radio station officers on Independence Mall (now site of the National Museum of American Jewish History). I photographed my fellow Americans as we watched the television in their front window. I watched as the streets emptied throughout the day, as everyone went home. And then I joined them.
Over the next few days, the Inquirer and Daily News photographers who were in New York (they all made it to Ground Zero, one way or another) stayed there. Everything slowed down, and there were virtually no assignments in Philadelphia, and there was a palpable shift in the mood of everyone I saw in the city, so I decided to capture some of what people were feeling.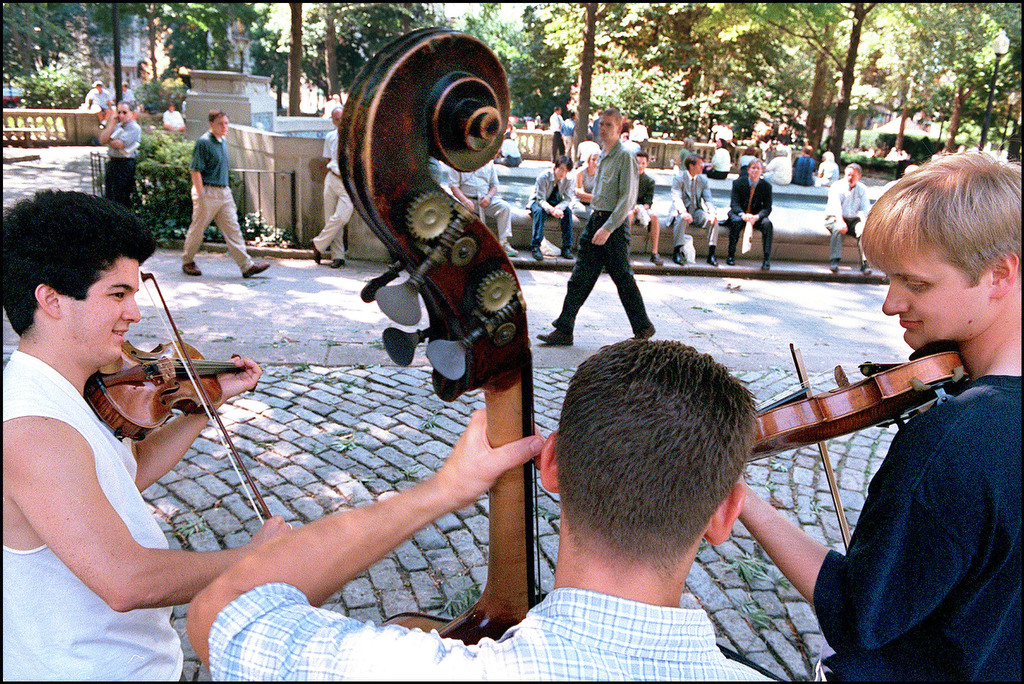 I ran across Curtis Institute of Music students and alumnus Nick Kendall, Ranaan Meyer and Zachary DePue playing together for lunchgoers in Rittenhouse Square. There wasn't an open violin case in front of them. Not looking for money, they were just sharing their music. "We wanted to give something to the people. Music can make everyone feel better," Nick (on the left) told me. They played for most of the afternoon.
They went on to form Time for Three - tf3 -an ensemble that defies classification, combining elements of classical, jazz, country, folk, and gypsy strings to form a blend all their own.
They would gain "overnight" attention two years later, when during a lightning storm-induced power failure at the outdoor Mann Center, Ranaan (back to camera) and Zach (right), who were both performing with The Philadelphia Orchestra, took to the front of the stage for an impromptu jam session, ending with a crowd pleasing rendition of "The Orange Blossom Special."
I found that even after the terrorist attacks, the American spirit lives on not just with our national pastime...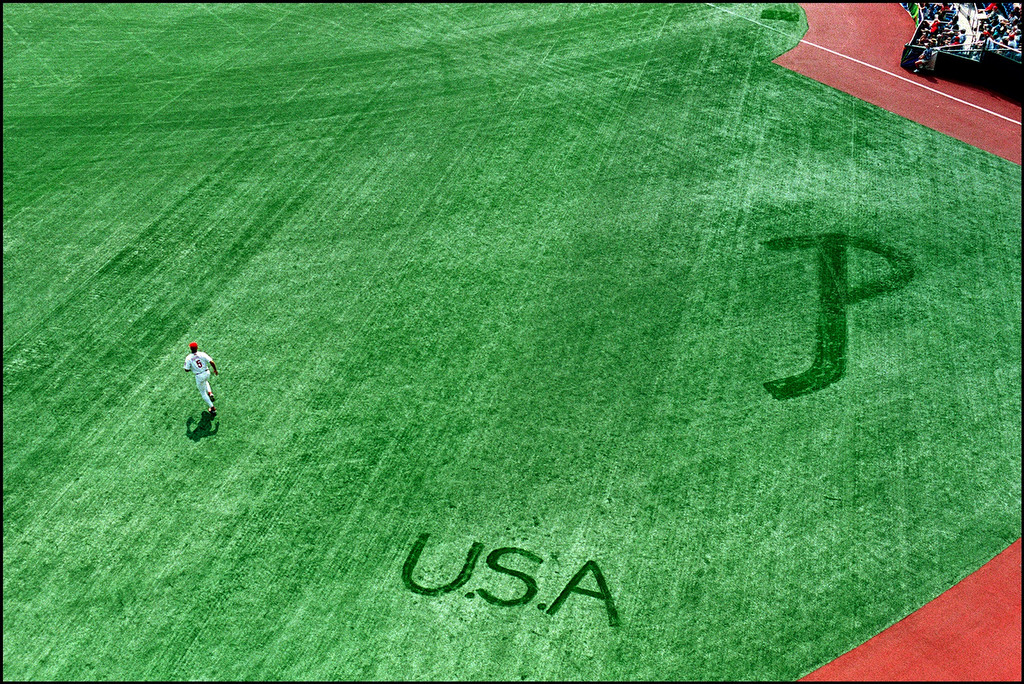 ...but on a sandlot in North Philadelphia as well.
That's Pat Burrell (now with the San Francisco Giants) in the outfield of Veteran's Stadium in the week after 9/11. A union floor layer power-washed the initials and logo into the nap of the artificial turf (now site of Citizens Bank Park parking lot).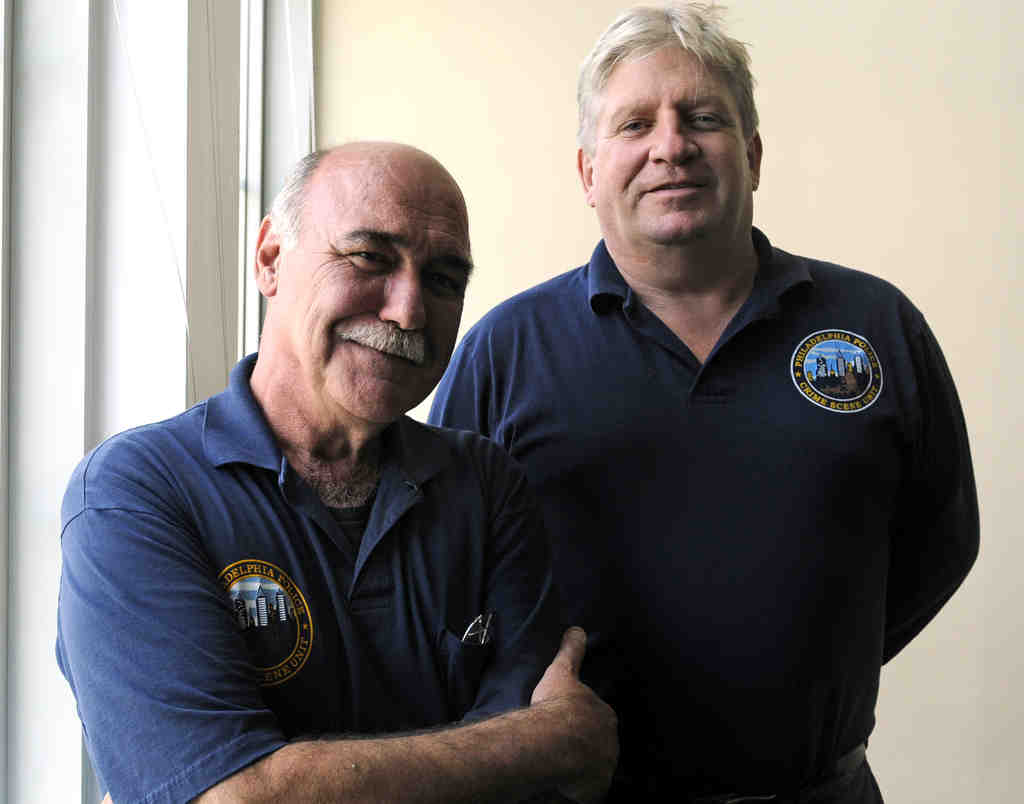 Shooting for a part of the Inquirer's 9/11 Anniversary coverage package, I met a couple of the guys I've photographed many times over the years, doing their job as investigators with the Philadelphia Police Department. Inquirer Staff Writer Maria Panaritis wrote about the crime scene investigators who were called to ground zero a decade ago to help at the largest crime scene in American history.
I wasn't permitted to photograph John Taggart (right) and Leo Rahill anywhere but in a conference room in the unit's office. No cool CSI equipment as props or background.
So, just like when photographing touring authors and actors in hotel rooms or lobbies, I tried to make the best of the lighting and any activity during the interview...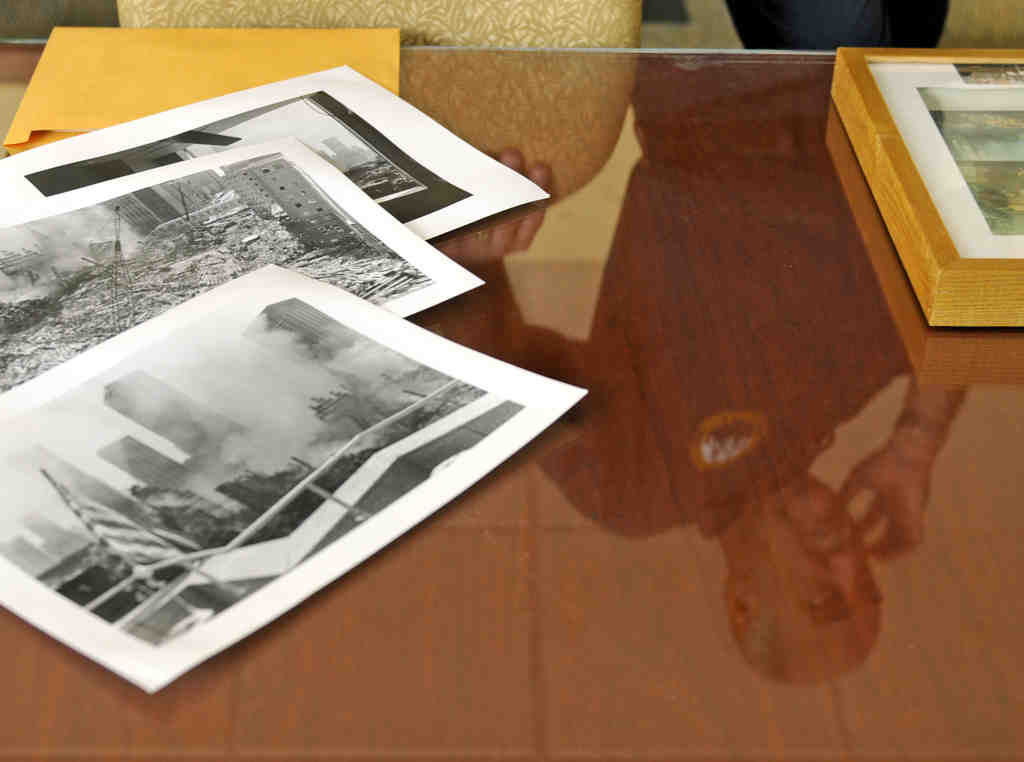 ...catching Leo reflected in the table top, focusing past the glass surface, on him, with a wide aperature.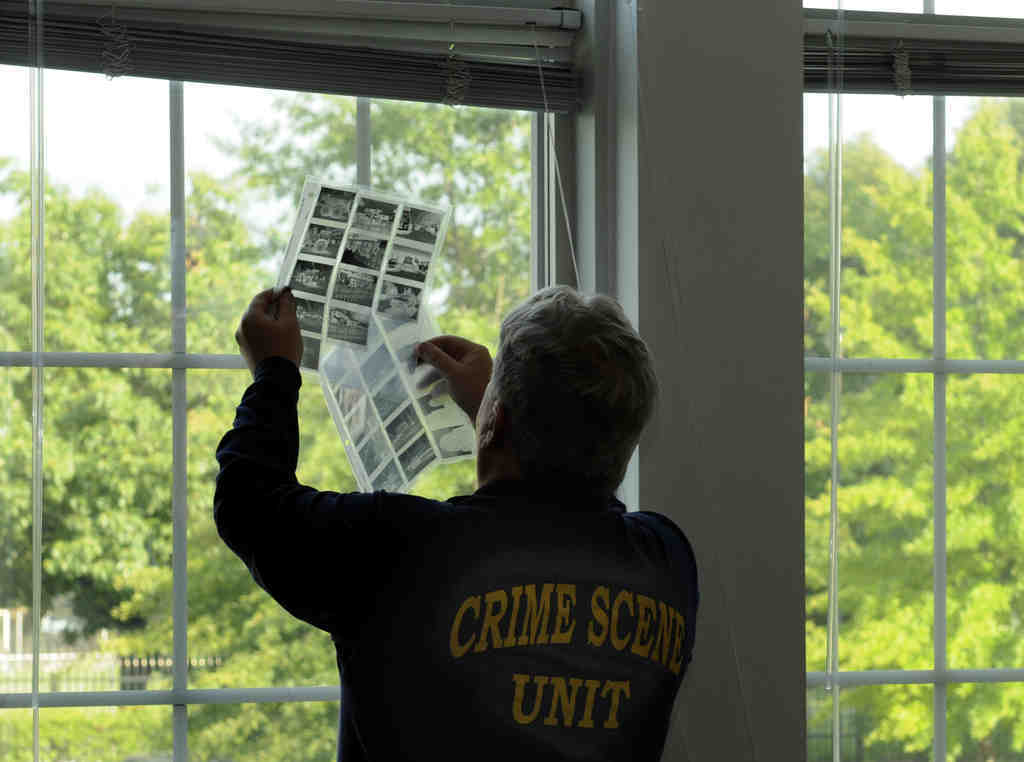 ...and John looking through his negatives, with a little bit of fill flash to bring out the lettering on his shirt. Below is his picture of co-worker Michael Vincent photographing Ground Zero from a nearby damaged building.