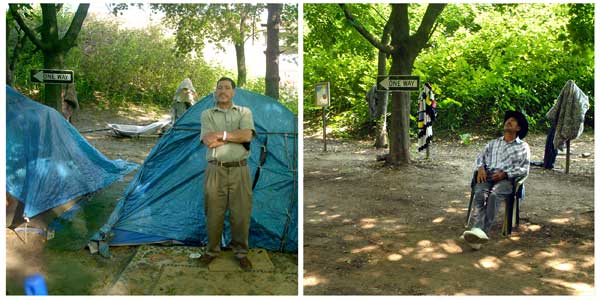 Most of the time when I photograph people for a newspaper portrait, I am trying to capture an aspect of their personality or profession. And because the homeless among us are often marginalized, whenever I've photographed them, I have especially tried to convey something of their individual character.
When I first entered the woods inside an exit ramp off I-676 on the edge of downtown Camden, I was struck by how similar it looked - except that it was in the middle of winter - to any of the campgrounds I'd ever encountered. There were posted rules, a "mayor" and "community outreach coordinator," boardwalk "sidewalks" and tents lined up in neat rows. As in any other community, each of the tents in the encampment was unique.
When talk began that Camden County officials wanted to shut the place down, I wanted to make a record of this individuality - and the similarity to our own lives. Whether we live in rowhouses, condos, apartments, or McMansions, we have possessions we treasure and ways we like to decorate for comfort as well as style. I wanted to make use of that commonality to make readers connect with the camp's citizens.