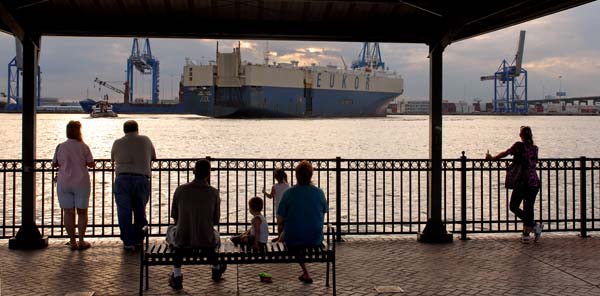 A ship loaded with new Hyundai and Kia cars docked at Packer Avenue Marine Terminal in South Philadelphia Monday evening. They were to be unloaded on Tuesday. This is the first of six ships that have already sailed from Korea with 18,000 cars arriving here in the next month. I made this photo from the NJ side of the river.
As Hyundai has only one manufacturing facility in the country (in Alabama) most of the vehicles sold in the US are imported, so Philadelphia's new auto-finishing facility could see some 100 ships a year filled with cars - and a few hundred new jobs. I'd been sent downstream to Marcus Hook to photograph its arrival on the Delaware River.
I had no idea what a car carrier ship looked like, and had been told it would have the words "Hyundai" on its side (another "sign" photo - see yesterday's post)...
...as a shipped labeled EUKOR passed, I shot a few frames and continued to await the arrival of the Korean ship.
Fortunately I'd been in touch with the river pilot's dispatcher or I'd still be waiting there in Municipal Park right next to the Sunoco Refinery.
After a while I started to wonder whether the EUKOR might have been "my" ship afterall. The dispatcher only knew the name of the ship, not what color it was or what the 30 foot tall letters on the side spelled. However he did know that it had indeed already passed me. So I chased it up I-95.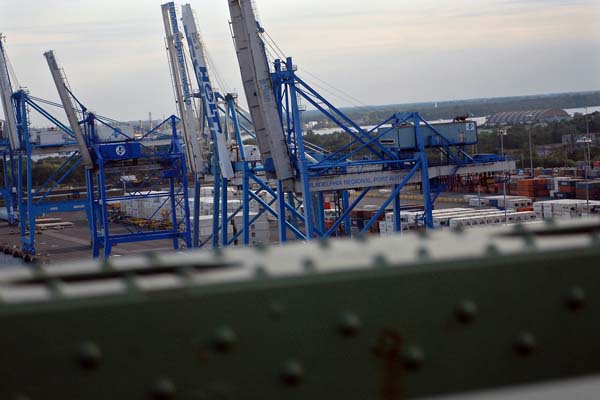 I missed it at Ft. Mifflin. I couldn't see past the airport, so decided not to risk exiting the freeway.
Crossing on the Girard Point Bridge I spotted it just beyond the Aker Shipyard at the mouth of the Schuylkill River.
I tried to head it off at the Philadelphia Navy Yard but was turned away at the gate. The home of Tastykakes and Urban Outfitters closes to the public at 1800 hours.
With public access even more limited above the port, I headed toward the Walt Whitman Bridge, and made it over to Gloucester City's Proprietor's Park in time to watch the tugs move it into position.