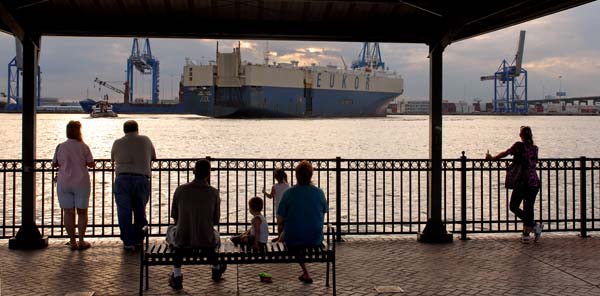 A ship loaded with new Hyundai and Kia cars docked at Packer Avenue Marine Terminal in South Philadelphia Monday evening. They were to be unloaded on Tuesday. This is the first of six ships that have already sailed from Korea with 18,000 cars arriving here in the next month. I made this photo from the NJ side of the river.
As Hyundai has only one manufacturing facility in the country (in Alabama) most of the vehicles sold in the US are imported, so Philadelphia's new auto-finishing facility could see some 100 ships a year filled with cars - and a few hundred new jobs. I'd been sent downstream to Marcus Hook to photograph its arrival on the Delaware River.
I had no idea what a car carrier ship looked like, and had been told it would have the words "Hyundai" on its side (another "sign" photo - see yesterday's post)...