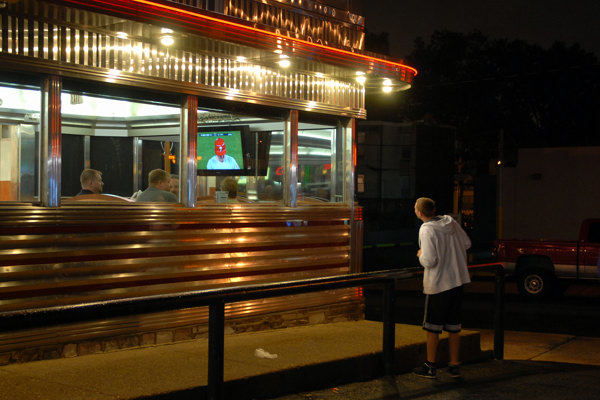 Outside the Mayfair Diner during final innings of the Phillies-Nationals game Monday night.
On TV, Phillies ace Roy Halladay is embraced by teammates after striking out the final Washington batter to clinch their division title. On the diner counter, banana cream pie w/coffee.
With the team's September Surge, and Roy "Mr. Perfect Game, Twenty Game Winner, Cy Young & MVP shoo in" Halladay pitching, clinching their division was a foregone conclusion for most Phillies fans.
We had two photographers at the game in Washington, and we dispatched three photographers here - to South Philadelphia, Center City and the Great Northeast - should revelers spill out into the streets flipping cars, burning trash cans, looting luggage stores, or toppling utility poles.
I went to Frankford & Cottman, scene of big crowds after previous Phillies and Flyers wins. But a division title coming off two straight World Series appearances doesn't exactly generate the same release of pent up emotions that winning the world championship after twenty eight years of waiting did in October 2008 (or for Flyers fans after a 13 year Stanley Cup finals drought).
This was a little quieter night.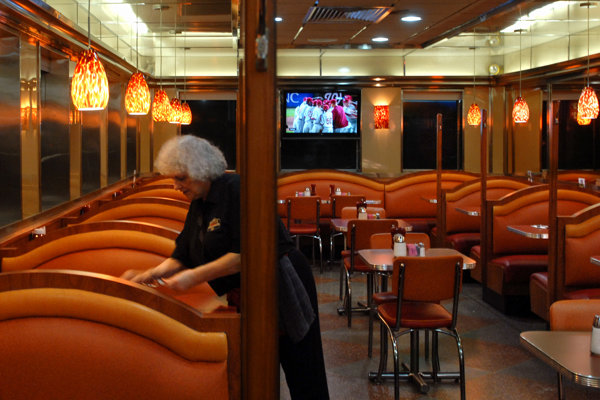 I didn't get the photos we might have anticipated, and there was no place in the newspaper for the pictures I did make. But I'm pleased with the moments I captured. It's the way working the night shift has gone. New opportunities all around to see things I'm not expecting - and the challenge of trying to make pictures that convey some of that serendipity to readers.
Eric, the young man watching the game through the Mayfair Diner picture windows, made me think of the days when neighbors gathered around the only television on the block to see the big game together.
After photographing him I really didn't need to go into a sports bar to get fans gesturing and cheering into my lens believing they'll be on the 11 o'clock TV news. And I'm glad the crowds of hooligans acting out on the intersection hoping to make somebody's YouTube video never materialized.