I've been watching the Olympics on television every evening all week on the couch with my laptop. I end up switching from the action on the screen to looking at news photos on the web from the events (since in most cases the action occurred earlier in the day).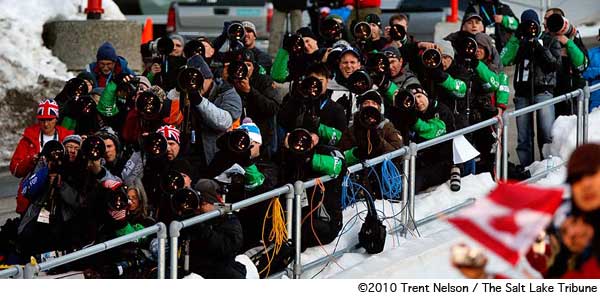 I have also been reading the blogs many of the world's greatest sports shooters have been posting.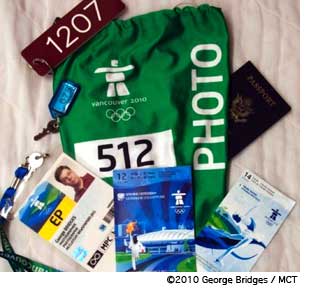 I've been hanging on every word of photographers like McClatchy/Tribune photo editor George Bridges and photographer Trent Nelson from the Salt Lake Tribune. Those are the passes, tickets, and other forms of identification George carries around with him at left, and that's Trent's shot above of the photo position at the finish of the skeleton course in Whistler.
While all the blogs I'm reading are photo heavy, they're NOT the "Big Picture" kind of galleries. These are all nuts and bolts journals, full of talk about cameras, crampons and carabiners, long lenses, sleeping on buses, exchanging photo position armbands, setting up remotes, shopping for Olympic souvenirs, eating Dungeness crabs, snapping fellow photogs (with awe-inspiring backgrounds), queuing, RAW and DSLRs, jaywalking, shoveling "snow steps," NPS and CPS reps, behind-the-scenes stuff, and more, eh?
I've bookmarked George and Trent's blogs, and a whole bunch of others and complied them all here (in no particular order) in one place for your reading pleasure (please let me know about any I've missed).
So click away (on the logo, or photographer's name), and enjoy the reading, and sharing another Olympic week of living vicariously as an international sports photojournalist...

Philadelphia Inquirer senior staff photographer Clem Murray shot his first Olympics in 1980 while working for the Associated Press. He shares a blog with two of the newspaper's writers.

One-third of the photo/multimedia staff of the Toronto Star are in British Columbia. Their team is Steve Russell, Richard Lautens, Bernard Weil, Rick Madonik, Randy Risling, Tara Walton, and Rick Eglinton.

Erich Schlegel is covering his tenth Olympics, most of them while on the staff of the Dallas Morning News. He is now freelancing out of Austin, Texas.
Donald Miralle is a freelance photographer based in Southern California. He's at his seventh Olympics, covering this one for NEWSWEEK.

Elaine Thompson is an Associated Press photographer based in Seattle, covering her fifth Olympics.

Kane Inane is the title of blog by Seattle-based freelance photojournalist Mike Kane. He is a former staff photographer at the P-I, the now-defunct Seattle Post-Intelligencer newspaper.


McClatchy / Tribune Information Services photo editor George Bridges is shooting, editing - and blogging - for his Washington. D.C. based news service.

The already mentioned Trent Nelson posts "Smokey Bear" stickies on his blog to "keep me in check throughout the games...if I start to whine or gripe or say things I shouldn't."

Kari Kuukka has blogged in his native Finnish for years. He now says, "Blogia luetaan kuitenkin aika paljon myös muilla kielialueilla ja siksi tämä valinta," and is posting from these Olympics in English.


Sol Neelman is a Portland, Oregon-based freelance photojournalist. He left The Oregonian newspaper to work on a book project of weird sports around the globe.
Garrett Hubbard shoots stills and video as a staff photojournalist at USA TODAY.
Des Moines Register staff photographer Christopher Gannon is covering the Winter Olympics for Gannett newspapers as part of USA TODAY's team.

Sydney freelancer Dan Himbrechts shoots for Australian Snowboarder Magazine. He says "it's cool to talk shop with photographers from all around the globe, it's great to try to teach newspaper guys how snowboarding works."

Jeff Cable is a freelancer in the San Francisco Bay Area.

Photo research editor Lindsay Morris won an internal Getty video contest and the prize was getting to work with the Getty Images team at the Olympics. She's been posting behind-the-scenes stuff regularly on their blog.
Patrick Fallon is a student at the University of Missouri. He freelances there and in California, and is at the Olympics assisting for ZUMA Press.

Dallas Morning News staff photographers Tom Fox and Gerry McCarthy, along with photo editor Chris Wilkins are blogging. Their posts are interspersed with those of writers and editors at the newspaper.

Indianapolis Star staff photographer Sam Riche is in Canada as part of the Gannett newspaper team shooting for USA TODAY.

Jack Gruber is based in Washington, D.C. as one of five staff photographers at USA TODAY.
Sean "Radman" Radich, a former commercial lawyer and now "general raconteur," is senior photographer at Australian Snowboarder magazine.

Finally, If you just want to look at photos, try the Vancouver Organizing Committee for the 2010 Olympic and Paralympic Winter Games Olympic's official website. You can see live news photos from the wire services - AP, AFP, CP and Reuters - on Yahoo. The web address for USA TODAY's photo galleries changes every day, so click here, and then on the "photos" tab in the middle of the page to get to them.