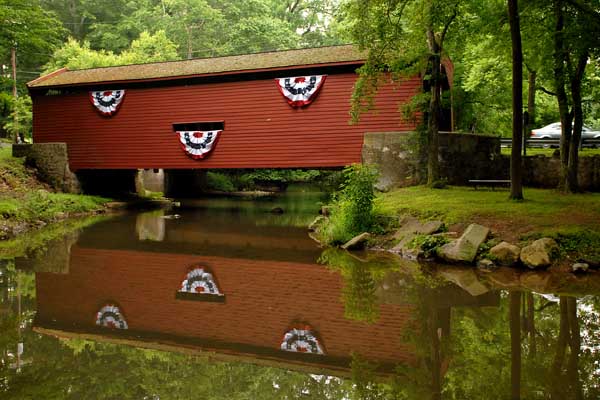 On one of the busiest days I've had in a while, I was in four counties today, shooting four different assignments. I started on the Main Line with a community garden, then was on to Chester County to shoot a recently sold property, before driving back to North Philadelphia for a teacher-of-the-year winner.

In between, I was asked to look for a Flag Day feature photo.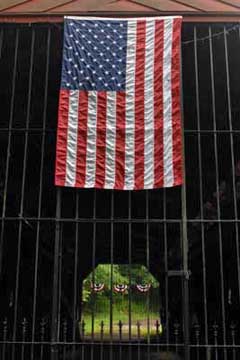 Driving on Goshen Road I came accoss the Bartram Covered Bridge. I guess in all my years here I'd never been on this major road, and I'd never seen this covered bridge - the only one left in Delaware County. It looked cool enough that I doubled back around and parked on a side road.

There was still bunting up from the bridge's 150th anniversary celebration at the beginning of June, so I thought it might even work as a Flag Day. It just needed some sort of human element.

As has happened more often than not when I am driving and visiting historic/scenic/sites, I was the only one there. On previous road trips retracing Lewis and Clark's Trail through the west, or driving along the Journey Through Hallowed Ground - Route 15 from Gettysburg to Charlottesville, Virginia, I would sometimes wait an eternity for a fellow traveler to get out of their car and somehow wonder through the frame in my viewfinder.

But this time, just me. No amount of wishful thinking could conjure up a biker or hiker, canoeist or kayaker. Not even a hiker or curious commuter.
Back in Philadelphia, I was headed Bodine HS in Northern Liberties still looking for American Flags, when I spotted the "76" on a rooftop deck.