As far as April Fools Day Jokes go, one of the all time best happened right here in Philadelphia thirteen years ago today.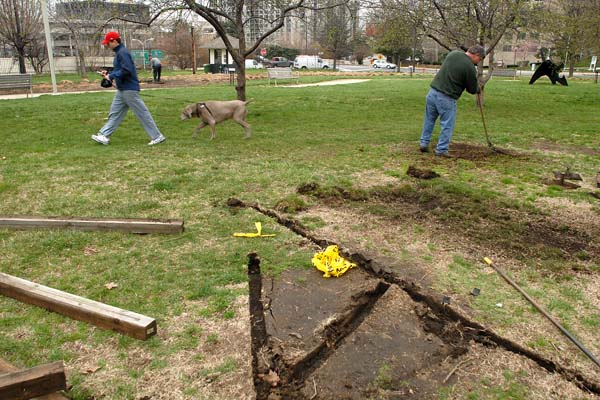 On April 1st, 1996, a full page ad appeared in the Inquirer, the New York Times, USA Today and a few other major newspapers (guess today it would happen on Twitter). The very serious-sounding announcement read, "In an effort to help the national debt, Taco Bell is pleased to announce that we have agreed to purchase the Liberty Bell, one of our country's most historic treasures. It will now be called the 'Taco Liberty Bell' and will still be accessible to the American public for viewing."
I can remember being dispatched immediately to the Bell's old home in the pavilion at 5th & Market to get photos before they trucked it away to Taco Bell international global world headquarters in Texas.
So guess what I was thinking when I get a phone call this morning: "They took all the Calder sculptures from the Parkway."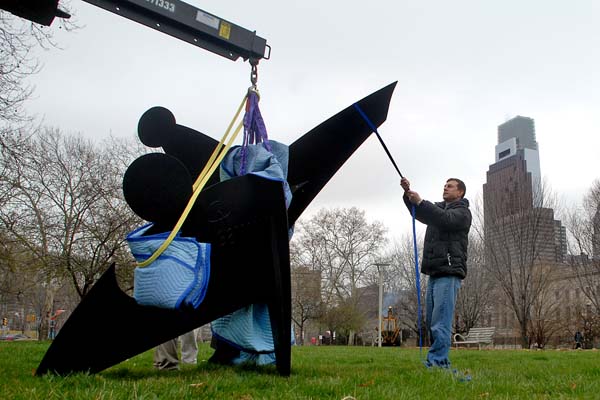 I was in the middle of trying to find cigarette smokers to photograph as the largest increase ever in the federal tobacco excise tax went into effect (it's now $1.01 per pack, up from 39 cents) when an editor told me photographer HughE Dillion was reporting on his PhillyChitChat.com blog that the Alexander Calder sculture garden was gone.
As I arrived on the corner at 22nd Street, landscapers were busy sprucing up the grounds where, at least as late as this past Sunday, The Rocket, Discontinuous, Funghi Neri (Black Mushrooms), Jerusalem Stabile, Angulaire and Untitled had been standing. "They ain't coming back," security guard Clarence Cottman told Inquirer reporter Peter Mucha (that's Clarence with the hoist reflected in his glasses below). You can read in his story about how the funding arrangement with Pew Chartible Trusts to keep Cottman and four other guards and video cameras on the site 24/7 "simply expired."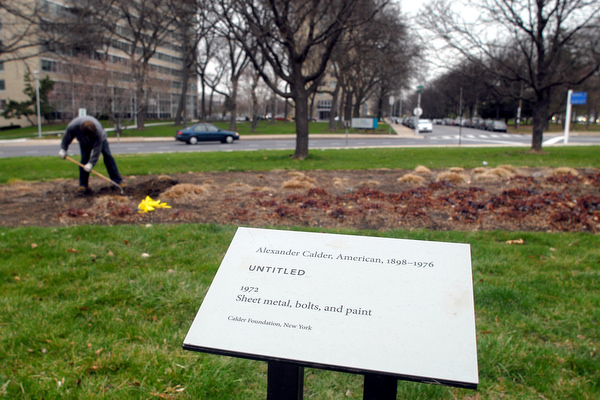 Those six stabiles were returned to the Calder Foundation in New York. A seventh sculpture, Three Discs, One Lacking (1968) which is owned by the city of Philadelphia was still there when I walked up, but it wasn't long before it too was fork-lifted away.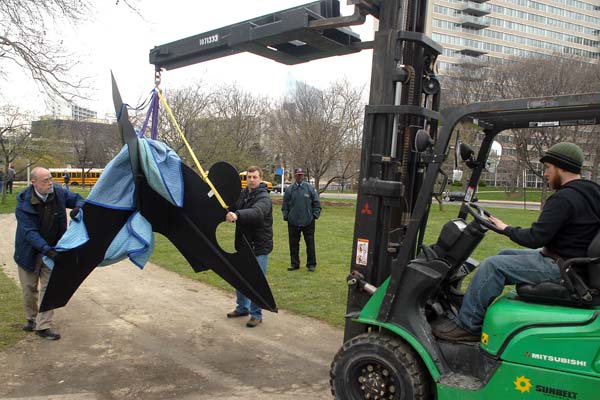 What I found MOST amazing, as I watched Three Discs lifted it off its base, was that - except for HughE - nobody seemed to notice. Or at least nobody in the business of paying attention to the goings on in our city. The Calder Foundation, the Art Museum, the City of Philadelphia, the Pew, or Fairmount Park didn't send out press releases.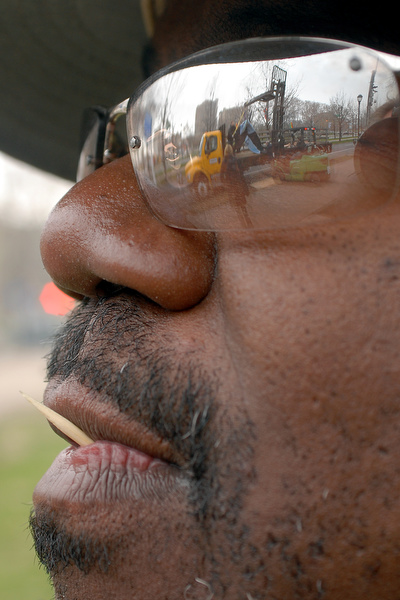 Then I started thinking about all the editors, reporters, photographers, bloggers, citizen journalists, twitterers, videographers, radio people and tv personalities, who must have driven, walked, biked or jogged past the scene on Monday or Tuesday. Not to mention thousands of others who saw it happening and could have shared the news.
Didn't anyone report on what they saw? Were it not for HughE, would any one of us media types have ever noticed? The Inquirer learned about it on a blog. Will the rest of the city's media report on it after Thursday's newspaper comes out?
Will the missing art even be missed?
Public art is one of those intangibles we enjoy as city residents. I guess the public expenditure of keeping security guards on duty around the clock (remember the Thomas Schomberg bronze sculpture Athletes of the Race stolen from the old Garden State Racetrack and sold for scrap?) can be tough in difficult economic times. What better time to keep supporting public art? Just seeing art can raise your spirts.
But nobody really moves here, or visits Philadelphia because we have public art. Except these sixth graders from the Genesee Community Charter School in Rochester, NY who were on a field trip specifically to see our public art as part of a year long project. They just happened by and encountered Three Discs shortly after it was moved a few blocks up the Parkway. You couldn't ask for a more perfect illustration of the serendipity of public art.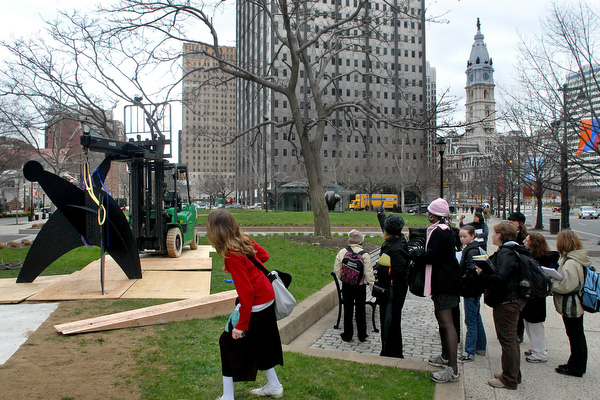 The future city planners were on a guided tour by Laura Griffith with the Fairmount Park Art Association.
Three Discs joins Jacob Lipkin's The Prophet (1968) and Henry Moore 's Three Way Piece Number 1: Points (1964) in the little Triangle Park between 16th & 17th. It's also home to Capriccio's Café and Espresso Bar at Café Cret (named for University of Pennsylvania architect Paul Cret, who designed the Rodin Museum, Ben Franklin Bridge and the Pioneer Zephyr railroad passenger car) which opened last fall.