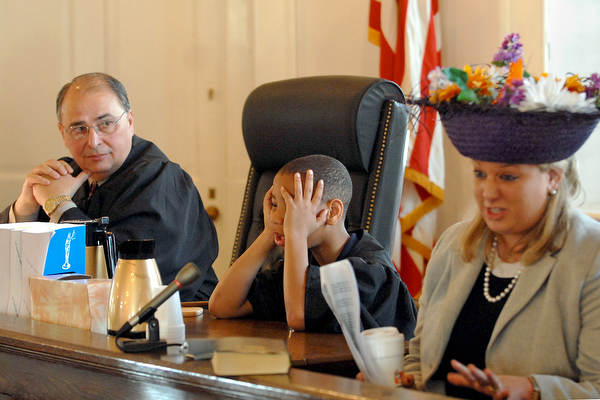 May 1st - May Day usually sees millions of working people marching throughout most of the world — though rarely in this country. Here, we celebrate the worker on Labor Day instead, because President Eisenhower proclaimed May 1st as Law Day after the Soviet Union had sort of co-opted it. In years past, the day has found me shooting Morris dancers at sunrise or something involving a Maypole, or mass swearings-in of new citizens.
This year I was covering a rummage sale in a church basement. But I was thinking about two of my recent experiences with the Law. For Take Your Child to Work Day, I spent the morning in a New Jersey courthouse as 10 to 12 year olds participated in a mock trial. The goal was to "Educate and Empower" them about the judiciary, and some 120 kids whose parents work for the Prosecutor, Sheriff, and Burlington County court partnered with law clerks and served as prosecutors, defense attorneys, witnesses, sheriff's officers and juries.

The newspaper used a photo, but you can see more of the youngsters' "Law & Order" drama by clicking here, or on the photo above of ten year old "Judge" Diante Wakefield on the bench. That's "witness" Lindsay Berman, right, a law clerk, testifying against the alleged shooter who "splattered" her with a paintball as she gardened. Court Administrator Jude Del Preore served as the adult "judge" for the proceedings. Dainte came to work with his mom Joyce Wakefield, a probation officer.
I also sat in another New Jersey courtroom watching through a 300mm f/2.8 lens and studying the face of a teenager convicted of killing his parents - by setting fire to the family home as they slept. Jason Henry was sentenced to 20 years in prison, but will be eligible for parole when he is 35 years old.