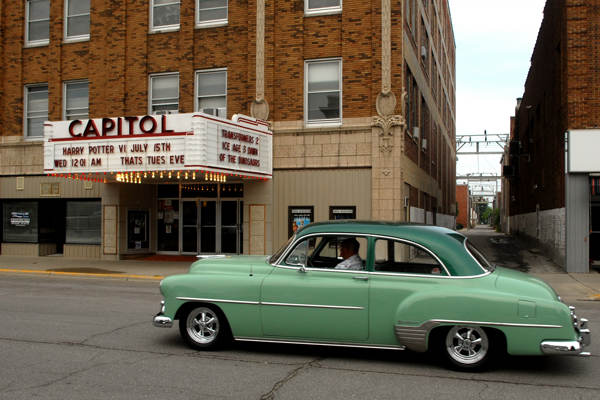 Newton, Iowa. July 10, 2009.
Last week I was in Iowa working working with Inquirer political writer Thomas Fitzgerald on the second of an occasional series of "Mood on Main Street" stories. You can read it here, or in today's Sunday newspaper. Click here or, on the photo above, of the Capital moviehouse on courthouse square for more photos.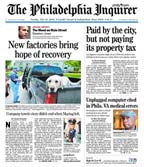 Tom has been looking to see what, if any, realignment occurs across America as we enter the Obama Age. We hope to do more of these in the coming months.
These kinds of stories are a time-honored standard of journalism - the "Man on the Street" interview. Instead of just quoting elected, political, business, or community leaders, you ask "regular" people what they think.
I've been shooting them since I was the "Inquiring Photographer" while still in high school at my very first newspaper job. I would literally stopping people on the street, asking them questions - "Do you recycle?" (this was 1974) - and then make their portrait.
Since all these years later, editors still assign them, reporters still conduct them, and photographers shoot head shots to illustrate them, I try to make them more than just a "head & shoulders" mug.
Inspired by New York Times Washington DC-based photographer Stephen Crowley, I tried illustrating the first story with triptychs - a grouping together three images. Steve has used the technique effectively for years. He shot a series of diptychs - pairing two images - during the 2008 presidential campaign. And just last month he created a series of tetraptychs - that's four of them together - as he covered President Obama's trip to Saudi Arabia, Egypt, Germany and France.
I wanted to use the technique to both show what the people talking to us in Trappe looked like - and show a little of their town - without wasting valuable newsprint space on what are essentially real estate pictures.

I wasn't totally happy with the result...
...and neither were the editors. The pictures were cropped and published as single images.
Often times it's easier to know what you don't like than what you do. On my second attempt at illustrating the man on the street interviews. I knew I still didn't want just a series of portraits. I knew I didn''t want to ask anyone to, "just pause there a second."
So this time I would try to make interesting photos that showed something about who the people we met were, or what they did. I would try to trust myself and the serendipity that happens occasionally when you wander around with a lot of maps but no GPS-planned route out in front of you.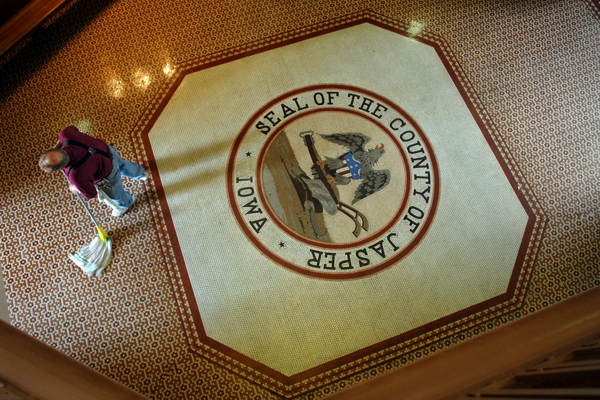 Before we left, Tom had talked on the phone to a lot of people in Newton: the mayor, former Maytag workers, party leaders. He followed up with calls to people they knew - people who could talk about the the economy and life today in this former company town where Maytag jobs once financed the middle-class dream. And he made some appointments. But then when arrived in town that first evening, we only knew we'd drive past the old plant. As we drove, we talked about how most man on the street interviews happen during the day, during regular work hours. Whenever I go out of town on assignment, I always end up working long days - getting done in time for dinner doesn't hold the same priority when you're not rushing home to your family. The light starts to get better, you notice more people outside, or you start meeting other people on their way home.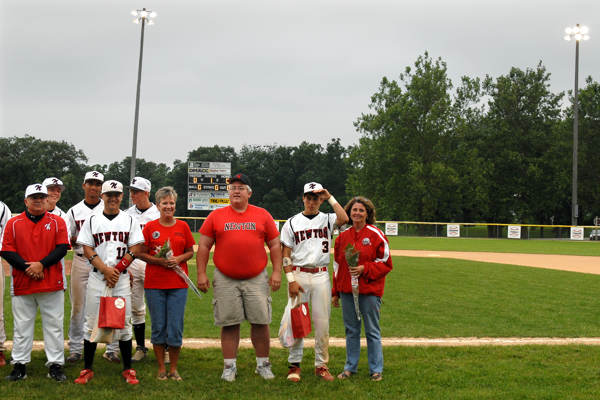 So we took advantage of the evening. We tried to look for people in the places political reporters don't usually go. You can always find groups of citizens sharing their opinions over breakfast in coffee shops or diners. We ended up at a Newton Cardinals high school baseball field, where it turned out they were honoring graduates between the games of a double header with the Oskaloosa Indians. Parents - and their parents - were watching sons play, and after we arrived, debating politics: Grandma and Gram-pa support President Obama; Dad voted for John McCain.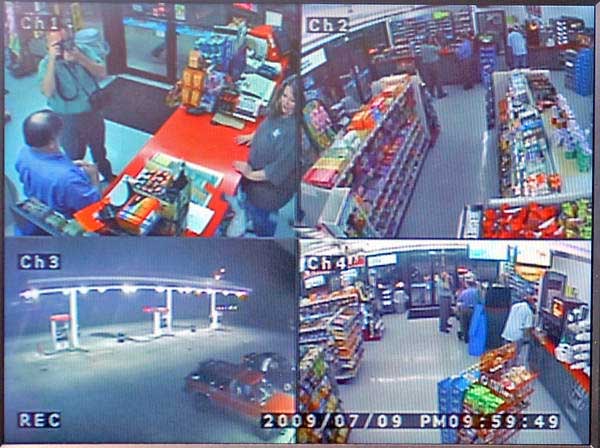 Stopping at the Git-n-Go, we take in life at the counter of the convenience store. I notice they even have a Crowley-esque tetraptych - four video images together - on the security camera right above us.
See the guy at right, in the lower right photo. He appears in Tom's story in the interview with night shift cashier Melissa Mason:
One of the regulars, a young man named Ryan, on payday is buying tons of scratch off lottery tickets, bending over to scrape them off right on the counter as he asks for more. As the line of customers waiting to pay for energy drinks, snacks and 6 packs of beer backed up behind him, she persuaded him to move to the drink counter.
He worked his way through the cards, hunched over, the gray scratch-off material flying like metal shavings.
As for Obama and what is happening in Washington, Mason finds it mostly irrelevant to her life. She believes that "big-dollar people" will continue to get ahead.
"I know he cares about people, and he's trying," Mason said of Obama. "But I haven't seen anything yet."
She said she wanted to better herself, maybe own a business someday. "I have a degree in interior design," Mason said.
"I have a degree in lottery stupidity," said Ryan, looking up from his cards.
That's the kind of power of observation great photographers possess. I've always found that when working with the best reporters, they also look for that kind of detail, and like photographers, always try to insert themselves into situations where the it is most fertile. And like good questions and answers in man on the street interviews, that kind of detail always makes for the best photos - and stories.
So click here to see a slide show of "man on the street interview" photos I ended up with.