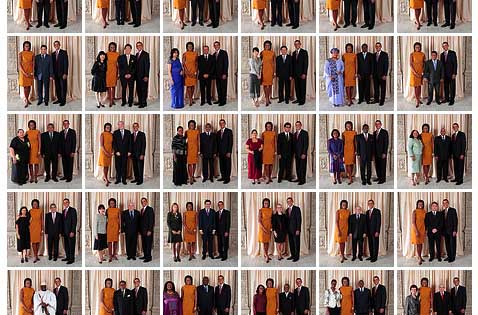 I've talked before about the White House posting President Barack Obama's photos on flicker, but over the weekend, I came across a fascinating set on the State Department's page.
Last Wednesday, the President and First Lady hosted a reception at New York's Metropolitan Museum of Art, during which they posed for individual photographs with all the visiting foreign dignitaries in town for the UN meeting.
You can click on each picture for the names and countries of each world leader. I wondered if Official White House photographer Lawrence Jackson had to ask each one, "Do you have a card, your Royal Highness? I just want to make sure I spell your name right." Or whose job was tougher; his or the president's? "Sorry, your Excellency, I think you blinked in that one." Viewers have even tagged some of the photos with notes about wives' shoes.
I didn't really flip through ALL 134 photos, but what brought me to the site in the first place was this twenty second time lapse video made by Eric Spiegelman. He noted the President "has exactly the same smile in every single shot," and aligned all the photos to dramatically show Obama's"amazingly consistent smile."