Blackhawks' fans get a parade. Flyers' fans get a half price sale.
But it was a great run.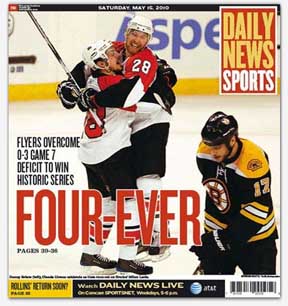 For someone who only follows the NHL during the the playoffs, it's hard to be too upset after nearly two months of great games. You couldn't have asked for a more dramatic entry by the Flyers. They got in, as the 7th seed in the East, on the very last game of the regular season, beating the NY Rangers in a shootout, after three regulation periods and an overtime period. Then it was that historic, down 0-3, come-from-behind win over Boston in the second round of the playoffs (left). And before getting to the Stanley Cup Finals, it was those three shutouts against Montreal to win the Conference Championship.