UPDATE: Binh Tsan died on Saturday. Police are still looking for the hit-and-run driver and ask that anyone with information about the vehicle contact the Cherry Hill Police Department Traffic Safety Unit at (856) 488-7820.
--------------------------------------------------------
I had just photographed a new Dinosaur exhibit being set up at the Garden State Discovery Museum yesterday and was heading over to photograph and continue my work on a video appreciation (look for it next week) of the wildflowers NJDOT and Cherry Hill planted to beautify the median on Route 70.
It was raining and I pulled over into the Barclay Shopping Center. I planned to shoot closeups of the flowers with raindrops and was debating which umbrella to carry. I worried I might distract drivers if I took my large multi-colored golf one.
I was in the westbound lanes of Rt. 70, and just as I turned left into the shopping center, I noticed a young man in a white shirt waiting to cross the eastbound lanes. I thought how just a few days earlier when I was on the median strip I had decided against wearing a bright orange safety vest.
Pulling into a parking space I looked up and saw the white-shirted man on the ground on the other side of the highway.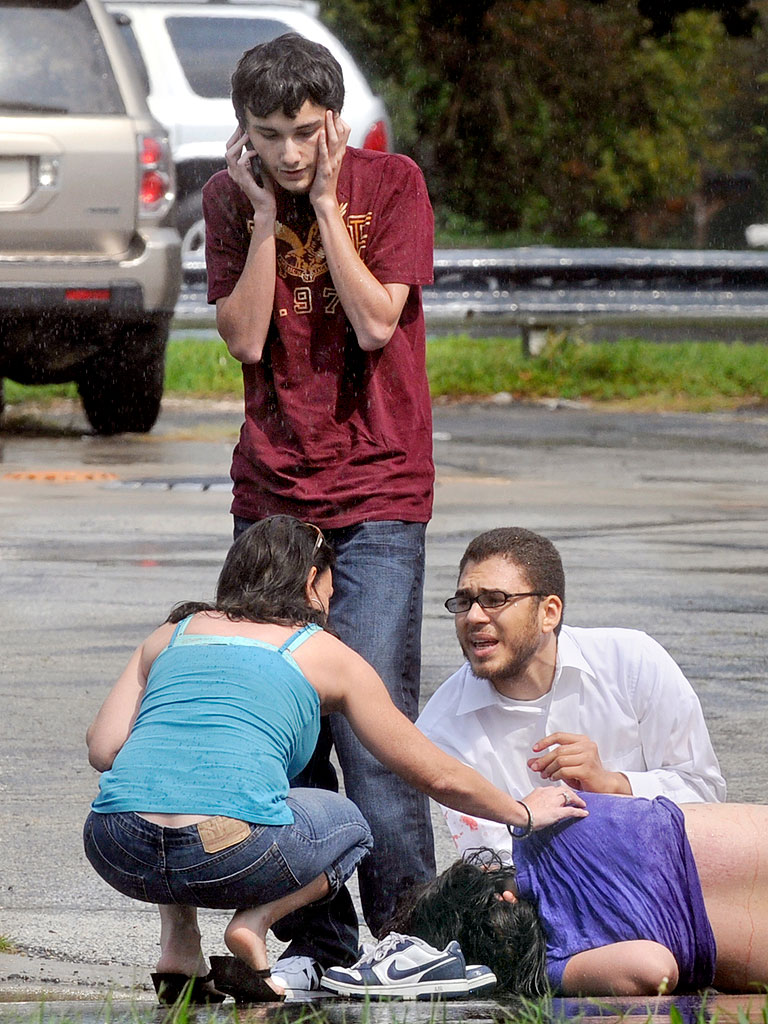 It wasn't him, but his girlfriend.
Michael Medina and Binh Tsan, both 25, had crossed together while returning from lunch at the Pho noodle house right behind me. I didn't even notice Tsan as I made my turn because Medina's shirt was so bright.
In my early years as a photographer for a small newspaper I listened to the police and fire radio, and chased many crashes and fire calls. Later on, working for an international news agency, I was relieved I didn't have to do that any more. Even when I came to the Inquirer, we only covered accidents when they caused big traffic problems that impacted lots of people. This was the earliest I have ever been on the scene of an accident. I still don't like photographing them.
By the time I looked up, there were other people helping the injured woman and I could see at least four people on cell phones already calling 911.
So I took pictures, but I stayed back, shooting from across the street. In a few minutes the police and EMT's began to arrive and I moved in closer, though still shooting with a longer lens so as not to get in anybody's way.
The first witness on the scene, Desiree Forbes (on the left, in photo above) a nursing student, was already helping the injured woman when I looked up. She put Tsan's sneakers behind her head and instructed her boyfriend to do CPR.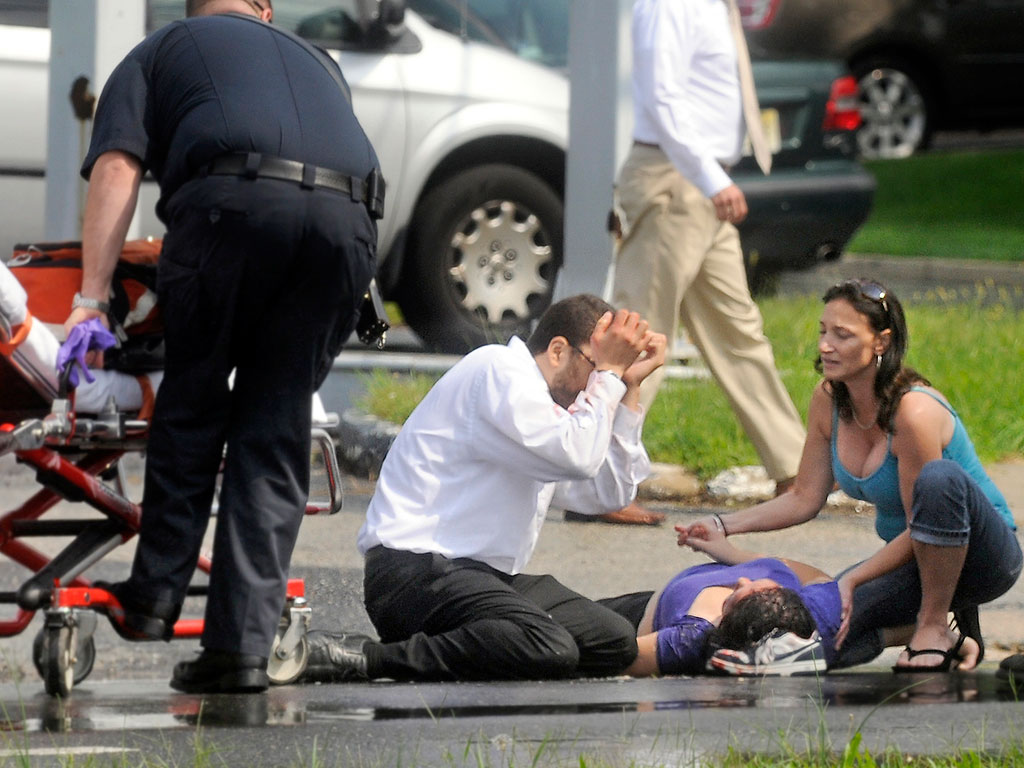 It was a hit-and-run. "He was wide-open throttle, foot to the floor. It was horrible the way the guy just drove off," one of the witnesses told Inquirer writer Darran Simon. Other witnesses told police the driver that hit the pedestrians did not try to stop. The car passed stopped vehicles as it traveled on the shoulder until it was out of sight.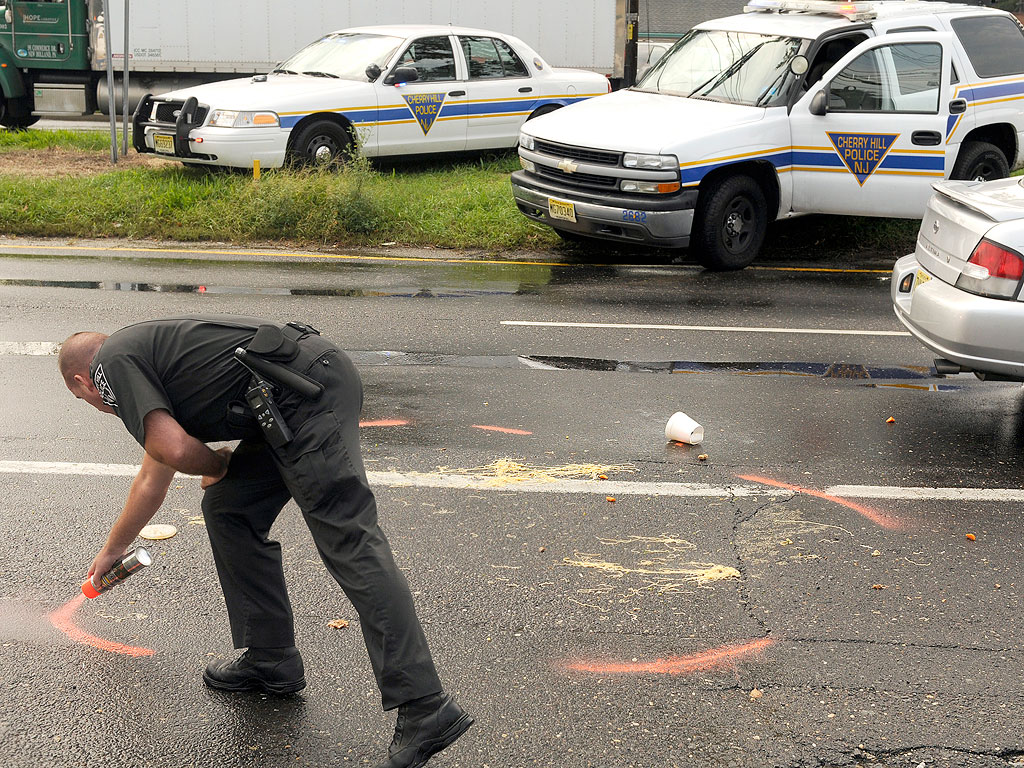 Click here for Simon's story. More photos here. Tsan was taken to Cooper University Hospital where she was in critical condition. Police are still looking for the driver.