Arriving to cover the final of three days of the Intercollegiate Rowing Association National Championship Regatta in New Jersey, I decided to park on the opposite side of the Cooper River.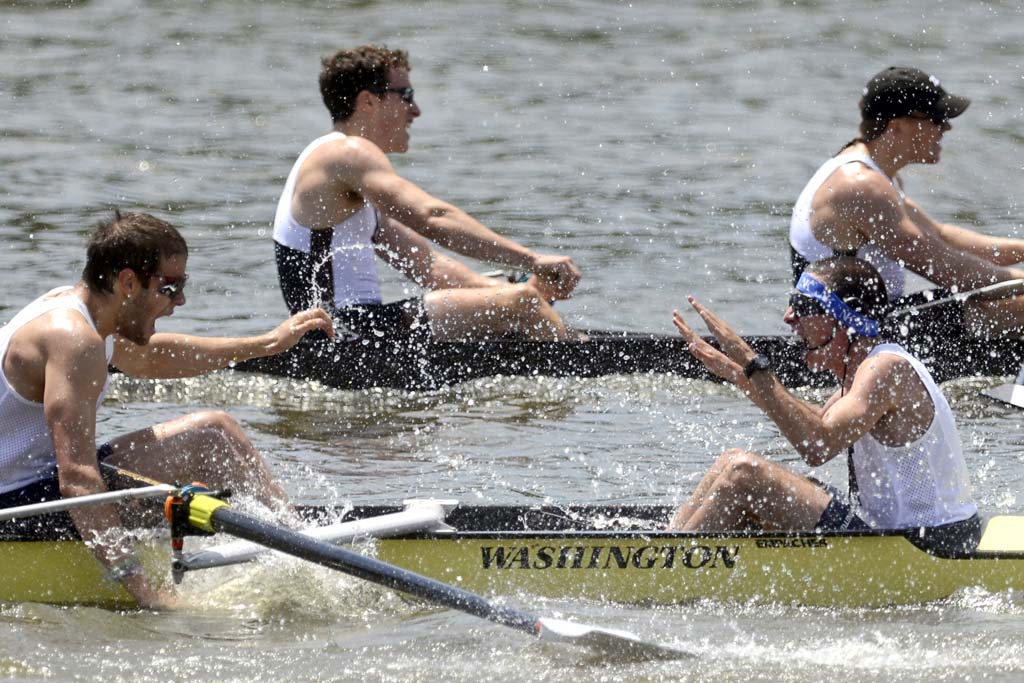 I made the photo above while walking over the bridge, to get to the main area with all the food tents, venders, boat trailers, and port-a-johns.
After covering the men's varsity eight final - one of the last races, defending champion University of Washington won - I wandered around shooting general images as everyone was loading up to leave.
Then I started the long walk back across the river to my car. Crossing the bridge, I looked back toward the docks and saw the last two boats return from their medal presentations. I paused to watch them congratulate each other, pick up oars, and take away their boats.
I photographed some turtles sunning themselves on logs, and before finally continuing on to my car, turned and looked back toward the docks one last time.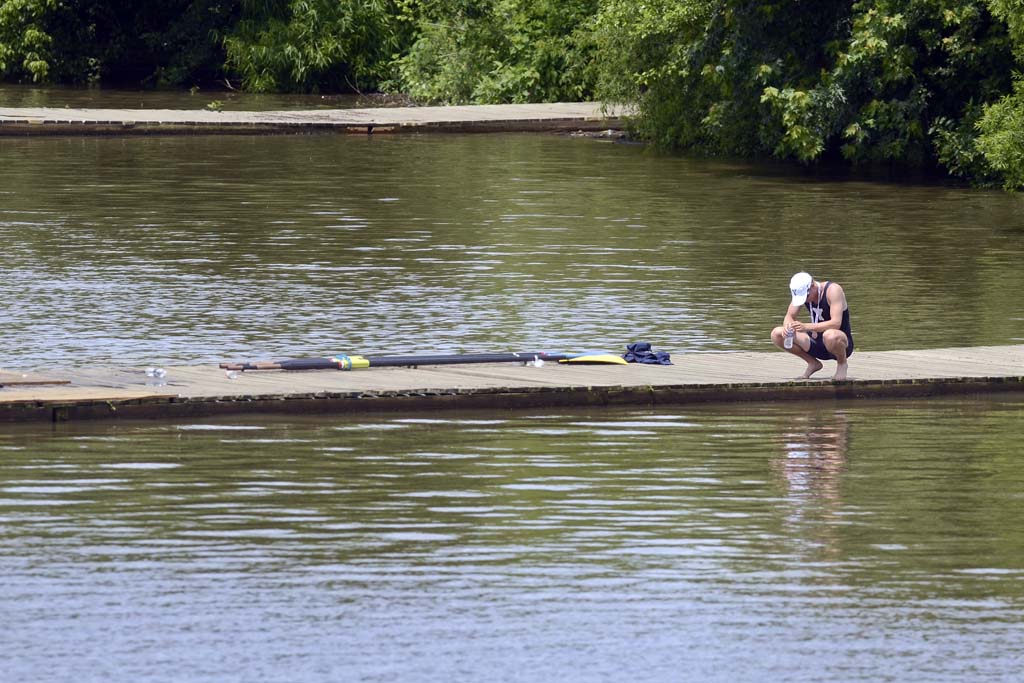 I photographed a lone rower, paused on the dock, apparently deep in thought. Was he upset, lose a contact, just breakup with his girlfriend, or Tebowing?
That's one of the problems with shooting "intimate" moments with a long lens (I was using a 300mm with a 1.4 converter on my non-full-frame, small-sensor, Nikon D-700 which, with its crop factor of 1.5, makes for approximately a 600mm). You can only project/imagine what someone is thinking or saying.
So, I now have this sort of poignant photo of a guy alone on a dock, but I have no idea why he's there or who he is. I have to decide if I just think of it like one of the "turtle" photos I just made - a generic rowing moment - or do I walk all the way back to the regatta area to find out.
If you've ever read my blog before you know what I did. Often to my own, or my family's detriment, I never let a deadline or another assignment keep me from poking around a little longer, or shooting "just one more."
He had a "Y" on his unisuit, so I headed toward the Yale trailer, where almost everyone looked the same. I knew he had a medal around his neck, bare feet, and a white cap, so I was able to rule out a bunch of them. I spotted two rowers who fit the bill, but one was involved in a serious-looking converstation with someone who looked to be his mother. "Oh great," I thought, "I've just intruded on a family crisis."
I waited until they were finished, and the two shower sandal / ribbon-wearing rowers ended up talking to each other, so I made my move.
"Thank you so much," the rower on the dock told me when I asked if he was the one. He was glad I had taken the picture. "That's the very last photo of me in uniform."
He decribed himself as "having a little moment." A graduating senior, he told me this, "is the end of eight years. I'm sad it's all over. I love the guys, I love rowing."