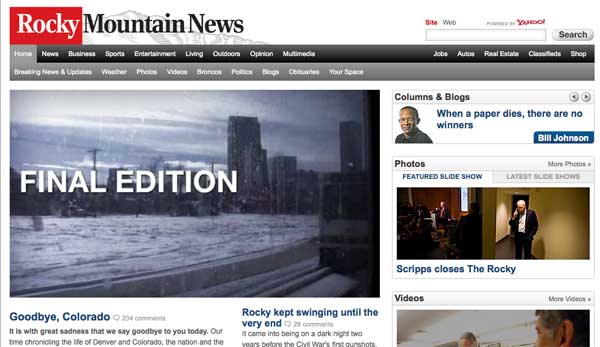 I deliberately have not said much here about the recent troubles with newspapers, including my own. Even last month when the Rocky Mountain News, one of the country's top photo newspapers was put up for sale.
But there were no buyers. So on Thursday, the owners announced their decision to fold it. And just like that, less than 24 hours later, the last edition of the 150-year-old newspaper was published yesterday.
Colorado's first newspaper, The Rocky, as it's known in Denver, has about 230 reporters, photographers, editors and other newsroom employees. The end came just two months shy of its 150th anniversary. The staff still put out a complete final edition and web site, which the owners said would stay up for a while. They also produced a video.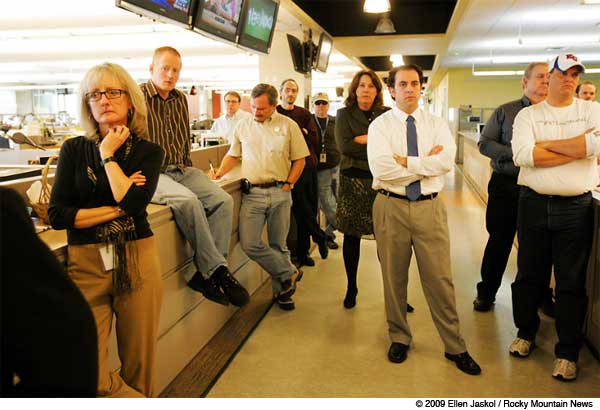 The Rocky photo staff has always been listed among the best photo newspapers in the nation. In the past decade, earned three photo Pulitzers. Click on each photo to see the galleries.
In 2005, Todd Heisler (now with the NY Times) photographed a Marine major assigned to casualty notification for families with fallen relatives in Iraq, and helping them to cope with their loss.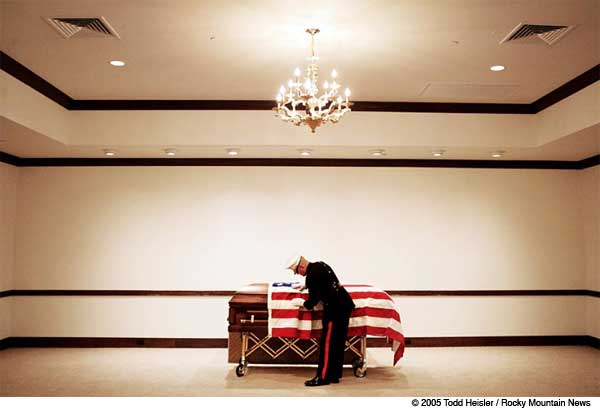 The staff covered devastating wild Fires in Colorado during the summer of 2002:

And from the citation for the 2000 Pulitzer Prize in Breaking News Photography: "Awarded to the Denver Rocky Mountain News Photo Staff for its powerful collection of emotional images taken after the student shootings at Columbine High School."