Legendary sports photographer Rich Clarkson will be courtside for his 57th NCAA Championship game tonight when Kentucky and Kansas face off. He was on CBS This Morning earlier today. Click here, or on the photo to see the clip.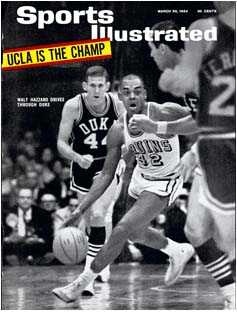 Besides being a sports photographer (Sports Illustrated,Time and LIFE), Clarkson has been a Director of Photography (National Geographic, Denver Post and Topeka Capital-Journal); mentor (dozens of members of his staff and interns were - or became - Newspaper or Magazine Photographers of the Year and Pulitzer Prize winners); and leader (he served as a president of the National Press Photographers Association and is a founding officer of the NPPA Foundation).
When I first met Mr. Clarkson (still hard for me to call him Rich), I was a 24 year-old United Press International photographer just assignned to Kansas City. My "territory" was half of Missouri, part of Arkansas, and all of HIS state - Kansas. He was already one of the most famous photo directors in America, but when I called on him while meeting newspaper photographers around the Sunflower State, he took me out to lunch at Topeka's finest establishment and treated me like I was some visiting photo demi-god. Over the years whenever I'd run into him, he was always just as gracious. I'll be looking for him when I watch the game on TV tonight (he's usually near one of the corners).