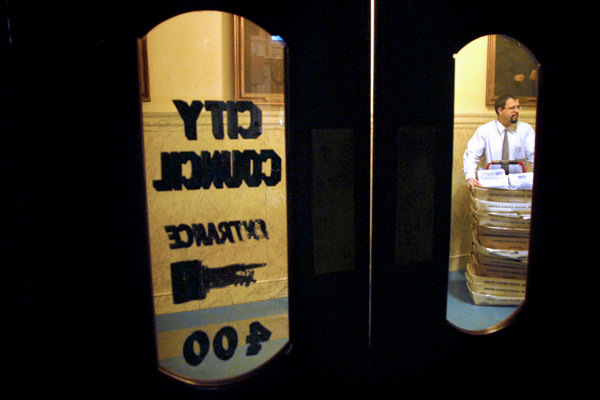 City Council was scheduled to vote on Mayor Nutter's proposed soda tax Thursday morning.
Javier Garcia with the anti-soda tax group "Philly Jobs. Not Taxes!" spent the day in the hallway outside council chambers with a stack of 30,000 signatures on petitions. He wheeled the handtruck into the building, up the elevators, down the hall, and in and out of the anterooms on both sides of chamber, then waited, and waited. And waited. He never got the opportunity to present them to council members.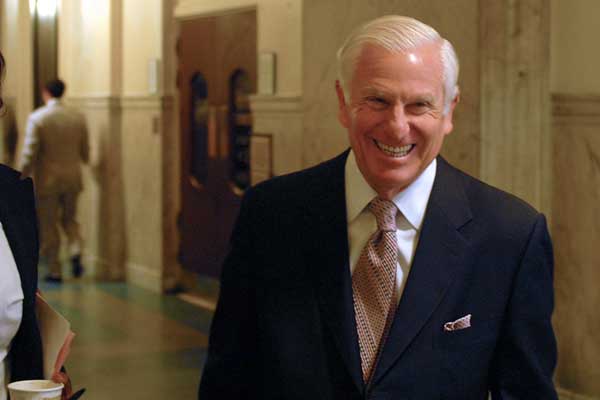 "Today the big soda lobby won," Mayor Nutter said after City Council President Anna Verna held the bill in committee. They ended up approving a budget plan that included a nearly 10 percent property tax increase, but took no action on the mayor's request to impose a new tax on sugar-sweetened beverages.
Earlier while she was meeting with council members behind closed doors (a violation of the Sunshine Act?) those big soda guys were hanging out in the hallway. That's Harold Honickman in the center, above- before and after the non-action. Also peeking in on council later, below. A billionaire Canada Dry bottler and philanthropist, he became the public face of a coalition of Teamsters, corner-store merchants, beverage bottlers, and restaurant owners earlier this month when he offered an industry donation of $10 million for city health and recreation programs to defeat the soda tax.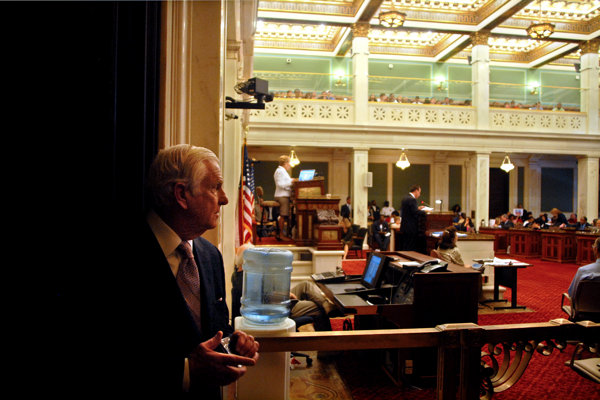 I've blogged before about the challege of these kind of watching-grass-grow, or watching-paint-dry kind of assignments. Even covering sausage-making - which it is often compared to - is more exciting than photographing law-making and budget-passing in action. But watching key actors move about the political stage or key movers and shakers maneuver through the public playing field can be just as much fun to cover as a play or playoff game. It would, however, be a lot better if there were decent theater or ballpark/stadium lighting.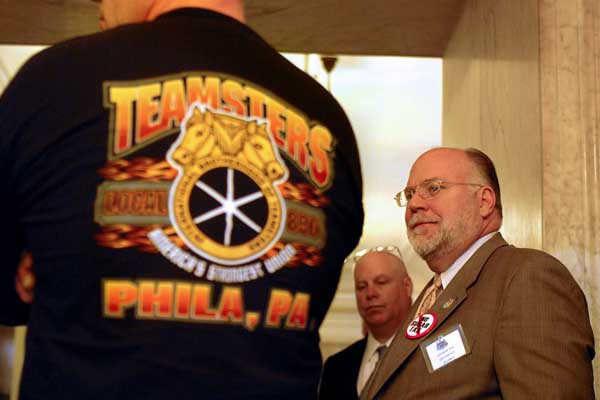 Besides trying to tell the story visually, I really worked to avoid taking still one more photo of protesters in the gallery waving their signs. In the end, with Council's avoiding taking action on the bill, my concern was moot. When it was over, the protesters left - after sitting for three hours watching the paint dry - without ever getting their opportunity to stand and be heard and seen.
All the quotes, and many of the facts and figures here, came from my favorite source of Philadelphia politcal news: the excellent blogs Heard in the Hall by Inquirer City Hall writers Jeff Shields, Marcia Gelbart, and Patrick Kerkstra and the Daily News' Philly Clout by Chris Brennan and Catherine Lucey.