Volunteer School District workers waited in the classroom-turned greenroom as TV food host Rachael Ray visited Frankford High School.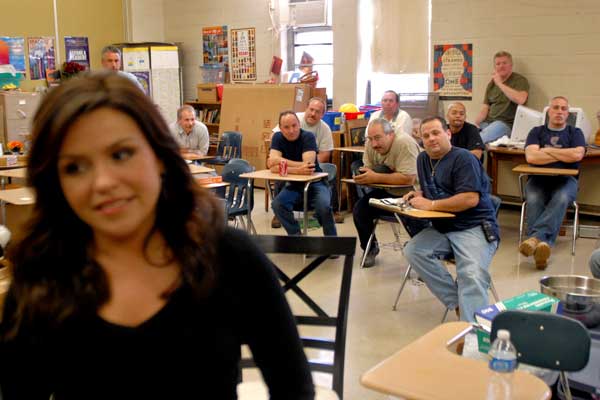 Ray was there to unveil the state-of-the-art kitchen she presented to the school's culinary arts program. Her foundation donated the all the brand-new appliances, pots, pans, and knives while school staff provided the labor, working on the crew of celebrity designer Carter Oosterhouse (Oprah fave and one of People magazine's "Sexiest men on TV," in blue, below) completing the extreme makeover of the school's antiquated kitchen while the students were on spring break. The whole thing was videotaped for her show.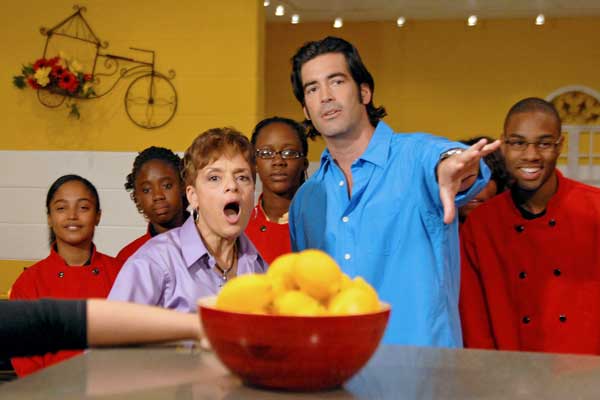 Ray was very down to earth, cool and casual about everything. Not so culinary arts teacher Wilma Stephenson (in the purple blouse), who was bouncing up and down all over the brand-new easy-on-the-feet flooring. Her in-your-face attitude, dedication, tough love, and success with her culinary students was immortalized in the 2008 documentary Pressure Cooker. In a school with a 40 percent dropout rate, all of her students graduate, and many receive college scholarships. She also coaches the school's award-winning cheerleading team.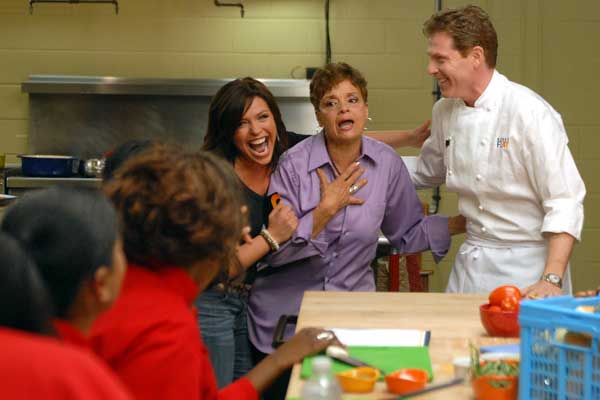 Ray also brought in Iron Chef Bobby Flay to break in the new stove, and she handed out $50,000 in college scholarships - $5,000 each to 10 of Stephenson's graduating seniors. Flay was in town to open his new Bobby's Burger Palace in University City. Inquirer writer Dianna Marder's story is here. The show airs May 3, locally on 6ABC.