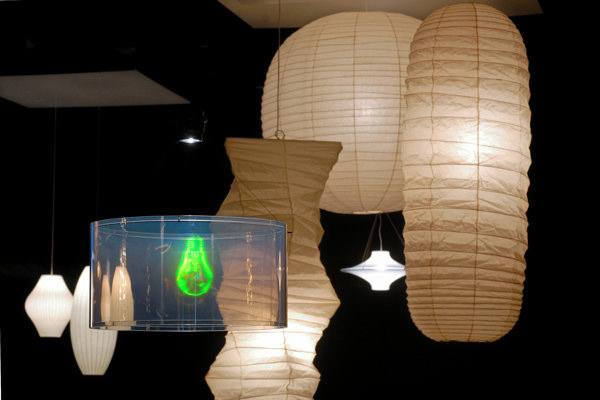 Maybe it was the public relations person from the Philadelphia Museum of Art apologizing to me because "everything is black. The walls, ceiling floor, everything." I knew the newspaper only wanted a general view to illustrate the story, and at most a second close-up photo, but I couldn't help but shoot a half dozen of the lamps and chandeliers. Despite the press person's concerns, the "lack" of ambient room lighting wasn't a problem at all. Like those in Hollywood, the theater, or television, museum lighting directors know what they're doing. All I had to was was expose correctly.
Even the shadows were cool.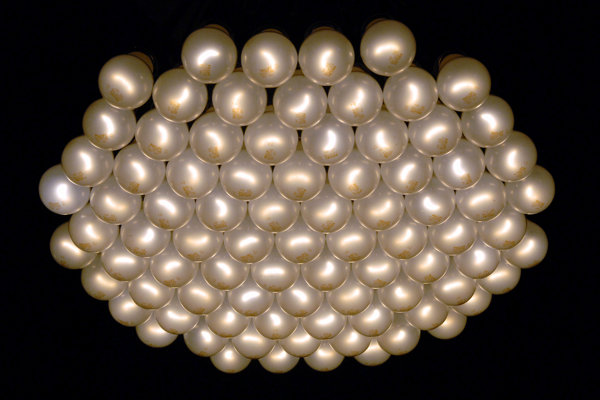 The new exhibit, "Hanging Around: Modern and Contemporary Lighting From the Permanent Collection" - a display of 18 hanging lights - is in the museum's Perelman Building through Oct. 10.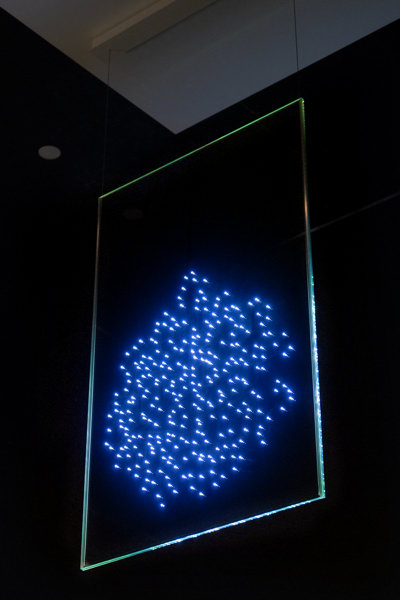 They're presented as works of art, but many of the lamps can be found in lighting stores or online at sites that specialize in cutting-edge design.
Some of the lamps with especially bright light did require a tiny bit of fill flash to bring up the fixture.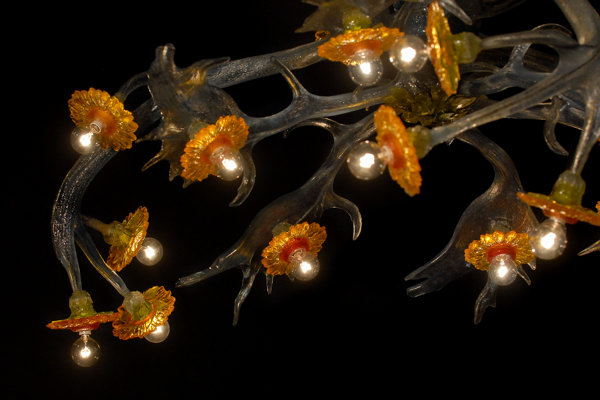 "Wo bist du, Edison?" ("Where are you, Edison?") Lamp (below, and at the very top) is by designer Ingo Maurer. The lamp is a 360-degree hologram of a lightbulb which changes color and appearance as you move closer to it, and change your viewing angle higher or lower higher.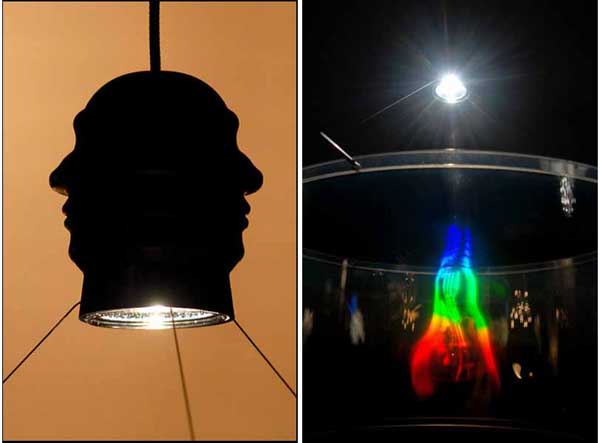 According to the exhibit label, the designer has always had a deep fascination with the bare light bulb. The lamp is a homage to the inventor of the light bulb, Thomas Alva Edison. The lamp's socket is in the shape of Edison's profile.
The other designers, from the top:

(the first photo) The hologram in front is "Wo bist du, Edison?" ("Where are you, Edison?") Lamp, designed by Ingo Maurer, 1997, crylic, glass, aluminum, hologram. At left, rear is "Bubble" Hanging Lamp (two of them) designed by George Nelson Associates, 1947–50, vinyl, metal; at rear, right is "UFO" Hanging Lamp designed by Yki Nummi, 1960 opaque acrylic; and at right, "Akari" Lamps (three) designed by Isamu Noguchi, 1960s, Mino-gami (mulberry bark paper), bamboo, metal.

(shadows) Tears of the Fisherman (Lacrime del Pescatore), designed by Ingo Maurer. 2009; Crystal, nylon.

(bulbs) "85 Lamps" Hanging Lamp, designed by Rody Graumans, 1992, light-bulbs, cords, sockets.

(blue ) "Luster" Chandelier, designed by Ingo Maurer, 2003, molded glass with imprinted sketch, LED's.

(two lamps) On right is "Flowers of Romance" Chandelier, designed by Virgil Marti, 2003, resin, fluorescent track lighting. At left is "Zeppelin" Hanging Lamp, designed by Marcel Wanders, 2005 cocoon resin, steel frame, PMMA injection-molded candles, glass.

(detail) "Flowers of Romance."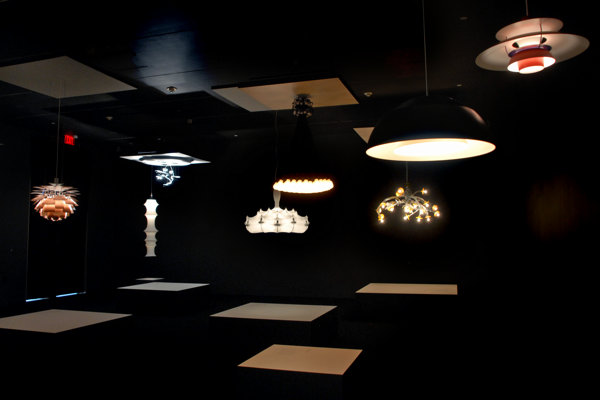 A view of about half the gallery.