Archive: March, 2010
Tom Gralish

, Inquirer Staff Photographer

I work a morning shift...so I don't shoot a lot of sporting events. Every once in a while, I get an assignment to shoot somebody practicing. Today it was Temple University spring football.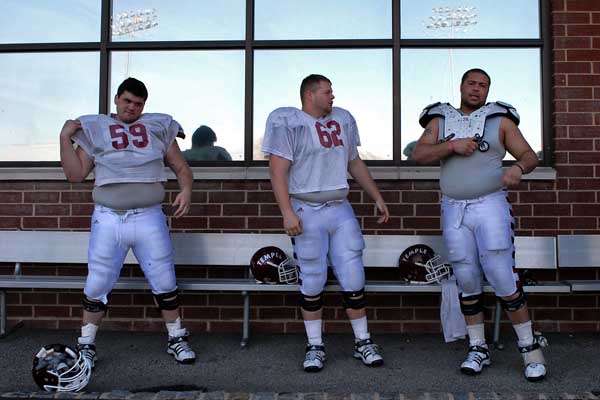 Even with only twenty minutes to shoot six different players, I was drawn to the reflections in the windows of Edberg-Olson Hall.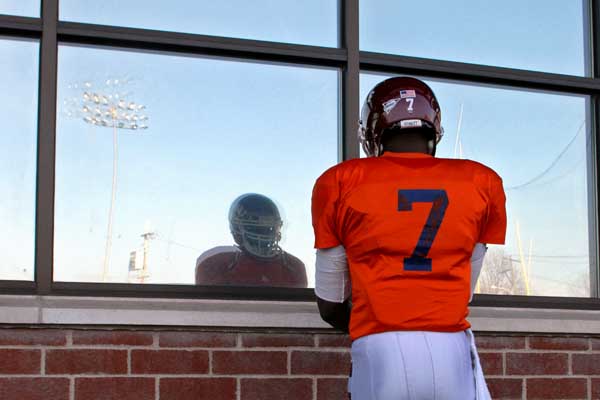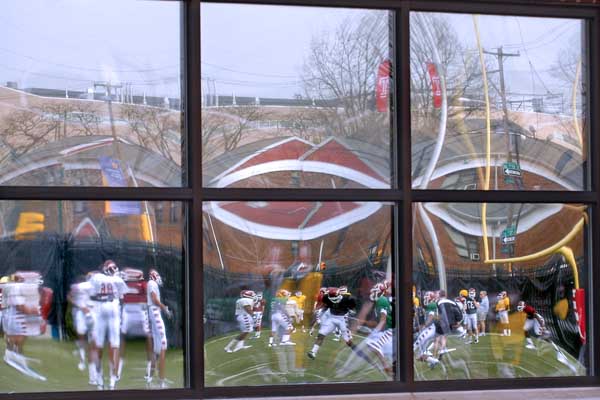 Tom Gralish

, Inquirer Staff Photographer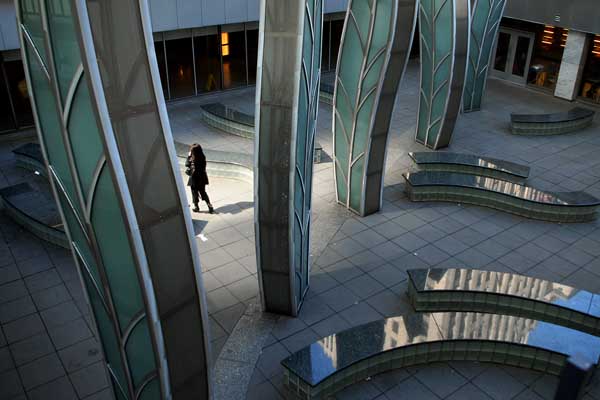 I was drinking my coffee - unsweetened - at 16th & JFK after covering the noon rally outside City Hall to protest the proposed tax on sugared beverages. I looked down at the Lifelines sculpture by Barbara Grygutis in the underground Suburban Station plaza and saw a patch of reflected sunlight - with someone standing right in it!!! Not beleiving my eyes, I clicked off a quick frame frame and then moved over a few feet for a better composition - and the woman, still on her cell phone, turned and moved right toward the light. I almost froze in utter amazement.

Not that it was that big a deal, and the picture's not all that great, but it did happen right before my eyes, when I wasn't even waiting for it.

Over the decades I have probably wasted a few months worth of time waiting for something-to-enter-my-frame. Even when I'm shooting a building exterior - a real estate photo, I can't just shoot it from the front seat of my car. No, I have to get out, park a few blocks away, then stand around trying to be inconspicuous while I wait for a pigeon, bicyclist, umbrella-carrier, or hat-wearer to walk between me and the building. Can't just take a picture, it's gotta be some sort of Henri Cartier-Bresson-moment (although his guy would be jumping a puddle or carrying a bottle of wine or a baguette).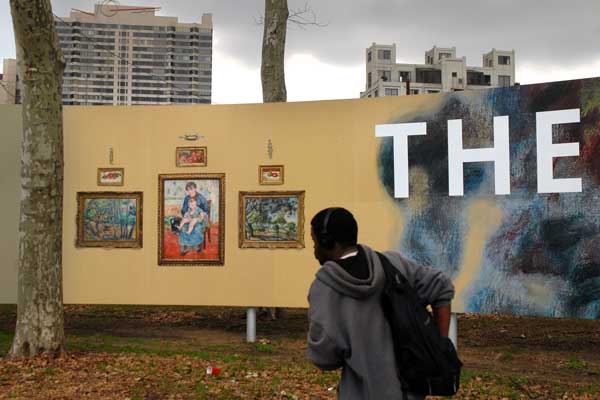 Tom Gralish

, Inquirer Staff Photographer

If three days of record rainfall and a week of temperatures in the 60's and 70's couldn't do it, I really didn't expect a change of seasons to wipe out the remaining parking lot snow piles. And the Vernal Equinox didn't.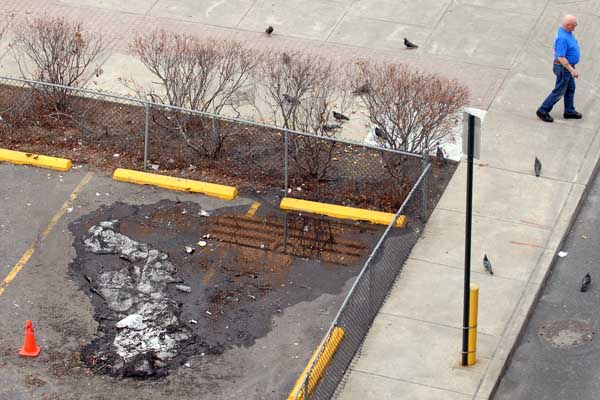 Not only are the region's largest parking lot snow piles - those at the PATCO lots, near Penn Presbyterian Hospital and at the Navy Yard - still around, on Sunday I found one of Center City's small ones still hanging in there on the first full day of spring. This pile is in a small, half block wide lot right across from the Reading Terminal Market.

Tom Gralish

, Inquirer Staff Photographer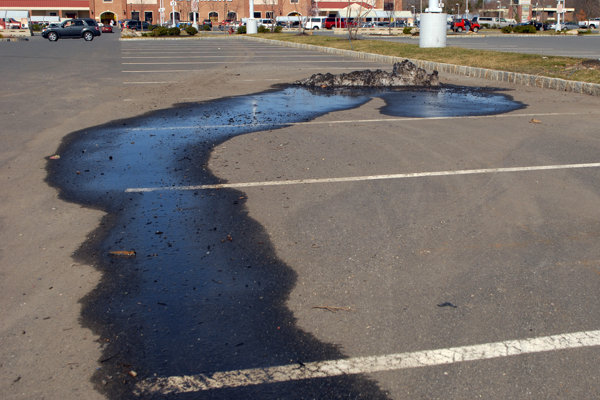 It's still around. This snow pile - shot twice, about 3 hours apart - is in parking lot in Cherry Hill.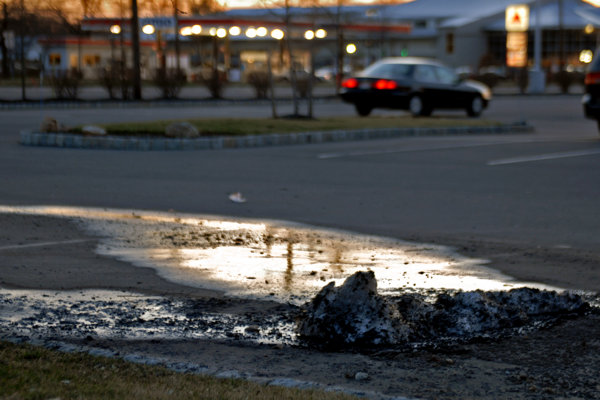 Tom Gralish

, Inquirer Staff Photographer
New Jersey Network cameras were there broadcasting live, as Governor Chris Christie proposed converting the state's TV and radio station to a non-profit organization without a state subsidy.
Tom Gralish

, Inquirer Staff Photographer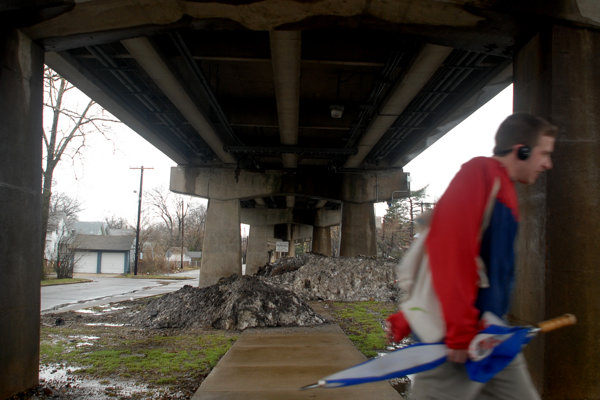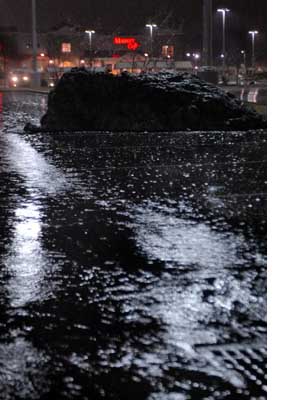 Maybe it's become a bit of an obsession. But over the past few weeks as I photographed the mountains of snow piled up in parking lots all around the region, I kept wondering when the last bit of evidence of our record-setting winter would finally fade into a final muddy puddle.
Tom Gralish

, Inquirer Staff Photographer

The newspaper presented awards to 122 high school seniors in a ceremony at the National Constitution Center Thursday, honoring them as recipients of the fourth annual Inquirer Student Citizenship Award.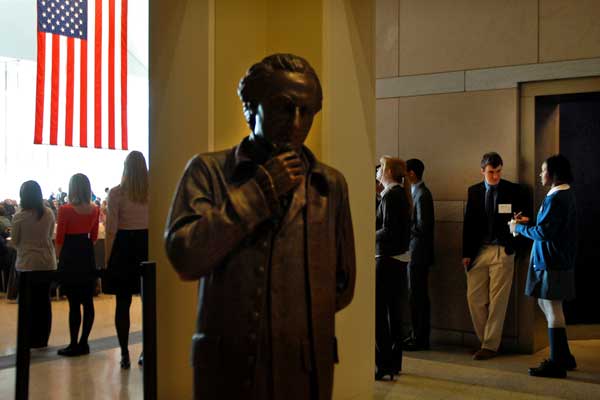 Former colleague, now freelance photographer Robert O. Williams shot the group photo, as well as each of the individual honorees as they received their award. That allowed me to wander around watching the parents and checking out the scene "backstage." Click here, on the photo of students in line behind Delaware's John Dickinson in Constitution Signers' Hall, for a gallery of those images.
Tom Gralish

, Inquirer Staff Photographer

I just looked at the coolest panoramic project I've seen in a long time: Paris 26 Gigapixels is the world's largest panoramic image, stitched together from 2346 individual photos.

Photographers Arnaud Frich and Martin Loyer, working with the French picture stitching technology company Kolor shot the pano last September, on "a perfect day: not too hot, not too cold, not too cloudy, not too windy and the most important the right light." The just posted the result on Thursday.