Archive: October, 2009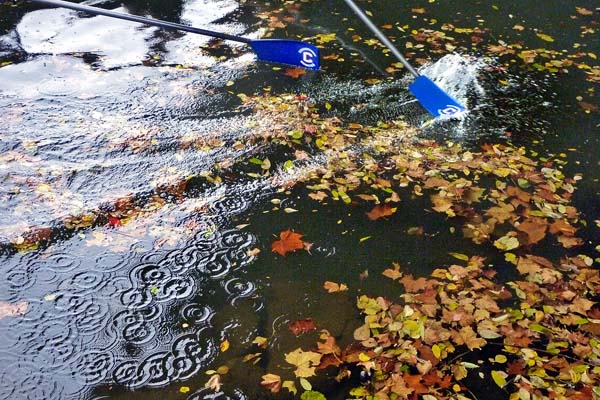 Leaves and raindrops during the Head of the Schuylkill Regatta.
Street artist Shepard Fairey has confessed he lied about which photo he used as the basis for his Barack Obama "HOPE" poster. Also that he fabricated and tried to destroy evidence to bolster his fair use case against photographer Mannie Garcia and the AP.


When web-sleuths found the source photo earlier this year, and the photographer was indentified as Mannie Garcia, a Washington D.C. based freelancer, Fairey did admit he used Mannie's image. However, Fairey claimed it wasn't actually the tight portrait shot by Garcia he traced for the poster, but a different frame made by the same photographer at the same event - a Darfur press conference with then-Senator Obama, Republican Senator Sam Brownback and actor George Clooney at the National Press Club in Washington in 2006. Garcia had covered it on assignment for the Associated Press.

After the wire service and Mannie started talking copyright infringement, Fairey made what the NY Times called a "pre-emptive strike" and filed a lawsuit last February in U.S. District Court seeking a declaratory judgment that he is protected under Fair Use Doctrine copyright exceptions. He was saying it's okay to use Mannie's photo of Obama without credit, permission, or payment.

Though apparently not confident enough in making his fair-use case, Fairey tried to bolster his claim by saying he "used only a portion of the looser Garcia photograph." That way he could say the poster - with Clooney cropped out - was a "highly transformative" alteration, "...with new meaning, new expression, and new messages."

Most photographers saw through this right away. Just as the movies or television always get it wrong when portraying photojournalists (ever see anyone using potato masher handle-mount strobes on the sidelines at a football game?) non-photographers think a picture is just a picture.
In fact, photographers gave Fairey more credit for transforming the photo than he actually deserved. When Michael Cramer here in Philadelphia initially found the Jim Young Reuters photo we erronously all thought was the source photo, the Photoshop flipping and adding of a tie and collar was a part of what made it so appealing. It just seemed like something an artist wanting to put his own spin on an existing image might do.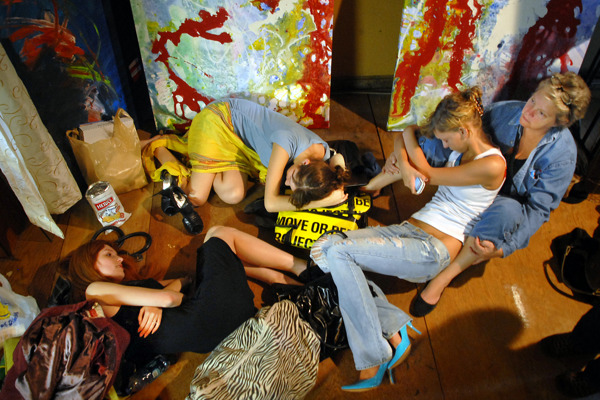 Philadelphia Fashion Week started yesterday and continues tonight and Saturday at the 23rd Street Armory with all the familiar industry stuff: red carpets, models, music performers, VIP lounges, after-parties and clothes. These models were waiting to be called during last week's fitting at Matthew Izzo.
In 1969 George Smith - along with Willard Boyle - invented the "charge-coupled device" to convert an optical image to an electric signal (six years later, Steven Sasson, an engineer at Kodak would use their CCD to build the world's first digital camera)


Almost exactly forty years later to the day, a handful of newspaper and television photographers would be pointing our digital cameras at one of the winners of the 2009 Nobel Prize in Physics. That's Smith, with his sailboat at his home on Barnegat Bay hours after the announcement, talking with Newark Star Ledger staff photographer Noah K. Murray, right, and freelancer Christopher Barth.
Working at the famed Bell Laboratories in New Jersey in 1969, Smith and Boyle were brainstorming to come up with a new kind of semiconductor memory. Their charge-coupled device consisted of a few small capacitors that can store electric charge when struck by light. Today these pockets of charge are better known by another name: pixels.