Flyers captain Mike Richards had a terrific first period for Team Canada in the gold medal battle with Team USA.
Richards started the game. He delivered a huge hit on Brooks Orpik behind the American goal that fired up the crowd at Canada Hockey Place -- live and upon being replayed several times.
But the big moment came when Richards, with his usual intensity, created a turnover behind the net. After taking the puck off U.S. defenseman Erik Johnson, Richards fired it on net. Ryan Miller made the pad save, but linemate Jonathan Toews (Chicago Blackhawks) potted the easy goal.
When I snapped these pics of Canadian women's hockey players celebrating their gold medal, I had no idea I was documenting an international controversy.
I thought it was kind of cool, actually. A bunch of the players returned to the ice in an arena that had emptied out of fans. They drank champagne and beer and lit a couple cigars. OK, so scoring heroine Marie-Philip Poulin isn't of legal drinking age -- it's not like they were chugging tequila out there.
But the IOC is stuffy enough to give an official tsk-tsk and the Canadian Hockey Federation apologized.
The Vancouver organizers had a nice security thing going. They'd figured out a way to avoid the mandatory full-body, full-bag searches that always have resulted in long lines at Olympic venue entrances. Here, you got the bar code on your credential scanned whenever you entered a venue. The computerized system then randomly determined whether you needed a throurough search or could pass, unmolested, into the event.
The first week or so, I was on a roll. I'd say nine of ten times I'd get to bypass the body search, the laptop extraction, the coat, coin and credential removal.
Until I got to Whistler late one night.
1. Try the chocolate-coated fruit parfait at Mink's chocolate cafe.
2. Take a leisurely drive along the spectacular coasrtline northwest of here.
3. Dine on some of the scrumptious seafood at a restaurant with an ocean view.
Those journalists who got to make the bus trip back and forth from Whistler to Vancouver had the best seat at the Olympics. Even if it's a two-hour ride each way.
The scenery along what the locals call the Sunshine Coast is breathtaking. Once you get a few miles above Vancouver, it begins. Fjord after fjord slice through the piney mountains, creating a series of stunning mountain lakes and mountain vistas.
Vancouverites insist the best the way to see the coast and get in close to the comely coves is by seaplane. There are several pilots who will take you. Buses work well too. The other day, on a gorgeous morning, I saw a pod of whales from my window.
This couldn't have happened at Squaw Valley.
A New York sports writer was busy cranking out a deadlin ice-dancing story on Saturday night. When he was finished and his computer's filing system requested the story's name, he typed in the name he thought he had given it, "Icedancing". Sounds logical enough, right? Well, our harried New York friend had forgotten that he'd actually named this story "Icedance".
Unfortunately dfor him, there was a story named "Icedancing" in his computer. And that's the one that got sent to to his offices in New York.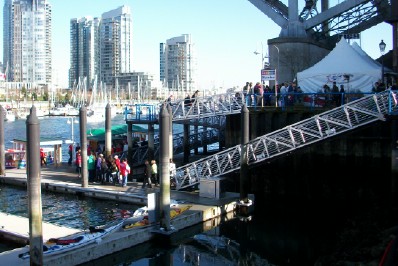 You learn something about yourself -- not necessarily something you're proud of -- when your feet are suddenly straight out in front of you and calamity beckons.
In my case, I saved the cellphone.
Here's how I became an inadvertent luger: I had lined up for a ferry back to downtown Vancouver after a visit to Granville Island. With the huge Olympic crowds, attendants were carefully monitoring the flow of traffic down onto the docks. I happened to be stopped at the top of a long, steep ramp.
Here's hoping U.S. men's hockey coach Ron Wilson is good with nicknames. If not, and he's instead one of those formal coaches who uses players' first names, there's likely to be a lot of confusion at these Winter Olympics.
That's because of the 25 players on the U.S. squad here in Vancouver, there are six whose first names are Ryan, one whose last name is Ryan and one Brian.
You've got goalie Ryan Miller, defenseman Ryan Suter and Ryan Whitney, and forwards Ryan Kesler, Ryan Malone and Ryan Callahna. Then there's Cherry Hill-born forward Bobb Ryan. And, finally, defenseman Brian Rafelski.
1. What are those blue lines on the ski courses? They do look jarring, don't they? Actually, it's just dye that has been placed there to aid the skiers. They're not required to stay within them.
2.Is Johnny Weir really that bizarre? Hey, they don't call him Johnny Weird for nothing. If they awarded medals for outrageousness or interesting answers, the Coatesville native would be these Games' Michael Phelps.
3. You really get to see all these events for free? When you consider the thousands of dollars the Inquirer is contributing to the Olympic movement through our lodging, meal, transportation and communication costs, it'shardly free. Phil Sheridan alone has spent $576 in McDonalds in little more than a week.
Finally, a sunny day. At last, through soggy eyes, I see Vancouver's natural beauty. Snow-capped mountains rim downtown. Sun glistening on the bay. Crisp, clean air. Smiling people. I feel like I'm in a Coors commercial.
Perhaps the change in weather will improve the general outlook on these Games. They've been cursed by rain, warmth, ticket refunds, the tragic death of a competitor, a technical malfunction at the opening ceremonies, criticism from the Quebecois and the British, outrage over the ratty chain-link fence surrounding the waterfront cauldron, ice-making machine breakdowns, and curling. It doesn't take much for journalists to sniff a trend story and the overwhelming theme so far is that these Vancouver Games have been troubled from the start.
The truth of the matter is that it's impossible to manage an enterprise as massive as an Olympic Games without foul-ups, faux pas and fickle weather -- though fatalities ought to be avoided at all costs.