The answer to the question asked in the headline -- "Who's to blame for the Eagles' passing game struggles?" -- is a simple one: everyone.
Michael Vick has been reluctant to throw into tight spots or has missed open receivers. The wide receivers haven't gotten enough separation. And the offensive line hasn't done a consistent job of protecting Vick.
All that being said, it's not as if the Eagles have Tampa Bay's anemic passing attack. And the NFL's top-ranked run offense has more than made up for the passing game's deficiencies the last two games. But something hasn't been clicking and it's not just Vick, who has been known to hold onto the ball a few ticks too long.
"There's maybe one play where, yeah, he should have let it rip," Chip Kelly said Monday following the Eagles' 52-20 loss to the Broncos, "but there's other plays where we have to do a better job of getting open and other plays where we have to do a better job of protecting him. It's a combination of the whole thing."
Here's a representative look at the combination of problems that hindered the Eagles on Sunday in Denver:
PLAY 1: FIRST QUARTER, SECOND DRIVE, FIRST DOWN AND 10 AT THE EAGLES 28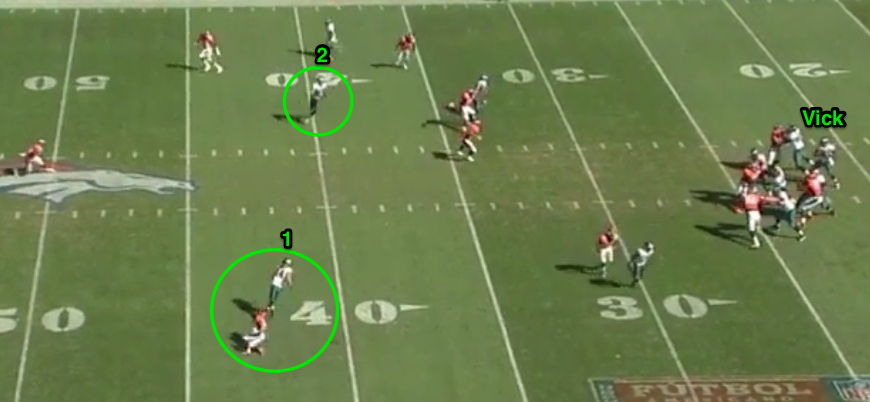 Here's a perfect example of when Vick should have pulled the trigger. The Broncos, in a rare occasion, were in a zone defense. Wide receiver Riley Cooper (1) and tight end Brent Celek (2) were open and Vick was not under pressure.
Here's another look at Vick's clean pocket. The Eagles offensive line held up against a four-man rush and Vick had time and passing lanes. But rather than throw it, he scrambled 13 yards. Vick picked up more yards on the ground than most quarterbacks, but he likely could have thrown to Cooper and picked up at least 15-20 yards.
PLAY 2: FIRST QUARTER, THIRD DRIVE, THIRD DOWN AND 3 AT THE EAGLES 27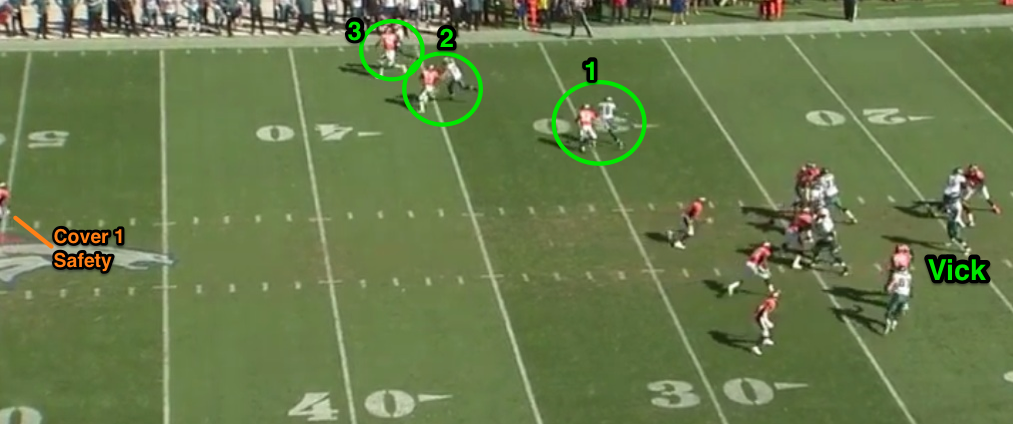 The Broncos were playing the Eagles in coverage here essentially the same way the Chiefs did and the way they did for most of the game. They had a single high safety and man-to-man defense on the receivers.
"They're single-high man. They're not bringing the safety anywhere," Cooper said. "That's all they're doing. They're just playing man coverage, so you got to be able to beat man."
It's unclear which Eagle may have been the primary receiver on the play -- DeSean Jackson (1), Cooper (2) or Jason Avant (3). But no one was open. The 6-foot-3 Cooper, asked Tuesday if he'd like more passes thrown his way even if he didn't have great separation, said, "I'd like that. I feel like I can do that."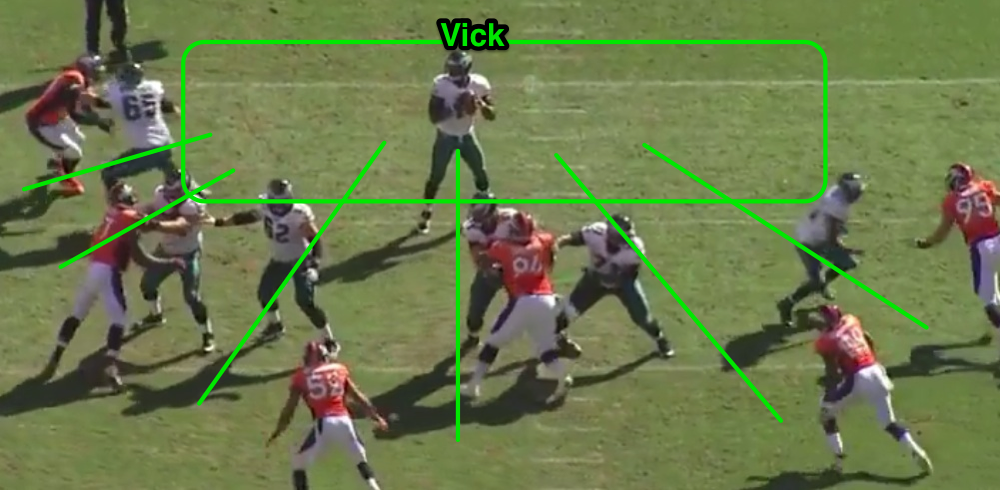 Vick once again had good protection and passing lanes. He scrambled six yards and picked up the first down. Kelly was asked if he had a preference in those situations -- for Vick to use his legs against man defense that had given him space underneath or for his receivers to get more separation.
"I prefer: How do we get yards out of the deal," he said. "We've got to do a better job at times separating."
PLAY 3: FIRST QUARTER, THIRD DRIVE, SECOND DOWN AND 1 AT THE EAGLES 42

Here's one more example of the Broncos in Cover 1 and man defense and Eagles receivers not getting open. Cooper said that the safety over top wasn't shaded toward Jackson (2) for most of the game. In this situation and for much of the game, cornerback Dominique Rodgers-Cromartie did a great job of covering his former teammate.
"The past 5 years, that's what I've been praying for, people to play me man-to-man," Jackson said.
Again, it's difficult to say which receiver was the first option or a decoy.
"A lot of times you can look at a receiver and you can be like, 'He's not getting open,'" Avant said. "But he may just have the outside release to get somebody else open. He's not really involved."
Nevertheless, Cooper and Bryce Brown (1) were also covered.
PLAY 4: THIRD QUARTER, SECOND DRIVE, THIRD DOWN AND 9 AT THE EAGLES 21

On the first three plays shown above, the offensive line did its job. But here there was a breakdown. Vick hadn't even completed his three-step drop and Broncos linebacker Shaun Phillips had gotten around right tackle Lane Johnson. Vick's receivers hadn't even gone into their breaks yet.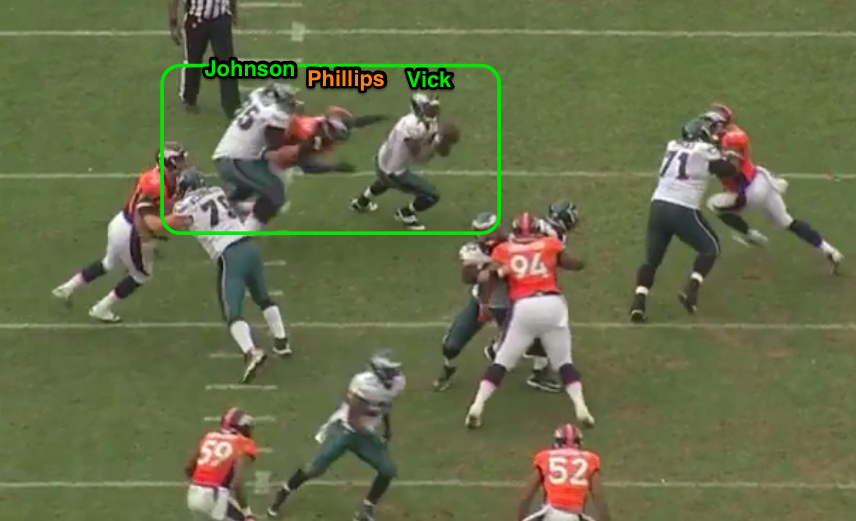 Johnson had another rough game and has had trouble with outside rushes the last two games.
PLAY 5: THIRD QUARTER, SECOND DRIVE, FIRST DOWN AND 10 AT THE EAGLES 20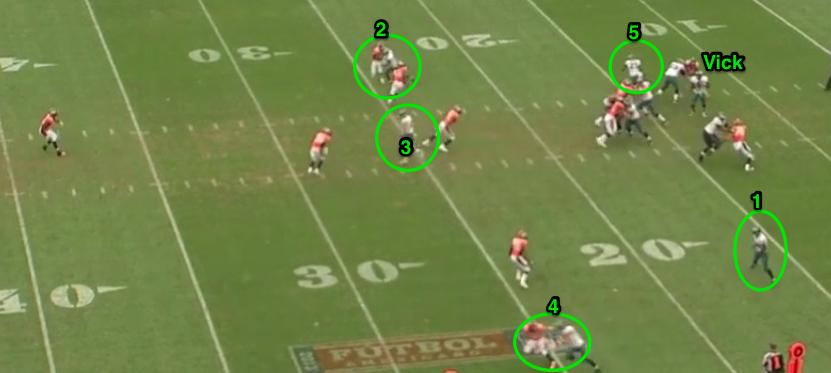 And then there were times when the combination of issues manifested in one play. Jackson (2), Celek (3) and Cooper (4) couldn't shake defenders, but Vick likely had Avant (1) or LeSean McCoy (2) underneath if he wanted to check down. But to Vick's defense, there was pressure coming again.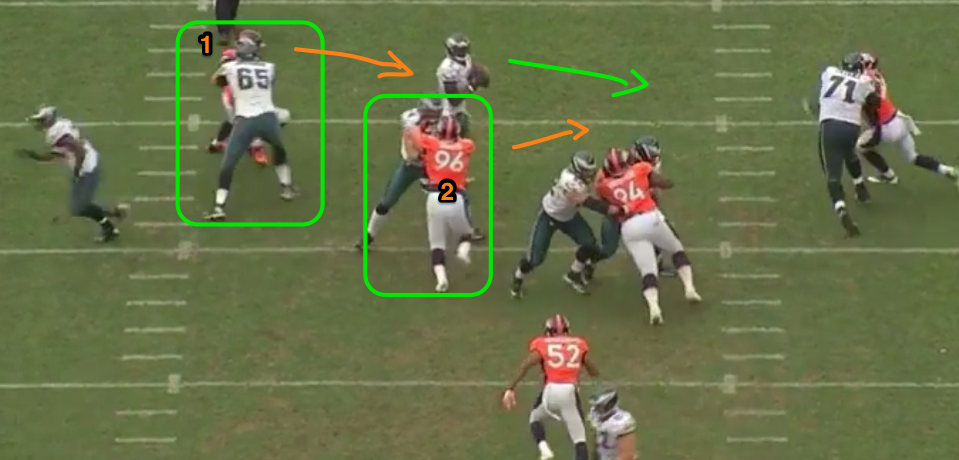 Maybe Vick was a little too quick to escape the pocket, but by this point he had dealt with multiple rushers coming at him from his blind side. Phillips (1) hadn't gotten all the way around Johnson, but Vick ran to his left and Broncos defensive tackle Mitch Unrein (2), who had been contained by right guard Todd Herremans, was then able to pursue.
Vick scrambled outside the pocket, had nowhere to run and throw -- with Avant now covered -- and chucked the ball away.
The Broncos, of course, should get credit for slowing the Eagles passing game. But there were multiple issues on that side of the ball, most prominently, dropped passes and untimely penalties.
"I think we know as a group we can move the football," Kelly said, "but sometimes the enemy that we play isn't the other team, it's ourselves."
But there certainly have been times this season when it hasn't been execution but the personnel that has failed the Eagles. Cooper isn't a speedy enough receiver to win many one-on-ones with cornerbacks. Johnson isn't consistent enough right now to fend off pass rushers for long stretches. And Vick still has moments when he doesn't make quick enough decisions.
"It'll come," Cooper said. "This is all new to everybody. It just takes time. It's four games in."