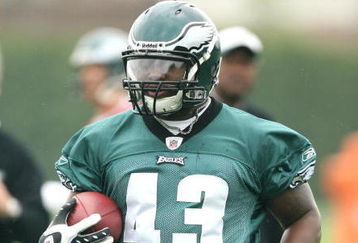 Leonard Weaver and the Eagles agreed to a three-year deal worth $11 million, with $6.5 million of that guaranteed, according to a league source.
The contract makes Weaver the highest-paid fullback in league history. All that's left is for him to sign the contract.
Weaver's agent, Harold Lewis, confirmed the agreement.
The Eagles made it official this afternoon. A press conference at the NovaCare complex is scheduled for 4 p.m. today.
Both sides negotiated into last night, slept on a few minor, leftover points and hammered out a deal this morning. The multi-year deal means that Weaver is no longer a restricted free agent. The Eagles tendered Weaver at a second-round level last night, but neither side expected for the fullback to test the free agent waters. Weaver, a Pro Bowl starter last season, wanted to stay in Philly and the Eagles wanted him back.
The Eagles signed Weaver to a one-year contract last March. He filled a need and suited the Eagles offense perfectly, running for 323 yards and two touchdowns and catching 15 passes for 140 yards and two touchdowns last season.
After they announced their decision last week to release Brian Westbrook, the Eagles knew they had to secure their backfield. Getting Weaver inked means the team has its top two ballcarriers -- Weaver and running back LeSean McCoy -- signed to long-term deals.
Weaver is considered one of the most likable players in the Eagles' locker room. He should be in there for several more years to come.
Check back for more today with the free agency period now open.
Click here for our report on the Eagles still being in the chase for Julius Peppers.